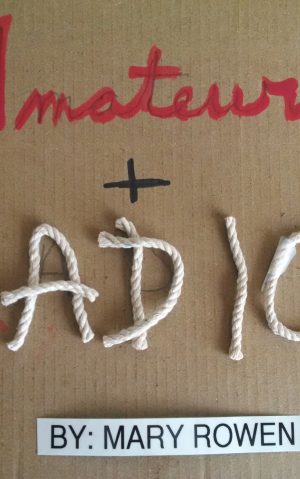 This Story's

Blockbuster

Potential Score
5

%
Voting
Closed

Synopsis
AMATEURS AND RADIOS is about the unlikely friendship between a confused twenty-something woman and a sixty-year-old ham radio operator in her neighborhood. Rife with loss, secrets, and flawed communication, it explores the consequences of violence in society, and the potential for joy in people who have seen and done some terrible things.
---
Chapter Two
Shoebox
Flaherty couldn't believe it. Sure, he'd stopped by the big pet supply store at Fresh Pond and bought a few cans of cat food, some plastic food and water bowls, and a couple of cat toys. He'd even asked the guy at the checkout counter if those comfy looking cat beds were worth the money. (The guy had told him no, not really, because cats will sleep on pretty much anything soft and warm.) But a litter box? It'd never entered Flaherty's mind. And now it was after eight o'clock and the pet store was sure to be closed.
"Jingoes!" he said out loud. "Of all the stupid goddamn…." The kettle whistled and he trudged over to the stove, poured hot water over a tea bag waiting in a mug, then picked up the steaming cup and carried it down the cellar stairs. The injury in his left leg—caused by a stray piece of shrapnel during the war—was bothering him more than usual, probably because he'd been on his feet most of the day.
Jingoes, I asked that pet store guy the most basic questions about cats, he thought as he sat down in front of his Kenwood TS-2000 radio. He could tell I was novice. I can't believe he didn't tell me to get a cat box too.
When people didn't act the way Flaherty thought they should, he'd try very hard to figure out their motives and thought processes. Sometimes, he'd kick a situation around in his head for days or even weeks, but in the end, he'd almost always find a way to give the other person the benefit of the doubt. I must've said something to imply that Kitty would be an outdoor cat, he finally decided. Oh well. Maybe someone on the air can help me out. And if not, what's the worst that can happen? Cat urine on the rug? Or crap? I can deal with that.
He switched on the radio and watched the amber light on the front brighten. A year or so earlier, he'd bought a flashier rig, but had ended up returning it and going back to the faithful ten-year-old Kenwood. It worked great on several different frequencies, and although some hams complained about the noise of the internal fan that ran constantly, Flaherty actually liked its low, steady hum. Picking up the microphone, he pressed the button. "Hello CQ, Hello CQ. This is W1RAP in Elkington, Massachusetts, and I'm looking for some advice on a new feline."
For a minute or so, there was no reply. Flaherty took a sip of tea and started thinking about the old bathroom towels he kept on a shelf in the garage. When his ex-wife had moved out, he'd almost tossed the towels in the trash because they reminded him so much of her—for some reason, their little embroidered roses always made him think about the day she'd bought them on sale at Sears—but his Yankee thriftiness hadn't allowed him to ditch them. He'd decided they'd at least make good dust rags someday, although he'd never dusted with them. I wonder, he thought, if the cat might use them as a temporary toilet.
"Hello, CQ, Hello CQ," he said again into the microphone. "This is W1RAP, and I'm hoping to get some speedy animal advice."
It was coming up on nine o'clock. Normally he got on the air much earlier, but he was all off-schedule with the cat. And his brother's death, of course, but he was trying to push that out of his mind. Even though he'd been visiting Davey at his apartment in Maine once a week for what seemed like forever, Davey had pretty much lost the ability to hold a meaningful conversation in recent years. "How's it going today, Davey?" Flaherty would ask upon arrival. "You eating OK? Yeah? Any good shows on TV this week? No, I don't watch it much either anymore. Although I still like 60 Minutes. That's a good one, you know? You ever watch that one? It's still on Sunday nights, just like in the old days."
And Davey would nod and shuffle around. As far as Flaherty could tell, medication had killed every single ounce of his brother's spirit: the good stuff and the bad. Which, in Flaherty's mind, had seemed like an OK compromise when Davey was still alive. But now that he was gone…well, it was hard not to remember the better times, hard not to miss the handsome high school track star he'd once been. How the girls had swooned over Davey, that beautiful, golden boy who'd never given any indication that he could hurt a person intentionally. But then the war had come along, and Davey became one of those of casualties who never lost a drop of blood for his country. But boy oh boy, did his head ever get screwed up.
"W1RAP, W1RAP, this is K1QEC. How you doin' tonight, Freddy?"
Flaherty's eyes teared up at the sound of Billy's voice. He hadn't realized how emotional he was until right then, and he took a moment to clear his throat and blow his nose before picking up the microphone again. "K1QEC, K1QEC. Hello Billy! Boy, I'm glad you're still up, old man. How's life in sunny Florida?"
Billy's microphone clicked. "Well, I wouldn't exactly call it sunny. Good day for ducks, as the wife says. What's it like up there in Boston? You getting' this rain too?" Accompanying Billy's voice was a steady rhythm of static that resembled the sound of ocean waves.
Flaherty actually had to stop and think before answering that question. So much had happened during the day that he hadn't paid much attention to the weather. "Uh, clouds, but no rain," he answered. "But I think I just heard that storm on Jupiter in your last transmission." He wasn't talking about Jupiter, Florida though; he meant the planet Jupiter. Severe storms on the giant planet sometimes interfere with short-wave radio signals on Earth. "You hearing any of that?"
Billy didn't respond and Flaherty frowned. Bill's wife Sally had one of the worst types of leukemia—the family had actually called in a priest the previous year to give her the Last Rites—but then her doctor had tried some new experimental medicine, and she'd bounced back a bit. Billy hadn't mentioned Sally's illness in a while, but Flaherty suspected that things weren't great. He'd noticed his friend growing more subdued in recent months, and he was on the air a lot less frequently. Back when Billy had lived in Massachusetts, the two men had had a routine of meeting for coffee or tea at Dunkin Donuts on Friday mornings, and they'd talk about all kinds of stuff—some personal, some just general conversation. But you couldn't talk about personal things on the air, and somehow, the act of picking up the phone and calling seemed too difficult. Or maybe just too intimate.
"Yup," Billy answered, after a minute or so. "I'm hearing a little of that storm too. Although I think the winds were stronger earlier today."
Kitty slunk across the floor and settled next to Flaherty's slippered feet.
"You gotta go, Kitty?" he asked. The cat stared up at him with his one golden eye. "All right, little buddy, I'm working on it. Hang onto that bladder."
"So Billy," he said into the microphone, "whatdya know about cats? No joke."
Billy chuckled. "Uh, did I copy that correctly, Fred? 'Cause I think I heard you say 'cats.' Or maybe I've just got sand in my ancient ears?"
Flaherty nodded and smiled for the first time all day. "That's a roger, Billy. No need to get out the Q-tips. And yeah, I wish it wasn't true, but I've inherited a cat. And I need a litterbox pronto, if you know what I mean. All the pet stores are closed at this time of night."
"Oh man," said Billy, obviously trying to suppress laughter. "W1RAP, W1RAP, this is K1QEC, and my XYL's over on the couch right now, cracking up." Flaherty could hear a woman's high-pitched giggle in the background and felt a little better. At least Sally was able to laugh. As for the XYL acronym, all male hams called their wives XYLs; it stood for Ex-Young Lady. But it wasn't meant disrespectfully; it was just a ham term. A twenty-year-old wife would be an XYL too. "I wish to god I could help you, Freddy, but honestly, I've got no idea. Do you think the thing will go on old newspapers? Like a puppy?"
Flaherty sighed. "Beats me, Billy, but I guess I'll find out tonight. It's either that or I try some old towels."
Billy was still chuckling. "So, if you don't mind my asking, what're you doing with a cat?"
"Ah," said Flaherty. "He belonged to my brother Davey, who has, uh, signed off, so to speak. But let's not talk about that on the air." He managed to keep the sadness out of his voice until he released the microphone button. Then he got choked up, found a tissue in the pocket of his sweater, and blew his nose.
Luckily, Billy got the message. He'd heard enough about Davey and his problems back in the day to know he shouldn't ask any more questions. If Fred wanted to talk about what'd happened at some point, he would. "Oh wow. That's a tough break, Fred. I'm sorry to hear that."
"Yup," said Flaherty, clearing his throat. "But that's life, as the song goes. Now this cat, on the other hand…," he forced his voice to sound as chipper and radio-friendly as possible, "this cat needs some help immediately."
A microphone clicked over the receiver and Flaherty expected to hear Billy again, but it was another voice—younger and more feminine—that broke in. "Hiya, W1RAP. This is K1CJJ in Wisconsin. D'ya copy?"
Flaherty picked up the pen on his desk and wrote the woman's call sign in a notebook he kept specifically for that purpose. Writing down the call letters of the other hams he spoke with was the only way he'd ever been able to keep track of them. Then, at the end of each week—usually on Saturday night—he'd log any new ones into a leather journal he'd had since before Vietnam. Flaherty was proud of each of those journal entries—all nine hundred or so—because they represented hams from all over the world: people he'd actually spoken to. He knew he'd never have that many "friends" if he used Facebook or any of those other crazy social media things, nor would he have so many good conversations. Based on what he'd been told, Facebook and Twitter involved passing around silly jokes, pictures of food, and overly simplified political propaganda. Whereas hams never discussed politics or other sensitive topics on the air; it was mostly technical stuff and general banter. Even more importantly, most hams really enjoyed getting together in person. His local repeater society held pancake breakfasts once a month, and at least one formal dinner a year. Flaherty hadn't been to any of those events in a long time, but they'd been a big part of his social life when he was younger.
He liked the way hams were smart too, much smarter than the average person. Participation in the hobby required a certain level of intelligence, as most of the hams he knew built and modified their own equipment to suit their individual needs. Most of them were also interested in experimenting with new ways to increase the efficiency of their rigs, and many made a habit of befriending the owners of local electronics shops, then spending weekend mornings hanging around those places, discussing ways to tweak their antennas and improve their signal. Unlike computers that came in boxes ready to plug in and turn on, ham radios were as unique and quirky as the people who operated them. Flaherty felt very at home in their company.
"K1CJJ, this is W1RAP," he said, "and I copy you just fine. What part of Wisconsin are you in?"
"W1RAP, this is K1CJJ, and I'm on a farm about forty-five minutes outside of Milwaukee. The handle here's Lisa, by the way. We're having a severe thunderstorm at the moment, but I believe I heard you say you're looking for help with a feline friend?"
"K1CJJ, this is W1RAP, and you got that right, Lisa. You happen to have any suggestions for an emergency litter box?"
But before Lisa could answer, Billy cut back in. "Hey sorry to fall off like that Fred. Had to deal with a family matter. K1CJJ, this is K1QEC in Florida, and let me tell you, I hope you can help my poor old friend Freddy with his cat. I had a dog once, but he did his business outside."
Lisa laughed a gently. "Aw, I'll bet Freddy's not so old."
Flaherty frowned. Only his closest friends called him Freddy. And yet, Billy had referred to him that way, so what else would he expect Lisa to call him? How could she possibly know that most people called him by his last name?
And she was still talking. "Well I've got four indoor cats, Freddy, so I feel your pain. Here's the deal. You're gonna have to get to a pet store tomorrow and buy a simple plastic litter box and a big bag of kitty litter. I like the stuff made from pine trees, but that's a personal preference. The truth is, any type of litter's fine if your cat'll use it. But to get through the night tonight, just take an old shoebox—a big one if you've got it, like the kind boots come in—and line it with a trash bag. Then shred up some old newspapers and throw 'em in there. The more the better. I've had to do that myself a few times myself when my big guy's busted the box."
Flaherty pressed his lips together and nodded, then hit the microphone button again. "K1CJJ, this is W1RAP, and I thank you sincerely. Although I've gotta admit I'm feeling a little like a dunce right now. I worked as a technician all my life, so I probably shoulda figured that one out myself, huh? It's not exactly brain surgery."
"Oh no you don't, Freddy," answered Lisa, pretending to be offended. "It's taken me over ten years to figure out how to make my cats happy. I think learning brain surgery might've been easier, and you'd probably agree if you met my cats." She laughed again. "No, but seriously. A feline can be quite a challenge, especially a picky one. So don't beat yourself up over asking for help. I'll bet there're plenty of brain surgeons—plenty—who wouldn't know how to build an effective litter box on the fly."
Damn it, thought Flaherty. "Hey, I didn't mean to insult you, K1CJJ. I'm sorry, and I know cats can be finicky. I remember all those commercials with that big one there, that Morris. I'm just a little tired today. My brain's not running on all four cylinders."
"Oh, no worries, Freddy," said Lisa. "I'm just joshing you. So what kind of technical work did you do?"
Flaherty smiled and wondered what Lisa looked like. He hadn't dated anyone in years. He'd tried a few times after splitting up with Barb, but it'd been too hard. Most of the women didn't ask many questions about Barb—they seemed to understand that ex-wives were off-limit—but they all wanted to know about the rest of his family, and Flaherty hated talking about them. Both of his parents had died in crappy nursing homes, and Davey, his only sibling, had been a complete disaster. And yet, Fred drove up to Maine once a week to visit Davey, and that wasn't easy to explain to people. "Can't your brother ever come down here to see you?" one woman had asked repeatedly. "Or can't I come to Maine with you some time? It'd be fun to take a road trip together." That relationship hadn't lasted much longer.
Then there was the fact that Fred and Barb had never had any kids, although they'd tried very hard. But Barb and her new husband had a couple. Therefore, Flaherty felt certain that there was something wrong with him. All of which contributed to his conclusion that he had little to offer women. And yet, he thought about them. He no longer had any interest in marriage, but this Lisa was making him a little restless. He felt bad—realizing that Davey's death would probably set him free in some ways—but it was also true. He'd no longer have to hide information about his brother; he could simply say that his only sibling was dead.
He was just about to tell Lisa that he'd worked as a technician for the phone company until his retirement five years earlier, when Billy's voice crackled over the receiver again. "Hi guys. Hey, I missed some of that last transmission, but I swear I heard Lisa say something about some big guy breaking her litter box. You need any help with that fella, Lisa?"
Lisa chuckled, and Flaherty was surprised at the jealousy that sprang up inside him. His first thought was that Billy—always a charmer—should back off. But a second later, Fred shook his head in disgust. Jingoes, he thought, I've gotta take it easy. Poor Billy's got a dying wife, for crying out loud. Let the guy have a little fun. Besides, Lisa's out in Wisconsin, and she's probably happily married. She's just a nice lady who knows a lot about cats.
"Oh Billy, I appreciate your offer, but I can handle my big guy just fine," said Lisa. "He's a big old Maine coon cat, and last time I checked he weighed about twenty-five pounds, if you can believe that. But he's a sweetie, a real gentle giant. He and I watch the Late Show together every night and I don't know what I'd do without him." She stopped talking for a second, and Flaherty waited for Billy to respond. But then, Lisa started up again, "Oh, and one last thing, Fred. If you don't have any newspapers on hand, you can try some dirt from outside. In fact, some kitties like dirt even better than paper. It just depends on your feline. You might have to experiment a little."
Flaherty liked this woman. He liked her honesty and the way she was offering options—simple, sensible options—without condescending to him. He also liked the fact that she wasn't flirting with Billy, and that she'd mentioned watching late-night TV with her cat every night. Maybe she was lonely and single too. "Well thank you again, K1CJJ," he said. "I'm gonna sign off now and go hunting for a shoe box. Too bad you're so far away. If you lived closer, I'd offer to take you out for a coffee." He hadn't gone out for coffee with anyone—male or female—since Billy had moved to Florida, and his own words surprised him a little.
"Aw, that's sweet," said Lisa. "I wish I could tell you I was coming up to Boston soon, but I don't think so. I love that city, though. My husband and I went up there twice. He was a history buff, so he ate it up. Just ate it up. But George's a silent key now and I don't travel much any more." She paused for a second before saying, "Anyway, good luck with the feline. This is K1CJJ signing off. 73 to both of you."
Maybe it was because he'd just lost his brother, but Flaherty felt overcome with emotion, and his eyes filled up again. A silent key was a ham who'd died, and he got the impression from the change in Lisa's tone when she said the word silent that her husband's death hadn't been all that long ago. He had a sudden urge to tell her that he'd never been to Wisconsin and would really enjoy flying out there to see it, but he reined himself in. I must be more exhausted than I think, he decided. "OK, K1CJJ, 73s to you, and thanks again for your help. Same to you, K1QEC. This is W1RAP, signing off."
He put down his microphone and rolled his chair back from the desk. Billy signed off, making a corny joke about a "litter box catastrophe" and said 73, which is ham radio slang for "best regards." Signing off at the end of the night always gave Flaherty a hollow feeling in his stomach. Usually, it just made him feel cut off from the outside word, but on that night, he wondered what would happen if he died I his house. Who would find him, and how long would it take before someone did? He was only sixty years old, but plenty of people died at age sixty, or even younger. Would he end up being one of those people they feature on the evening news, the ones nobody misses until they started stinking?
No, thought Flaherty. I'm a healthy guy. And if I missed a night on the air, Billy would call here, then send the cops over to check on me.
That was the best thing about ham radio. It permitted just the right amount of closeness to other humans. It always felt clean and honest, and it allowed him to talk as much as he wanted without ever having to lay bare his soul, or discuss the painful, uncomfortable things in life. Which is why he didn't go out to bars; people asked too many questions when they drank. No, he enjoyed talking to smart, sober people about interesting, regular things. That's why he liked Molly across the street. Molly was a good kid, and she never pried.
He stood up and rubbed his slightly numb fingers together. Darn pills, he thought. About a year earlier, his doctor had put him on high blood pressure medicine, although Flaherty didn't believe he needed it. In his opinion, he'd just been under a lot of stress on the day of his doctor's appointment. Sure, he'd gone back to have his blood pressure checked two other times, but those had been stressful days too. "Doc," he'd said as the younger man handed him a script for a beta blocker, "check me out again in a week. I promise my pressure will be fine by then. I just need some rest."
But the doctor had shaken his head and told Flaherty that taking the pills would be good for him. "Almost everyone your age has high blood pressure, Fred. And trust me, these pills are a lot better than a trip to the ER."
Flaherty knew that, of course, so he took his pill almost every morning. But they made his hands feel cold and sometimes gave him constipation too. And if one thing made him feel old, it was constipation.
Looking across the street, he saw that the lights in Molly's house were out, so he assumed she was out with that boyfriend of hers. He'd never spoken to Joe, but instinctively didn't like him. He could tell by the way the guy dressed and acted that he didn't respect Molly.
"All right," he said to the cat. "Let's go find you a shoe box. At least I can protect you from the coyotes in the world."
Voting
Opens
Soon!