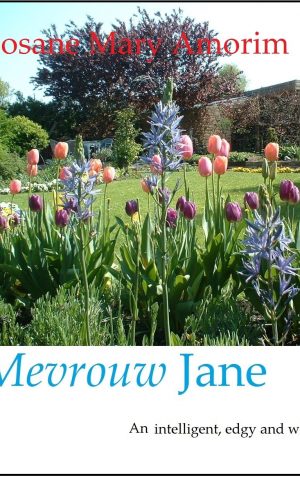 This Story's

Blockbuster

Potential Score
39

%
Voting
Closed

Synopsis
'Mevrouw Jane' was a pleasant trip into an imaginary place in the future, to express about the my past. The memories that 'Mevrouw Jane' tells to Sofia are mine; they are the ups & downs I faced, especially in my early years in the Netherlands, where I live; for instance, when I was mislead to believe that I had a BPD.
---
Chapter II
The encounter
Every encounter between Jane and Sofia had been joyful. They were two women of outstanding personalities. They met each other on a hot morning, when each one in their own stride, made a daily walk on Maruchos beach.
Sofia Kellen Blunck Bragança was a young American with the exuberance of her 25 years.
She was charmed with dark brown eyes, almond-shaped; sharpened by a pair of wide eyebrows, perfect lines outlined eyes, filled with a mesmerizing glow. Her body language was predominated by her hands; it was impossible not to notice them. When Sofia spoke, her hands, so frantic, seemed like a couple of butterflies playing in the air. She was the daughter of a Brazilian couple, who lived abroad and owned a summer house at Maruchos. Sofia was enrolled in the Masters, in Performing Arts, at New York University and had returned to the small fishing village, so familiar to her since childhood. This would be the longest holiday at Maruchos, unaccompanied by one of her parents, or any other family member. This vacation had a truly distinct meaning: she longed to find inspiration and calm necessary for her challenging career that would begin shortly.
Jane Mary Solecrab Miroma, Brazilian, 69 years old, lived in the same fishing village with her husband, since they both returned permanently from the Netherlands, almost two decades ago. Jane was the kind of woman who, in her way, had already understood the art of rhyming the losses and gains of life. She believed this process was pure beauty, when seen with senses starving for positive transformations, even if in infinite terms. She was known by the locals as Mevrouw Jane. For years, she was a volunteer, teaching foreign languages. She taught hundreds of kids and teens, not only from that small fishing village, but also from nearby cities. Jane taught for pleasure and no longer appreciated payment for her classes. It was no longer needed. She had worked more than enough for money; at that point, she had earned quite sufficiently to enjoy life as she pleased. She used to comment that she felt rewarded to the maximum as she had positively influenced those whom she had taught. Her students were from wealthy, upper-middle class, and poor families. Regardless of their social status, the parents' opinions were unanimous: Mevrouw Jane offered life lessons in other languages. As a natural consequence, Jane quickly became loved and respected by all. Over the years, they found out about her likes and dislikes, pleasing her whenever they could, even after her retirement. Often, many of her students volunteered to carry her groceries, to cut the lawn, to prune the trees in the orchard, to bring seafood freshly fished, or many other ways of showing their appreciation. Jane was always thrilled to receive any of those gestures.
From the moment Jane and Sofia met each other, they had pleasant and lengthy conversations. At the end of each daily walk, both of them used to show how much fun they had shared, and to be longing for the next morning. In one of these partings, Jane was pleasantly surprised when she heard Sofia say that she would prefer not go home. Actually, this one would like to accompany her to her house and keep on talking. She also explained that the reason for it was due to two facts: she was feeling captivated by Jane's way of expressing herself, and Jane was an extraordinarily engaging woman. Jane feeling flattered, thanked Sofia for those kind words, and also mentioned that that kind of request demanded bravery and lightness, due their age difference. Then, she invited her to taste the passion fruit juice prepared earlier before she went for her walk. Sofia immediately accepted, saying she could not miss it. Both of them smiled.
As they kept on walking, Sofia realized Jane was often greeted in a way she was not familiar with. She enquired about it and was told that when Jane moved to Maruchos, she taught languages to kids and adolescents, not only from that fishing village, but also from the neighbouring cities. She also said that her classes were primarily guided by the pupil's imagination and interest. And it led her to create a teaching method based upon her favourite book, "The Little Prince", by Antoine de Saint-Exupéry. That at the precise first day of class, she and her pupils were sitting on the grass, in the garden, when one of them, named Luke, among many other questions, wished to know if they also would have to wear the same kind of shoes Jane was wearing, weird ones according to him. Jane smiled at this remark and explained that they could wear whatever they pleased; that she wore those because she liked them, and they were a particularly common type of footwear in the Netherlands, the country where she had lived previously. Then, Luke wanted to know how to say 'lady', in Dutch; that became Jane's nickname: Mevrouw. Sofia said she would also call Jane that, from that moment on.
Jane's place was built by the shore, ensuring an extraordinarily privileged view. Reaching their destination, the first thing Jane did was to encourage her guest to make herself at home while she went to take care of the juice. Sofia immediately considered the area a truly pleasant one. It was winter in Brazil, 25 degrees Celsius, with a light breeze. There was little wind. The sea resembled a mirror, reflecting the blue sky. It was a splendidly beautiful day. Sofia began walking, exploring and admiring the garden. Rapidly, she came across the orchard where there were several fruit trees: orange, lemon, guava, plum and passion-fruit. It was planted in such a way it had overgrown the bamboo poles stacked on the backyard wall. A pleasant shade gave prominence to the old network, placed near the orange and lemon trees.
Sofia was delighted by walking around those trees. The bougainvillea tree was beautifully filled with bunches in pink shades. Sofia ducked and better explored the ornaments placed on the ground, around the foot of the tree. It was an old trunk full of orchids in different colours. Towards the end of the orchard, there were a rectangular wooden table, four chairs and a long bench, most likely placed there many years ago, she thought. Sofia was enjoying the experience. Everything was harmoniously arranged. Looking around, she saw beside the orchard a small green fence. On the other side of it a parked car. She returned a few steps and heard the sound of water. She let herself be guided by its sound. Then, walking on the green manicured grass, she was taken by an intense flower scent. She first faced a fountain; then, a large patch of white daisies with dark blue kernels. She looked around and saw many unknown flowers in flower beds. Inspired by that garden's tranquillity and beauty, she approached the fountain, bent down, and wet her hands. After that, she sat on the grass, closed her eyes and sighed, enjoying the peace. Sofia gave herself so intensely into that moment that she did not realize that her hostess was beside her, silently gathering dried leaves. When she realized it, she opened her eyes: "You have a paradise here! Where did you get such beauties? They must have come from Europe, I presume. Those daisies over there, such a rarity! They are gorgeous!"
Jane thanked her, and informed that those were Spanish daisies. That she had cultivated the garden for many long years; that it had several kinds of plants and flowers originally from Europe; that, thanks to the tropical climate, few species did not adapt. Sofia questioned, "Where have you found inspiration to create such an enchantment?"
"Would you believe it was from a garden drawn by Monet?"
Sofia interested, "Monet? Did you get inspired by his paintings?"
"No. It was a real garden!" — And she told her that, when she visited it, she became speechless. Also that it was from that day on her passion for gardening reached a more intense level. Sofia told her that she was too flabbergasted and speechless to describe it since it was undoubtedly the most astonishing one she had ever visited; that she had never realized what deep serenity such a site could provide; and that she could not imagine one created by the master of Impressionism.
"I'd have soared if, I had seen it!" — She added. Jane did not doubt it. Smiling once more, she took Sofia's hand, "Go to France, visit La Maison de Georges Clemenceau, where the garden designed by Monet is. You'll love it!"
They walked towards the orchard, sat down and poured some juice. "Delicious! Bitter! The way I like it! I'm a gigantic fan of citrus juices! Swiss lemonade, yummy! Thank you!" Jane, pleased, told her to have as much as she wanted from it. Sofia replied, "I'm enjoying being here! Thank you for inviting me! I mean, for having accepted inviting myself! Please, tell me more about Monet's garden."
Jane was overjoyed by that request. She told Sofia that, when Georges Clemenceau lost the presidential elections in France, he retired from political life, rented a fishermen's house between the ocean and rocks in Saint-Vincent-sur-Jard, a region in Vendée, northern France; that it was his birth place, and also, where he had worked as a doctor; that due to his close friendship with Monet, he asked his dear friend to create within those dunes, around his house, a garden; that that summer home was nowadays a monument worth visiting. Sofia commented, "I'll certainly go one day! And from there I'll send you a postcard revealing all about my levitations by experiencing such a place! You know, I could listen to you Mevrouw for hours! Your way of telling makes my imagination run freely! You're an adorably extraordinary woman! I've always loved Maruchos, and now there is this magic garden and orchard of yours!" — As soon as she finished saying it, she stood up, walked towards Jane and kissed her forehead. Jane emotional, "You're so welcome! I'm bewitched by those eyes of yours! Make no mistake, because I'm also an old woman full of quirks, with a temperament still in need of many reincarnations." — She smiled and in appreciation, invited Sofia to join her for lunch. Every day, actually; it would give her a lot of pleasure. The invitation was immediately accepted. Afterwards, Sofia showed a little grimace and sighed, "I've had too much of the juice. I urgently need to use the loo!"
They went indoors, and Sofia followed Jane's instructions, accelerating her steps. Then, feeling relieved, she suddenly stopped in front of a new enchantment. The living room, which she had just entered, stood out for its original simplicity. Sofia was still, looked around noticing how everything was harmoniously and elegantly done. She thought about Jane, and she felt she was a person full of pleasant surprises.
In that room, there was an old wooden bench, quite different from the traditional ones. It easily could be used as a bed. It had some pillows displayed on it, large and small ones, all in various shades of blue and Mediterranean turquoise. Some of them had embroidery patterns, easily recognizable as Indian. There was a white cotton blanket in the middle of the bench. The walls were painted in shades of light blue, except the one where there hung a large mirror. That wall had Mediterranean blue pads. The mirror measured about two feet high by three feet wide at least, she thought. Its frame was stunningly majestic, randomly painted in a silver aged paint. Sofia was aloof about her own reflected figure. Her thoughts were far away, despite not knowing exactly where they were. Still wondering, she slowly turned, and her eyes caught the full view of the garden through the glass wall. From the central part of the ceiling down there was a black iron chain, on which hung an eight armed chandelier, each arm holding a long white candle. It exuded elegance. In the middle of the room, there was a unique table. It was a generous old pallet with four large feet of metal balls, creating a pleasant contrast. On that table, a large, aged, white orchid vase with white, light pink and yellow roses. They had long stems tied to wooden sticks sustaining their many branches. Sofia stood still admiring it. On another wall were several photo frames, which she felt like exploring. She looked at expressions and landscapes trying to figure out the stories behind these black and white pictures. The middle frame was about a man tenderly kissing a woman's face. 'This one must be Jane, in her early twenties.' She thought and then commented "Mevrouw, you look so pretty in this picture! This one is your husband, isn't it?" Jane wiped hands, walked toward the living room, and informed that it was one of her favourites; that it was taken when Eric and she started dating. Sofia added, "Beautiful couple!" Jane went back to the kitchen telling Sofia to make herself at home, and that lunch would be ready shortly. "I'll give you a hand in few seconds." — Said Sofia with her eyes fixed on another image. Not being able to resist it, she leaned forward, bringing her face closer to it. It was a collage made with several of Jane's photos. They were superimposed within a central Harvard University's emblem in red velvet. Sofia had visited that site a few times, participating as a listener in magisterial lectures referring to her own degree. Then, smiling, she slowly went to the kitchen, "You've many stories to tell! I'd love to hear them all!" Jane poured two glasses of wine and offered one smiling, "And I'll be glad to do so!"
"You're my kind of girl. Rose wine? Thank you! I'm not an expert; I appreciate it big time, though! You're a lovely, amazing woman!"
Jane raised her glass, and jokingly, "That is a relief, my darling! Great to know you disagree with those ugly ones! Let's celebrate it! Cheers!" Sofia asked about Jane's husband whereabouts. After been told that he was gone to the Netherlands, visiting his sons and relatives and that he would return within a few weeks, Sofia felt like inquiring about it, "Didn't you want to go along? Don't you miss Holland?" Jane explained she had lived there for years; that she had been many years away from home; that she had donated her share of life to foreign countries; and that was why she had preferred not to go at this time, but usually they travelled together, she informed. Jane added that she was incapable of describing the joy of being back home, and then added, "I believe that in growing older, if we can choose, we would rather stay closer to our roots and friends; to those who have know us since forever; since we are young and as beautiful as you are!" Sofia understood her point and felt like knowing more about it, "You must miss your husband, don't you?"
"Yes, every day!"
"Do you think he also misses you, every day?"
"I hope so; otherwise, I need further explanation to justify his calling me daily!" – She gave wink.
"Does he call you every single day from Holland? Wow!"
"Why are you surprised? A few minutes ago, you declared what an adorably extraordinary woman I am!" — She smirked. Sofia did the same, and next she had another sip from the wine. She wished to inquire further, but deeming it would be an indiscretion she decided to change the subject, "I wish I were that efficient. You cook elegantly! I'm so lazy! Whatever I prepare takes too long, and worse: the kitchen resembles a mess! Therefore, I seldom cook. With you, everything flows naturally and no mess."
"You don't worry about such a minor detail! Keep on rarely cooking. You live in one of the largest cities in the world, thousands of restaurants at your disposal! You just have to choose what to eat and voilà!"– She raised her wine glass. Sofia agreed, and asked if she could be of any help. According to Jane, that kind of salad it was easy to prepare, and it was nearly ready. She took a fork, stabbed it into the salad, and offered it to be tasted, "Arugula, warmed goats cheese, tangerine, honey mustard sauce and sunflower seeds; as a side dish, we will have black bread, baked yesterday evening!" Amazed by all that, Sofia spoke her mind, "I couldn't have conceived a menu so perfect! From tomorrow, I'd like to be your assistant! I must learn culinary tricks from you."
They walked toward the orchard and delighted themselves with the first mouthfuls. It would have been a shame to enjoy lunch indoors, according to Jane. Afterwards, Sofia exclaimed that she had never been to Holland, asking her hostess to tell her a little about it. Jane gladly did so by saying it was an extremely charming and organized land, with a reputation of being fairly liberal, however, for her, it was more common in large cities; in the small towns the Puritanism and conventionalism was still present as it is customary in any country. She also told her about the Keukenhof, stating it was eighty colourful sea-like acres, open only during early spring. She spoke about the tulips origin; that they were taken to the Netherlands by the botanist Conrad von Gesner around the 16th century; that its name comes from the Turkish word tilipan, which means turban. Sofia showed even more interest and wished for more answers. Jane said it would be better get the dessert first, so they did. Sofia praised the lunch and began to help, by taking care of the dishes. "This coffee machine is just like the one at my parents' house." — She added. Jane dried her hands and said it was a remarkably efficient one, preparing two coffees within seconds. Moments later, Sofia confessed, "I ate more than I should have; ice-cream with chocolate syrup is impossible to resist, though!"
"I agree. Eric loves chocolate! Do you care for milk in your coffee?"
"I don't. Thanks."
"Just like me. Sweetener or sugar?"
"Sweetener, please."
"The same goes for me. Done! We're ready to get back to the orchard!"
Within minutes, under the shadow given by that bougainvillea tree, Jane returned to the previous subject, by mentioning a Dutch quip, "God created the world and the Dutch created the Netherlands." She explained it was due their ability to control the water and built their country, which initially was a vast swamp. Sofia mentioned the same had been done to create Central Park, in Manhattan. Pleased by the ice-cream taste, exclaimed, "Yummy!" They kept on chatting, and when the matter came about Dutch wooden shoes, Sofia bet Jane must have a pair, which was true. Jane exclaimed, "I do! Check them out at that side over there, near the watering can." Sofia stood up, went towards the given direction, put them on, and declared afterwards, "Far too heavy!" — She grinned, took them off, and then, she sat back by Jane's side. Then, she wished to know more about Amsterdam, Anne's Frank house, the Red Light District, museums; all the unmissable things. Regarding the capital, Jane said it was her favourite city in the Netherlands. She even mentioned its motto 'brave, determined and compassionate', in Dutch: heldhaftig, vastberaden, barmhartig. Sofia squirmed in her chair, grimaced and tried to repeat it; and not succeeding in doing so, it made them laugh quite a bit. They kept on bantering further. Jane told her that, when she walked through the hidden annexed rooms behind Anne Frank's father's office, she was nothing less than moved and terrified. Then, since Sofia had clearly expressed her intention to visit the Netherlands in the spring, Jane suggested that she should be there for the 30th of April, to enjoy the annual Queens' Day, the Koninginnedag. Jane also pointed out that, on this holiday, the streets turned into a big bazaar, crowded with thousands of people, colourfully dressed in orange, the colour of the royal house. After she had another sip of her coffee, with regard to the Red Light District, Jane, who was never enchanted by it, stated, "Prostitution is the same anywhere. It is hard to describe, but easy to recognize." Sofia joked about it saying that some women liked it. Jane commented, "I hope so!" Then, she told a bit more about the city, how much anyone would be mesmerized by the giant amount of bicycles it has. She finished the tour talking about its museums, giving emphasis to the one she said was the oldest botanical garden in the world, with many ancient rare species, and among them the plant of that delicious drink they were enjoying. She said that from it came the one which served as the beginner for the Brazilian coffee empire that it was a gift from Louis XIV and was taken to the French colony of Martinique where it majestically fructified. Afterwards, she began yawning. Sofia kicked her legs, beaming, "Mevrouw, what a brilliant idea to have invited myself to come here! Thank you for this lovely day! I better get going now. I won't bother you any longer. I bet you nap every afternoon, don't you?"
"The pleasure was all mine! But you are right; you've discovered my beauty secret!"
Voting
Opens
Soon!