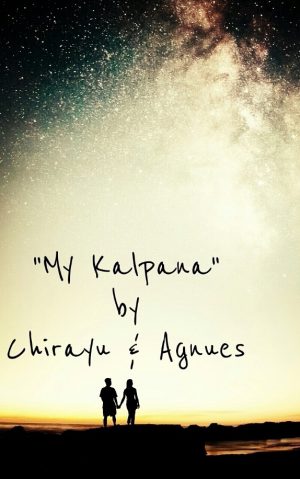 This Story's

Blockbuster

Potential Score
0

%
Voting
Closed

Synopsis
It is a Love conversation story of a Couple, they written they love behind, but the story left in a diary as a mystery for her daughter when her daughter got this, it started a journey to experience to the word "Love" is all called about between two people!!..
---
Chapter All pages
My Kalpana
The story begins:
Turning a page, I pinched by reality. A breeze of overwhelming love swept me off my feet. I look around to find myself in a strange country away from home. A blanket of Real truth left behind on this diary of my dad (Raghu) & my mom (Pavitra)
It is their inspiration , love Story nostalgia making me feel so close. love is what I inspired after reading this diary !!.
!!.My Kalpana!…
Raghu:
Hey Gorgeous Pavi ,
You remembered the day
when we met first time
We wore the different colours,
but our hearts intertwined
I followed you from the cafe world
to the bus stand to ask your name
And till the night I was
thinking about you as I was madly
imaging your beauty in my life ..
Pavitra:
Ha-ha Raghu yes ,
You were blushing more than me,
so i knew this wasn't your game
I stayed up all night wondering
if you were also thinking about me
Raghu:
My heart speaks out the whole night
to find you, but the time was not right,
so i Closed my eyes to wake up tomorrow to find you to bring you in my life..
Pavitra:
My heart wanted to sneak out with
yours, but my mind was putting a fight
I pinch myself to stop from dreaming,
can't believe i'm walking down the aisle,
but by the night i'm looking at this ring
that shines brighter than the Moon
Raghu:
In the morning I served myself to search you in my life,
but the time taken me back to my normal life for
the ones that delays my love for you!!.
As the morning Sunlight break the time & eve bright the light that Shine the whole night in my life!..
the day when I saw you again at the bus stop I was driving a car looking at you as if you are finding someone else than I went seeing you from there to come tomorrow to take you in my life
Pavitra :
We've been in love for so long,
admitting it has never been a question,
you step outside, with that same stupid,
but adorable smile of yours, your cheeks are red again, and you ask if i'd love to be your wife, then I decide to leave you hope this letter reaches to you in time we owe each other at least a goodbye.
i wish you breathe in my words. It smells
like salt from the tears I've lost. I don't know
if at all I matter..
all I want is for things to get better
Raghu:
on the next day I came but you are not there I waited for so long, then one of the bus conductor came near to me & given me a Musty paper which was written by you that I am going back to native place for the whole life at 5pm..my life has stop After reading the letter !!
It was almost 4:30 PM you were departing for a new life, leaving me alone in this life!!. but I decide to lift you again in my life to feel you my love that I kept inside me!!.
When I reached the station I heard the voice that the Chennai express train is departing from platform No.3 my heard was Swinging & I felt as my life is over here, but I have faith in my love & believe that you will stop for once the ring has given me the way to your beautiful life you were standing on the S-8 train coach near the terminal you were finding me your pearl tear shows everything
My heart lit up when I saw your face, You didn't give up and for once things didn't go to waste of all the time i questioned your love..you showed up at the station and I couldn't hold the joy within and my mind gave in saying we are meant to be
Then I told you please don't speak anything keep Silence, just I want to tell you something for now
Falling down on knees
folding hand behinds
Rearing one hand by
Beautiful ring to give you & to say!..
Will you marry me & I love you my love!!…
Three magical words bind us in the love world for the time of the life which was the best moments of life.
Pavitra:
Your Tears rolled down my cheeks and fell
on yours ,you stood up wiping them off like
they were my words,We took a detour
My destination changed. Your hand in mine.
Our souls danced and mimed,following the
pattern, love had created, We were blinded by
something magical. And we knew it was love
It made us write our love story for the time
to remains until we died….
For our little angels to read, and to let them find
What is the love & what is the life !!!
Voting
Opens
Soon!