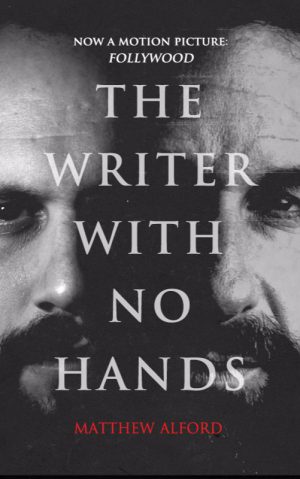 This Story's

Blockbuster

Potential Score
0

%
Voting
Closed

Synopsis
The first authoritative investigation into allegations that a Hollywood screenwriter fell victim to a lethal kidnap operation by the CIA.
"I acquired an unseen file; an autopsy report for a Hollywood screenwriter that alleged murder.
I was an unemployed PhD graduate and failed comedian, living in a flooded house with two small children and my ex-wife.
So it seemed sane right then to find conclusive proof that this man had been murdered in a staged road accident by hit-men from the US government.
I left my home in rural England with a cameraman in tow to retrace the screenwriter's final moments in California.
If this death was really an assassination, I was in increasing danger. But if it was just a stupid accident … God… don't let it be that."
Set against a political backdrop marked by war, sex and blackmail, The Writer with No Hands unveils the never-told true story of Hollywood's forgotten rebel, Gary Devore, and Dr. Alford's search for the brutal truth in a world where everyone lies for a living.
---
Chapter 1
Strange Mirrors
I. Strange Mirrors
Do you ever have those moments when your life feels like a movie? A sudden traumatic self-consciousness, and a curiously pleasurable sense of seeing yourself hurtling through some kind of monstrous set of events without control of your own fate.
I had those moments. But they lasted for long periods of time – bursts of weeks and months – spanning across several years.
Then it was suddenly all over.
I first encountered the Devore case whilst writing a feature article for the United Kingdom's (UK) Guardian newspaper about the CIA's involvement in Hollywood.
Gary Devore – the Hollywood screenwriter who had written blockbusting movies for the likes of '80s mega-stars Arnold Schwarzenegger, Christopher Walken, and Kurt Russell – had disappeared in June 1997.
Just vanished. Taken by the Mojave Desert, with his vehicle, as though they both had been evaporated by the beating summer sun.
Then, over a year later, a self-styled, unemployed "amateur detective" who'd been following the news reports of Gary's demise conjured up a freakishly lucky deduction about what had happened. The detective theorised that Gary had flipped some road barriers whilst driving over the California Aqueduct and then died in the water. This man, then unknown to police or press, located some pieces of plastic on the side of the aqueduct that he matched to Gary's missing Ford Explorer and he alerted the authorities.
Divers were despatched to the area. Gary's car and his decomposed remains, still dressed in his signature cowboy gear, were sitting inside, and all were exhumed.
The find was miraculous in its own right: Gary's disappearance was big news in California and the police and public had swarmed the region during the search, including all around the aqueduct.
However, upon further reflection, the accident explanation seemed all the more peculiar. Unless Gary had driven past the aqueduct bridge and then inexplicably turned back around and driven against oncoming traffic, there was no conceivable way for him to have driven into that stretch of water without smashing through a road barrier. But no one ever found any sign of impact. Not even the skid mark of a tyre on the road.
It was as though Gary's car had been beamed up by a flying saucer and then beamed back down again.
It was actually my new friend and co-writer on the Guardian article, Robbie Graham, also working out of his bedroom, who found Gary's case first. He had read what was then the only coherent, albeit brief and incomplete, summary of the alternative explanation – the conspiracy theory.
Fig 1.1 An early Los Angeles Times article, July 27th 1997.
Of course, there had been dozens of articles in the Californian press detailing Gary's disappearance and discovery but Alex Constantine, several years later, was the first to put it out there plain and simple.
Bottom line. Gary disappeared in mysterious circumstances just hours after he had completed work on a script for a major Hollywood film that was very hostile to the US' national security apparatus. As such, there were grounds to consider the possibility of a government assassination.
Case open.
Robbie and I attained some corroboration for the conspiracy story by reading the website of a private investigator, Don Crutchfield, who also called the circumstances suspicious.
Crutchfield had highlighted the fact that Gary's anti-war screenplay was written on his laptop. That laptop, a box of floppy disks, as well as a gun he always carried on long journeys, had mysteriously vanished from his vehicle, even whilst smaller, lighter items such as a pewter vase that Gary was bringing home as a present for his wife were found in the vehicle undisturbed by the aqueduct's current washing through the car.
We didn't say too much about it though. The Gary Devore story added a touch of speculative drama to our Guardian piece but we didn't want it to detract from our main argument that the Central Intelligence Agency – commonly known as the CIA – far from being "out of the shadows" since formalising its relationship with Hollywood studios in the 1990s, and therefore "open", had in fact reinvigorated its propaganda role.
The CIA was supposed simply to offer technical advice to Hollywood screenwriters, but my suspicions were heightened after my acquiring, from a private archive, a never seen interview with a CIA officer. The man, who I dubbed Mr. X, had characterised his organisation's PR apparatus as full of "braggards" who were "widely disliked" in the entertainment media and whose activities were "possibly illegal". Quite what this meant was never clear but it certainly was apparent that the CIA had been hugely instrumental in the generation of films like The Recruit, The Sum of All Fears, and fawning TV series like The Agency. Hollywood's attitude to the spooks had softened considerably since the days of 1970s cinematic paranoia in classic films like Three Days of the Condor, in which the CIA is presented as sinister murderers.
Yet the Gary Devore story itself seemed dead. No one had paid any attention for ten years. In fact, I noticed that the widow, Wendy Oates-Devore's final recorded statements in the online press, way back in 1999, suggested she was grateful to law enforcement and was actually considering suing, not the CIA, but the Highways Agency for making such an inexplicably dicey piece of road. The accident was as official as could be.
Fig 1.2 Newspaper article indicating that Wendy Devore, the widow, at one point considered suing over the road conditions rather than chasing up a conspiracy explanation. In contrast to the headline, she never actually went through with it.
Well, maybe Gary Devore had been bumped off, I didn't know. It made for an intriguing story but if I'm completely honest, I found the idea pretty absurd. Conspiracy theorists swarm the internet like drowsy bees, knowing next-to-nothing and yet forever stinging the public debate with maddening hearsay and any other unsubstantiated bullshit that sticks to their antennae.
I had read widely in the field of media manipulation and was aware that the loony insights always come from those who get too carried away with their feelings and never check the actual record, let alone going out in the field themselves. Even the very name given to the longstanding programme of CIA media manipulation, "Operation Mockingbird", is purely the invention of the mindless horde, ripped unwittingly from a semi-fictional book from 1979 and now common currency even amongst experts in the scholarly community.
I was receiving Facebook updates from one of the most prominent conspiracy theorists. Each time he posted, I checked the original quotations he had used and they were either non-existent or taken so far out of context they may as well have been scooped up from the bins at a Scrabble factory.
The Guardian published mine and Robbie's piece.
We made six hundred quid and this was by far the most either of us ever got paid by a newspaper. The story led nowhere. No one ever asked us to do anything else. We weren't "in".
In addition to the general lack of interest from the Western world's chattering classes, those that did pay attention were prone to the wildest and most unhelpful interpretations. One conspiracy blogger responded by saying that Robbie and I were "de facto agents" and that the article was "a job". He commented: "The inclusion of the Devore hit in Alford and Graham's article is designed to remind people: "Remember, don't poke the bear […and…] a crucifixion every so often reminds everyone in Hollywood: 'Don't be a hero'."
Well, our article was most assuredly not "a job". I didn't even have a job, although admittedly, if the CIA had offered me one at the time I would have probably taken it. In fact, I was rather hoping for a suitcase full of cash in exchange for shutting the hell up. I knew at least one case where the Pentagon literally bought and destroyed 9,500 copies of a book about the war in Afghanistan in an attempt to keep it off the shelves. Quids in for the book burning.
Robbie had tried to get hold of the P.I. Crutchfield through his website but to no avail. Frankly, I didn't see much point since when I finally did check Crutchfield's site it was a ropey old page straight from the dial-up era with a string of unlikely-sounding allegations and inconsistencies in the case: Devore's corpse had a wallet in the back pocket instead of where Gary usually kept it – his side pocket.
Whoop-di-doo.
Still, one of Crutchfield's allegations was indeed striking – so striking as to seem implausible, which is why I, rather rashly (in hindsight), omitted it from our Guardian piece.
Crutchfield had noted that Devore's corpse had no hands.
A beat.
Start breathing.
I didn't have time for this. I had a book to finish, a child to raise, a marriage to endure, a cat to worm, and work to find. I was failing at least half of these tasks.
***
Then, in spring, I finished writing an academic book, which was about the politics of Hollywood. I had not made any mention of Gary Devore. It was, to me, a conspiracy theory and therefore didn't strike the right academic tone. But did it warrant a last-minute addition? A brief reference? A footnote?
Let me back up. Yes, I was writing a book. I had done a PhD at the University of Bath and now I was reworking it for a publisher in London.
I myself lived in Bath, a pretty little Roman spa city in South West England. I also spent quite a lot of time on the coast in Torquay, since that's the town where I grew up.
Many of my friends had careers with top institutions, including Amnesty International, the European Union, the United Nations, and leading universities. It all looked rather fun and, now that I had finally graduated with a doctorate at the tail end of my twenties similar things were surely on the cards. Good old me.
Okay? Great. Then let's get back to the story.
So I ran a search for Gary Devore on LexisNexis; a database for academics that trawls most major newspapers from the past four decades. The same usual articles jumped out at me; the latest being my own for this respectable broadsheet, the Guardian. I looked through it again – a pretty good piece of work but given a somewhat tepid rewrite by the editorial staff. They had, in fact, changed my description of the Mujahideen (the forerunners of Osama bin Laden's network in Afghanistan) from "terrorists" to "freedom fighters". One of my activist connections asked me to scold the Guardian publicly. The change reflected that strange doublethink in which the media habitually engages – the Mujahideen could not have been terrorists in the 1980s because they were on our side. I had refused the request, hoping the paper would see my cowardice on this score as a positive sign of establishment-friendly credentials.
I closed LexisNexis. I had to admit to myself that I wasn't really thinking of adding anything about Gary Devore to my book. I was just vanity searching. And my Guardian piece had 200 hits. Smiley face.
Hmm, well, maybe more like non-plussed face. I was, in truth, already mildly ashamed of my early journalistic work. It lacked bite and, well, nobody had really read it, had they?
I was about to shut the laptop when I saw an article I hadn't previously checked. It was two lines long from a gossip column, so probably left there not by journalists but directly by PR people. It simply read: "The private detective Don Crutchfield is writing a book about the missing screenwriter Gary Devore with the publicist Michael Sands."
Who was Michael Sands?
I Googled him: another ropey old webpage. "For more than 30 years, Michael's clients have gotten more than just a brief mention on Page six," it began. This sounded dire. But it continued, "Michael Sands has been instrumental in helping the Public Relations industry of the '80s transform into Media Consulting in the '90s and evolve into the wide range of competencies that constitute today's Media Image Consulting profession. In fact, he coined the phrase".
I had never heard such undigested blather in my whole life. "Michael is the quintessential low-profile, high-profile Hollywood insider and his friends are the "Who's Who" of the "A" List in Hollywood."
Fig 1.3 Michael Sands' website (extract) circa 2010.
I actually lolled out a lol.
It transpired that Sands had also posed for the front cover of Playgirl, had an acting role in Ironside, and then given it all up for his dream job making cheesecake with his new company, C'est Cheesecake.
Was this guy for real?
I clicked on "write me" and sent a one line message, already contemptuous of my attempts to find out what would surely be, in any case, superfluous information.
"Did you know Gary Devore?" I typed to Sands. "The internet says you're writing a book. I wrote an article which mentioned it in a big UK newspaper"; the casualness of my prose reflecting my self-loathing over even bothering to write it.
I had actually already spoken to the other guy, P.I Don Crutchfield. I forgot to tell you this because it was a somewhat frustrating encounter that I had wanted to forget. I had tracked his 'phone number, again, several months after the Guardian piece had gone to press. I didn't know much about the case at the time so just asked him to confirm that the fact about Gary Devore's missing hands was true.
"Yes. One thing a driver takes with him – his hands," deadpanned Crutchfield, but he was unable to give me proof of the allegation.
The one other piece of evidence Crutchfield had revealed to me was that the California Highway Patrol (CHP) had written a 168-page accident report on Gary Devore's crash, which he claimed didn't make sense. For the official theory to work, Gary would have had to have driven in the pitch black with his car headlights turned off for three miles up the wrong way of a main highway and then driven through a 17 foot wide hole in the guardrail… without causing any damage to the car or guardrail.
"Evel Kneivel on his best night couldn't do that," Crutchfield told me, referring to the once-famous 1970s stunt motorcyclist.
Fig 1.4 Article from the Antelope Valley Press. The photograph depicts the theory that Gary Devore would have needed to drive against traffic and through a narrow gap by the aqueduct bridge in order to plunge into the darkness below.
I had thanked Crutchfield and followed it up by asking for a copy of the report without response. I asked again but he never replied. I gave up.
And now here I was, a year later, trying to contact another guy with a shoddy website and probably no more than a spotty conspiracy theory. This was daft. This was a world away from academia. This was a distraction from securing a lectureship. Worse, it betrayed a lack of interest in serious scholarship and raised concerns about my objectivity. I mustn't get carried away with this – adventures are for the young. After thirty, they look suspiciously like break-downs.
The 'phone rang a second time and it was Michael Sands. Shit, no! It was my wife, Jessica, telling me to come to bed. I submitted, as ever, packed up my papers and trudged up the stairs.
The 'phone rang and I stopped. I put down my bundle and walked to the 'phone, picked up the receiver and said "hello".
"Whaddaya wanna know about Devore?" Sands said in what I vaguely recognised from The Sting as a drawling Boston accent.
"I read you were writing a book with Don Crutchfield. Is that…"
"What? Where'd you hear that?"
"It was a footnote in some entertainment news…er, thing."
"Well, it's wrong; that's just Crutchfield being an ass."
"Oh, right." I was disappointed: another indicator Crutchfield was out on a limb.
"So … hmm. What's the deal with this case? I've got a quote from you here saying Devore might have just ditched his life and gone to live in Mexico."
Fig 1.5 Michael Sands' reported viewpoint prior to the discovery of Gary's body, namely that Gary had gone abroad as part of an elaborate publicity stunt. Freelance Star, June 29th 1998.
"Yeah, I thought that might have happened. We all hoped that for Wendy's sake, you know? But, hey do you know Gary went filming at Area 51? There's a whole bunch of weird shit. I was the guy pushing for the truth but the cops wouldn't bite. Hey, who was Dr. Findit? You found out about him yet? Listen, Gary was working on a script called The Big Steal about Iran-Contra. You've heard of that, right? Came back and bit Reagan in the ass?"
Okay, I'm finding that small falsehoods are slipping into this book, as though they don't matter. In fact, Sands did not ring me. He emailed me and I rang him. I can barely remember the conversation because Sands gave me so much new information my head was spinning within two minutes.
More to the point, I had to be quick because this was my 'phone bill. I had no idea what calls to the US cost but a dollar fifty per-minute would not surprise me. And even more to the point I knew I'd get bollocked by my wife if I didn't get to bed now, as she had work in the morning.
I finally dozed off into a desert dreamscape. First in Mojave, drifting past Edwards Air Force Base along the Aerospace highway, then into New Mexico.
The next morning I told Jessica about my discovery.
"You remember the article I wrote for the Guardian that mentioned the screenwriter who might have got whacked by the CIA?"
"Yeah."
"Well, I spoke to Devore's publicist last night. Apparently it's all true. He told me "everyone knows and it's an 'open secret'. It's true Devore had no hands when he was found – signs of an execution, or a way to cover up evidence of torture, or even a symbolic warning to the whole industry – 'don't write what we don't like'."
Area 51, in case you don't know, is the huge stretch of desert in Nevada where the US military develops high tech weaponry – famously Stealth aircraft in the 1970s – and where some people think flying saucers are kept. I didn't have much faith in alien visitation, and less in people that believed it.
"So what does this Area 51 thing mean?" I had asked Sands.
"I don't know but it suggests Gary had serious buddies in Intelligence". Ahh good, it sounded as though Sands wasn't a nut for the extra-terrestrial hypothesis. "How else could he have gained access to such a sensitive testing site?" said Sands, rather reasonably.
The other thing Sands told me was the email address of the widow, Wendy Oates-Devore.
"Hmm, interesting," Jessica said to me, in response, as though it was click-bait, rather than what it really was – something that was to consume my life for the best part of a decade.
Voting
Opens
Soon!