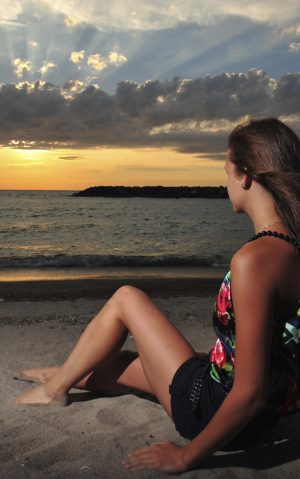 This Story's

Blockbuster

Potential Score
18

%
Voting
Closed

Synopsis
Believe it or not this is our true story, about how life just kept knocking me down.
---
Chapter One
Tumor on the soul
Tumor on my Soul
by: Sean Gallagher
I learned at a very young age that in the game of football, just as in life, it's all about getting up every time you're knocked down and moving forward no matter how deep the mud or the mess that you might find yourself in.
Take my 12th birthday: for the first time in the two years that I had been playing the game of tackle football, an actual game day happened to fall on the day that was supposed to be all about me. It was a Saturday in the fall, so there was football going on at every level, including at the local college where we would often go because my dad was their photographer. Well, on this particular morning Edinboro University was playing one of their arch rivals, but in my world, the 12-year-olds wearing the orange jerseys on the other side of the line of scrimmage would be the opponents that I was most worried about. It was early that morning and it was pouring rain, but for a group of kids, the thought of playing in mud up to your ankles was probably more exciting than 72° and sunny. Rain or not, this day could not move fast enough for me to get onto the field! I was awake early and my friend from just a few streets away came over to shoot a few hoops and to spend the day with my dad and me. You might be wondering why this friend wasn't actually on my team. In reality, this friend may have been one of the best athletes in the entire neighborhood, but she was a girl. Girl or not, Karen loved to go to games and today it was my game.
Before we would actually kick off and face our arch rivals, we traveled off to see Edinboro University take the field because their game was actually two hours before our kickoff. By the end of the first-half Edinboro was leading 14 to 7 and my dad was doing his thing, click click click click click. He seemed to think that his role as photographer was something I really cared about, when in reality it was just nice to be a kid on the sideline at a college football game. As the players made their way to the locker room, it was time for me to leave for my own game. Not only was it my birthday, but also I was the star running back and linebacker. Our team was all ready four and 0 and I was the leading scorer with 12 touchdowns. My dad stayed behind to do is job and my friend Karen stayed with him. I knew that as soon as the Edinboro game would end, he would show up on my sideline. Since it was my birthday, I actually expected there to be a lot of my family and fans on the sideline. One person I thought would be there by kickoff was my mom. As my coach pulled us together in the pouring rain, he told us that all of our attention had to be focused on the field and that this opponent would be the toughest one we faced so far. As we broke the huddle I remember coach Gierlak, screaming out to me, "hey kid make a play you need to make a play!" We lined up and as always ,I looked to the sideline. There was no mom, there was no dad. For whatever reason, I was alone, and the kicker for the opposing team placed the ball in several inches of mud getting set to kick it off. As the whistle blew, all I had on the sideline and on that field were my teammates, and my coaches, in my world that was all I needed. The ball bounced two or three times into my arms. And at that point I had no fear, no worries, and no concerns about who was there to see me run. In fact, I even forgot that it was my birthday. The first tackler went for my legs and I spun away. The next offender tried pulling me down by my jersey but I slipped through his hands. Before anyone could even blink I was on my way for a 60 yard kickoff return for a touchdown, and everything went on in the world around me was as if it didn't even exist.
Now it's not to say that my team would run away with this victory. In fact, throughout four quarters it was probably the toughest game of my two-year, and four-game career. The mud kept getting deeper, the hits were getting harder, and we found ourselves having to make a play at the end of the game that would seal the victory. As I started the game with a touchdown, I was fortunate that I ended the game with an interception that led us to a 14 to 7 win and both touchdowns were scored by me, the birthday boy.
Most moms would cringe at the fact that their sons game uniform was so covered in mud that you could not even tell that the pants used to be white. For a bunch of 12-year-old's who just won the closest game of the year, the mud became a playground for a celebration that was fit for a champion. With a dozen of my teammates on top of me, I managed to look out from the bottom of the pile, in mud so deep I could barely breathe, and I finally realized that my dad, with his camera in hand, and my neighborhood friend Karen, were there on the sideline. How much they had actually seen I wasn't quite sure because once the whistle blew to start the game my heart and soul were on the field. As I scanned the field looking at all the families celebrate, the one person I couldn't see was my mom. I think my dad must have noticed that I was looking for her because while the celebration continued around me I just walked to the sideline and I saw his head drop into his hands. With all that was going on, there was not much time to get down about this one detail. After all it was still my birthday, and many of my teammates were heading to my house for a sleepover. Before we got in the car my dad and Karen had to peel my uniform off of me, wrap me into garbage bags and throw me in the back of the car. On the ride home we talked all about the game, and the Edinboro game that dad and Karen saw all the way to its conclusion.
I'll never forget pulling up to the house, and one by one, my friends were showing up for a night of celebration. But before the party could get started we had to stand in front of the house as dad hosed us down trying to keep the mud from following us into the kitchen. As we started to celebrate, mom came to the house, and I watched as she turned back from the door and said her job is to get the pizza and the birthday cake. She said she would be back in a flash. As fate would have it my birthday party turned out much like my game, It was a victory celebration and more fun than a group of 12-year-old should be allowed to have. And just like my game mom never returned, no pizza, no cake, no mom. As my birthday turned into the next day, and even days after that there were still no mom. In fact it became very clear she was never coming home again.
From the day I was born, my birthday, the 29th day of September, was always special. It was also mom and dad's wedding anniversary. Now I was left with forever knowing, that it would also be the exact day, 12 years after the day I was born, that mom walked out and never came back. While I knew my dad and I were very sad, what I could never quite understand was how my brothers and sisters, were left behind. For the next several years it made me wish I would never have to celebrate my birthday again. The only time I could say it was a good day was if that day fell on or close to a game day. That is, if we would win. On the rare occasion when I would lose a game on my birthday, I think it actually felt worse than having mom walk out. For my younger brothers and my sisters our situation was just part of life. Maybe because these events did not unfold in front of their eyes, on one of their birthdays. Maybe they found it easier to forgive her. I do know. My dad always tried to make us believe that she did still love us. Dad would always defend her, and say his life and his health made it tough for anyone to love him and stay around. As I got older, and would hear him say," It.s okay. Heck if I could leave me, I would be gone too!" I came to understand our situation always left him feeling empty inside. He was a single father of six kids and he had to become the mom too. He always believed that she never meant to hurt us and the fact that she left him with all the kids was proof. He would say, "she knew in her heart that I could not survive without my kids." Dad was not only our dad. He became like a father and a friend to many of our closest friends.
In the years that would follow I must admit I never really blamed her for leaving. I just had to come to terms with what my life had become. I was very content with who I was as a person, and who I was on the field, because that field was the one place that all was right with the world. Just weeks before my 18th birthday, it was time for our senior year and just as in life, and football you never know what to expect. Only days before the season would open our starting quarterback and one of my best friend's went down with a broken leg. Coach turned to me and said, "Sean: you're now calling the plays." We would be opening our season against one of the premier high school football programs in the country. Our own local newspaper, a major newspaper in Ohio, and just about everyone who follows football thought that with our quarterback injured we might not even score. Just as I've done my entire life, I was able to block out the negative, and prepare to play quarterback. In front of close to 9,000 fans, we battled the future state champions down to the final gun. I know this is the part where you expect us to score that winning touchdown in the back of the end zone, and me, the back up quarterback, to be carried off the field in glory. But football, as in life, doesn't always quite work out like we had planned. We came up just short and I turned the ball over on what could have been the game winning drive. I did prove to everyone that we could play with the best. Just like I had to put that bitter defeat behind me and see the good that came from that game, I also realized that it was time to see the good that comes from all of those in our lives maybe especially my mom. As my life moves forward I have an ability to see past any hurt. I can see the good in the world, which means that we do have a future in front of us. I always felt my dad was obsessed with that damn camera. Now I realize he is just simply trying to capture a few images, that will help us hold on to all the good we do have in our lives.
If I've learned one thing from having a birthday fall on a game day, it's that life is not necessarily about the people that you share the field with, but maybe more importantly it's the few moments you get to share with them in your life. It could be in the end zone after a touchdown, or at the bottom of pile in 6 inches of mud. That 14 to 7 win on that wet muddy day will always be special. In the future I am sure I probably won't even remember the score or even if we won. But I will remember those teammates who shared that mud puddle with me, and that birthday with me, even if there was no birthday cake.
In case you're wondering how things ever turned out, well, I went off to play college football, my dad is still bugging me and my teammates taking pictures of every move we make. That little girl Karen might still be the best athlete from the neighborhood, but what she had more than athletic ability was the brains of a scholar. She is on her way to becoming an aeronautical engineer. And whatever happened to mom? She eventually came back into my life. Every time I look up in the stands she's right there waving her Edinboro pennant. Oh yeah, did I forget to mention, that I ended up playing at the same University where my 12th birthday began. Just as my life was turning around, it was time for fate to knock me down yet again. This time I was not sure if I could ever bounce back. Just two days before my first college game, my best friend, actually no, she was more like my sister than just a friend, died suddenly of an epileptic seizure. News that I couldn't even bear to deal with. I felt like I was smacked in the stomach with a baseball bat.  I went into coach's office and I told him that I had to go home for a little bit. Old friends and family to lean on. I prided myself on being a tough guy and being strong. I sat in my car and cried for about 2 hours. I didn't know what to think. When I got to Alyssa's house her mom, who ever since my mom walked out became my mother too, just cried in my arms. After a few hours she insisted I get back in my car go back to school and I was to play in that opening game.
Just over 24 hours after Alyssa had died, I was walking into the Stadium at the Pro Football Hall of Fame, about to play in my first college football game. Dad and my brothers and sisters were on their way from Pittsburgh where they just picked up my other best friend/brother James. Two night earlier James played in his first college football game and shocked the nation with a great performance at running back for Pitt. James rushed for almost 50 yards against Florida State on National TV. FSU went on to win the National Championship. At 7 pm the game kicked off, and on my first ever play in a college football game I was running down the field with Alyssa's initials written on my wrist, AJO. Somehow, someway I made an open field tackle. As I walked to the sideline I looked to the sky and realized that at that very minute the doors to the funeral home were opening as our family and friends were preparing to bury the most special person ever to come into my life. We ended up winning the game. Immediately after we headed back home because two days later James and I would help carry Alyssa to her grave. That game had a different feel to it. I used to play with anger and rage but this time I was calm and relaxed. After that first kickoff of the season, I ran down as fast as I could, weaving in an out of defenders. That moment came where I saw my opportunity and it was a one on one. I closed my eyes and made the tackle. I knew Alyssa was with me. Now I know Alyssa is always with me.
As the season went on I got much closer with my friends and family. Mom was even coming to all the games and staying after to tell me she was proud of me. We were playing a road game at Mercyhurst. I looked at my sister on the sidelines and she just shook her head, saying that mom was not coming. I understood something could have come up, but something didn't seem right?" that game. Nothing was going our way even though it was still a close game. Later that night I went out to party with the other players. I got a text from my mom, "Sean, I am in the hospital, I am not feeling well, I'm so sorry I missed your game." I asked if everything was all right? She had replied, "It doesn't look that way honey. I have a brain tumor". As I read those words on my screen I dropped my cup and fell to the ground. Not knowing what to make of the situation, I wanted to go see her but I knew I couldn't. I fought with my roommates, but they knew I was too upset to go.  I sat up most of that night, drinking in my room by myself with my headphones on looking up facts about brain tumors. When I got to the hospital the next day, to see her lying in the bed was too much for me. I broke down. I wanted someone to tell me what I was supposed to do. I was lost in my head. I drove from school to the hospital every day until she was released. I wasn't going to loose her the way I lost Alyssa on my watch. I was Alyssa's BIG BROTHER. I was supposed to protect her and I failed, just like on the field sometimes we fail. When you fail in a game, it's just that, a game! When the girl your supposed to protect dies in the shower because of epilepsy, you are forced to live the rest of you're life with a pain in your heart that will never fade.
So now I'm playing football, going to class and driving back home every chance I get to see my mom. While in school, I am trying to get good grades, help my team win, and after three more years here I am hoping to become a movie producer. Yes, someone who uses the big screen to tell stories that matter. Some ask how I do it? To be honest, I just close my eyes and pretended my life has all been a bad dream. I pray I will wake up and be 12 years old again, play a football game, have a sleepover party, only this time mom walks in with my birthday cake, lights the candles, and as my friends all start to sing, I tell mom to please make dad stop taking so many pictures. I would even be happy if we lost that game on that day in the mud.
So, as my 19th birthday comes around, all I wish for, is not a do over, but more time. I didn't tell Alyssa I loved her as much as I should have. I wasn't there to protect her like I should have. During those eight years without my mom, I should have gone after her. I should have made the most out of the the little time we did spend together. On the night before my final home game of my freshman season I sat at my mom's bedside for hours. As I got up to leave I held her and she whispered in my ear that she could not die thinking that I hated her. I told her I could never hate her. In fact, I love her more than life itself. After all she is my mother and always will be. I walked out of her room, I looked back and said, "I love you mom." She yelled out "I love you more Sean." The next day at halftime of our game my dad was there, and was holding his phone up to me so mom could see me from her hospital bed. I removed my helmet pointed to my newly shaved head and told mom this is for you because I love you!
Just like on the football field, you can't go back can't change the mistakes you made in the first quarter you must live with them and hope you learn from them in the fourth quarter, when the game is on the line. Well now for me and my mom the game of life is on the line. Together we will fight until the end. Just like that game in the mud, I am not going to remember the score. But I will always keep close to my heart the fact that I played this game of life with my mom right by my side.
While my tough life lessons make up who I am. I am determined to use these battles to make me a better person, a better friend, and some day the best husband and father I could possibly be. While I will remain positive moving forward, I will carry some resentment and anger. When my judgment day comes I may have a few question of my own about my life. The one burning thought that I just can't shake comes from what my sister and I were told by one of the Doctors. He said that this brain tumor your mom is battling is very bad. It is in a part of the brain that changes personalities. We often refer to this tumor as a tumor of the soul. It can grow for many years, and it is quite possible that your mother walked out on you at age 12 because this cancer made her do it. While that helps make a lot of sense out of how our lives unraveled, I take great pride in knowing that my mom was so strong that she was able to combat a brain tumor long enough to come back into my life when I needed her most!
Football is more than a game…it is my life!
Sean Gallagher
Voting
Opens
Soon!