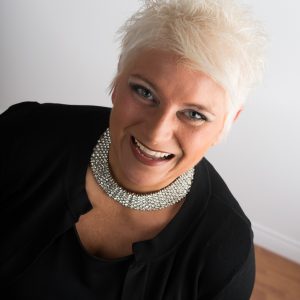 Hi there! My name is
Patti Larsen
Alexandra, Canada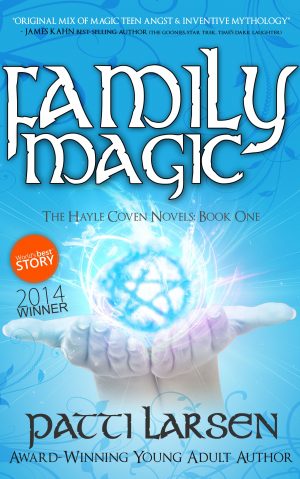 This Story's

Blockbuster

Potential Score
89

%
Synopsis
Her mom's a witch. Her dad's a demon. And she just wants to be ordinary.
The heir to the powerful Hayle coven, Syd would rather hang with the normal kids. Too bad they want nothing to do with her.
When a mysterious enemy attacks, she must choose between her dream of leaving magic behind and her family. Some choice.
Read sample chapter
About Me
I am an award-winning author with a passion for the paranormal. Now with over fifty books in happy publication, I live in beautiful Prince Edward Island, Canada, with my patient husband and five demanding cats.
Favorite Things
| | | |
| --- | --- | --- |
| | Coffee | Coffee. Coffee. Coffee. |
| | Movie | The Princess Bride |
| | App | Focus@Will |
Q&A with Vincent
How would you increase literacy?
If I had my way, every man, woman and child in the world would have access to inexpensive and enriching works of written art. But, in ways that appeal to their specific type of learning/enjoyment. For some, that means audio files, others it's through graphic novels and art. I truly believe movies and television can encourage literacy through good storytelling, if done correctly. I think we overlook the fact not everyone has the capacity or desire for traditional reading. Coming up with ways to include everyone in the enjoyment of storytelling is the key.
What are the ingredients for a blockbuster story to you?
I love stories with strong, flawed and yet loveable/at least likeable main characters (whether villain or hero). And secondary characters who feel real to the main—if they are to the MC, they are to me. Then, a solid, action-packed plot with enough emotional kick to make me laugh and cry and even throw the book across the room on occasion (I'm looking at you George R.R. Martin). Crisp writing, not too descriptive—I'm more than able to see on my own and prefer it. Something visual I can create an entire movie out of in my head, my own private Hollywood production. A story that makes me read into the night until it's done and leaves me waiting for the sequel while unable to stop thinking about it later.
Do you have any advice to aspiring writers?
So much advice, you're going to have a hard time make me stop. Not even kidding. But, for expediency's sake, I'll try to keep it brief.
1. Be professional. Above all else, carry yourself with professionalism every moment you're on social media, interacting with other writers, publishers, artists, the public. Treat this like a job, take it seriously, because it is serious. We get to influence people with our words. We have no idea sometimes just how much influence we carry, or who we are inspiring. The way we present ourselves tells the world we are not just artists, we're here to stay and make a difference. And, when the inevitable happens and someone hates what we've written, remember—one person's opinion is only that. Everyone has an audience. But, that leads to point #2…
2.Learn your skills until you don't have to think about writing. I know, I know! Punctuation, grammar, spelling, blergh. But, the moment you can release your need to think, you free your muse. How? Write. Read. Write. Read. See a pattern? Keep at it. If you're one of the lucky ones born with the talent to write well from a young age, I envy you. The rest of you, go write something! I've been at it from the age of twelve, through prose and poetry and songwriting to journalism, screenwriting and even improv theater. Learn everything about all kinds of writing. Pay attention to how stories are told, how scenes are strung into acts and what your favorite works have about them that pull you in every time. Yes, you'll learn to guess the endings to movies and books, my apologies. And yet, what a gift. Telling great stories is what this job is all about.

3. Have fun, won't you? We forget in the slog and anxiety and pressure of being writers that this is the most fun thing ever. Take away the worry about critics and if we're good enough and the passion returns in a flare of awesome so huge it devours us. Fun. Remind yourself every day and you'll never, ever quit.

4. Oh, yeah. Never quit. Please. The world needs your stories or the Universe wouldn't have given you the gift and drive to write. Trust me. Just keep writing.