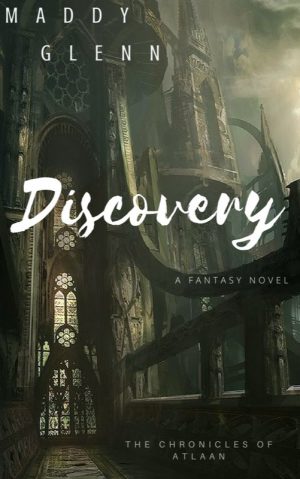 This Story's

Blockbuster

Potential Score
56

%
Synopsis
Atlaan is a land ruled by hidden politics. Shalo is the last human county standing; surrounded by prejudices and despised by all.
The first in a trilogy, 'Discovery' is about overcoming the odds, about family ties, and the unmistakable fear of not belonging.
Follow our central character, Malina Goodwin, who is forced from her home into the wilderness,
Follow Etillie Longthorn who continuously battles to escape the family she was born into,
Follow General Gray, playing the dangerous game of power,
and follow Henry Barlow, as he enters the ranks of the Shalo guard.
Read sample chapter
About Me
I'm a recent graduate from the University of Reading, with a 2:1 in Philosophy and English Literature. I'm an avid reader and writer. Freelance writer/reader/editor (more info can be found on my website). I write for a music magazine, run a reviews blog, have recently finished a novel (the novel entered in this contest), and have just begun a short screenwriting course.
Website & blog can be found at:
https://maddyglennwriter.wixsite.com/maddyglenn
Favorite Things
| | | |
| --- | --- | --- |
| | Coffee | Americano |
| | Book | Impossible to choose. |
| | Superhero | Eugh superheros |
| | Movie | Phantom of the Opera. Or maybe Elizabethtown. Or maybe Little Women. |
| | Musical | Phantom of the Opera |
| | Ice Cream | Honeycomb |
Q&A with Vincent
How would you increase literacy?
Introduce children to fun story telling. Never patronise a child's mind - childrens' imaginations are far better than adults'. They can tolerate a lot more complex ideas than we think they can. Show them the incredibly capacity of their minds for the endless boundaries of imagination. Allow them to imagine.
What are the ingredients for a blockbuster story to you?
A detailed, well thought out world. Proofread and edited. Easy to understand what is going on. Characters that differentiate from one another. A story that makes you forget you are reading.
What are your top stories that entertain and/or inspire you?
A Song of Ice and Fire series, Harry Potter series, Exodus by Julie Bertagna, Jane Austen, Lord of the Rings, The Hunger Games, Cloud Atllas, The Night Circus, On The Road...
The list goes on and on...
Do you have any advice to aspiring writers?
Read. Read, read, read. Read the classics in your genre, read the best selling in your genre. Read out of your genre: the opposite of your genre. Some of the best books are those you can't quite place in a genre. That comes from extensive knowledge of a spectrum of genres. And write. It doesn't matter if it's utter tripe. Write every story that comes into your head. Write down your dreams. Keep a diary. Write poetry, essays, reviews...
All kinds of writing will develop your skill and your style.
Do you recall how your interest in writing originated?
When the third Harry Potter book came out I was old enough to start reading my myself. Mum had always read the books to us (myself and two brothers)...and she still did until book five.
I discovered my love for reading and, from then on, always had my nose in a book.
I was around seven when I decided being a writer was my true calling. I HAD to have other people losing themselves in my words. I have never let go of that feeling.