As a huge fan, I'm thrilled to share this exclusive interview with Warren Adler who will be on the judging panel of this year's edition of the World's Best Story contest.
Q: Your novel "The War of the Roses," published in 1981 was a smash hit. It follows Mr. and Mrs. Rose, a fictional happily married couple who wind up in a macabre divorce. What inspired you to write their story? How have divorce lawyers reacted to your novel over the years? If you could choose sides, who would it be, Mr. or Mrs. Rose?
At a dinner party one of the invitees said he had to leave early because he and his wife were having a divorce and living under the same roof although they hated each other. It was a eureka moment and I imagined the novel in my head. Pretty simple. "The War of the Roses" is now in the legal nomenclature of divorce all over the world. Divorce lawyers cite me as an expert on divorce although I have never been divorced and am in a long marriage with my lovely wife to whom I've been married for over 60 years.
As for choosing sides, I would never choose sides. Both husband and wife were victims of the times and made terrible choices.
Q: In 1989, your novel was made into the blockbuster movie starring Michael Douglas, Kathleen Turner, and Danny DeVito who also directed, how did it feel to see your story on the big screen with such amazing actors bringing it all to life?
I have not always been thrilled with adaptations of my work. In this case they were spot on. Yes, it felt wonderful to see that they had got it right.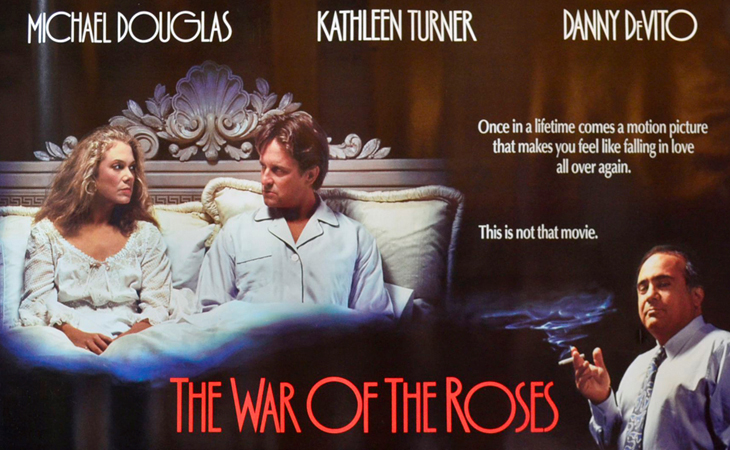 Q: If you were to write "The War of the Roses" today, do you think you would change anything? Do you think couples today still feel the need to get even? Would the characters be more macabre in 2015 compared to 1981?
Human nature never changes. Ironically enough, I never thought of "The War of the Roses" as a revenge fantasy. They acted out a basic fight to the finish based on the wrong choices.

Q: What are the ingredients for a blockbuster story to you?
Above all, a story must tell the truth and be honest in the characters' motivations. In life there are many conflicts, but if the conflicts are contrived or phony nobody will buy into it. I have strived, above all, for honesty in all of my forty novels and many plays.
Q: Do you have any advice to aspiring writers?
If you believe in your talent, stick with it and dismiss negativity. Do not let rejection throw you off course. Rejection is merely part of the process. Rise above that and you are halfway there.
Q: What story do you enjoy reading over and over again?
I don't have one particular story. I do love reading classics and will often pick up a novel by Simenon to enjoy the way he manipulates human psychology.

Q: How would you increase literacy?
By ungluing children from their TV sets for just a few hours and encouraging them to read the many wonderful books available to them.
Q: What is your favorite drink while writing and/or reading?
Coffee, but within limits.
Q: What is your favorite genre of music, artist?
I like all show tunes by the old masters of the genre and love snow scenes where the subject is New York City.
Q: What is your favorite movie, TV show, superhero?
I love all of the movies in which Fred Astaire or Gene Kelly danced.
Q: What is your must have snack?
You can usually hear me crunching away on rice crackers.
Q: If heaven exists, what is the first thing you would like to hear from God when you arrive at the Pearly Gates?
Welcome my favorite author 
Q: What ice cream flavor would you invent?
I like peanut butter flavor.
Q: What's on the horizon for Warren Adler?
There are many exciting things on the horizon. "The War of the Roses" is now headed to Broadway, the Hollywood production of "The War of the Roses: The Children" is in development, my Fiona Fitzgerald mystery series is in development as a TV series titled CAPITOL CRIMES with Eric Overmyer as showrunner, and a few of my other novels including Funny Boys, Mourning Glory, and Target Churchill are being adapted as feature films. If you want to find out more development news and check out my books then visit my official website here.
You can follow Warren Adler here: www.warrenadler.com
www.facebook.com/warrenadler
Writers!
Imagine telling the world YOU have the World's Best Story?
It's totally free to enter, why wait to see if your story can make your dreams come true? Submit your story now!
Readers!
Discover and vote for great stories, win great prizes just for voting, check out the stories!