Who isn't familiar with Fred screaming Yabba Dabba Dooo!!!
The Flintstones, an American animated sitcom produced by Hanna-Barbera takes place in the Stone Age depicting the lives of the titular characters, Fred, Wilma, and their daughter Pebbles. Also starring are Barney, Betty and Bamm Bamm Rubble, their next-door best friends.
It was created by William Hanna and Joseph Barbera and originally broadcast on the ABC network from September 30, 1960, to April 1, 1966 on prime time, a first for an animated series.
The Flintstones has been the most financially successful and popular network animated franchise until The Simpsons debuted in 1989. In 2013, TV Guide ranked The Flintstones as the second greatest TV cartoon of all time right after The Simpsons.
The characters of The Flintstones were based on The Honeymooners, the 1954-56 TV series, starring Jackie Gleason and Art Carney as working class neighbors. Jackie Gleason had considered suing Hanna-Barbera, but decided he did not want to be known for getting the show cancelled.
After Fred and Wilma Flintstones' daughter Pebbles was born, Betty Rubble felt very sad about her inability to conceive a child of her own with her husband Barney. This was the very first time that an animated TV show addressed the issue of infertility and introduced adoption as a viable way of having children with the Rubbles adopting their son Bamm-Bamm.
The Flintstones is a true blockbuster story franchise, from TV to the big screen to books, comics, games and toys of all kinds including Flintstones vitamins and cereals. The Flintstones vitamins and Fruity/Cocoa Pebbles are still available in grocery stores today.
Opening and closing credits of the 1960's TV show



In 2016 DC Comics created modern reimaginings of classic Hanna-Barbera properties including The Flintstones which has been very well received. Writer Mark Russell and artist Steve Pugh have created an amazing series that is both funny and touching exploring the human condition set in the stone age.
Russell re-imagined Fred and Barney from cave construction employees to PTSD-suffering veterans of war where they unknowingly committed genocide.
In Russell's re-imagining, the most endearing characters aren't actually the humans of Bedrock, but actually the animals that serve as Bedrock's various household appliances.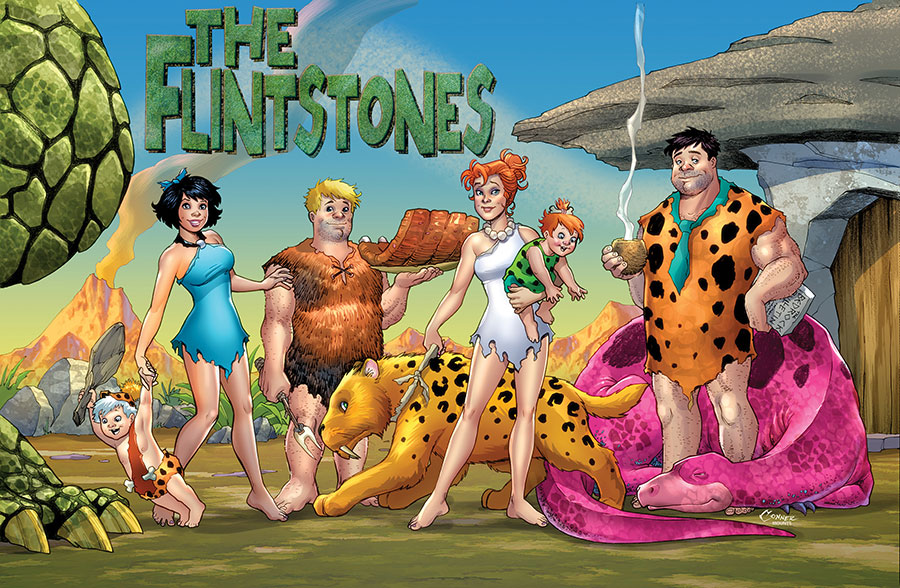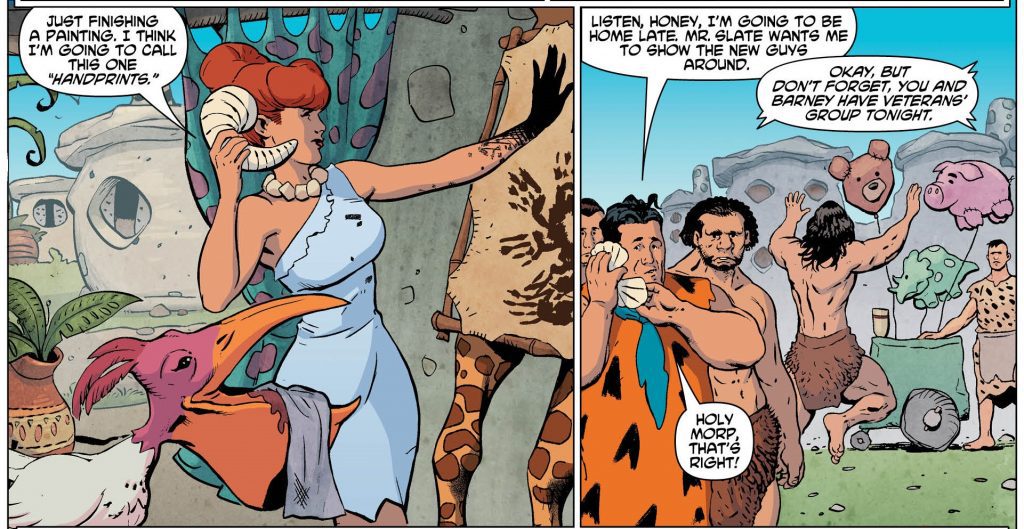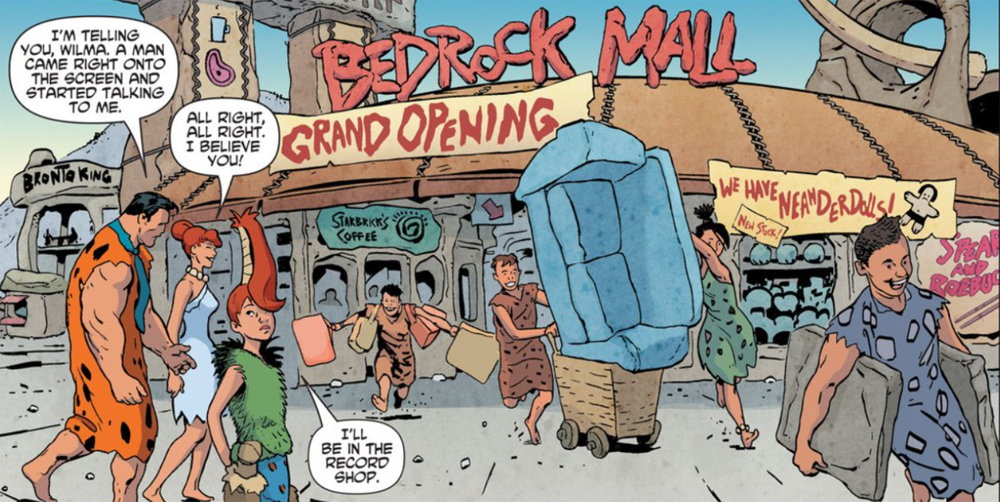 The preview of #DCHannaBarbera's final THE FLINTSTONES #12 points out some inconvenient truths. https://t.co/ODuDXOUzed pic.twitter.com/Bwtz5qrcQv

— DC (@DCComics) June 5, 2017
from $128,49 – ! 1960s Hanna Barbera Ideal Bamm-bamm Flintstone Doll In The Original Box 17″ https://t.co/txlCaUABO2 pic.twitter.com/KUNoW9X4hn

— Retro Toys (@toys_vintage) May 31, 2017
2 1963 GOLD KEY HANNA BARBERA THE FLINTSTONES COMIC BOOK #11 AND #13: $15.99End Date: Jun-24… https://t.co/SzfocfCdJj #goldkeycomics pic.twitter.com/g62uffdogw

— Gold Key Comics (@goldkeycomics) May 25, 2017
Another "sneak peek" at my current project…TV cartoon fun!#flintstones #hannabarbera #pebbles #warnerbros #retro #patrickowsley pic.twitter.com/b5PyrZjPz8

— Patrick Owsley (@PatrickOwsley) May 25, 2017