Hi there! My name is
Hannah Goodman
Bristol, USA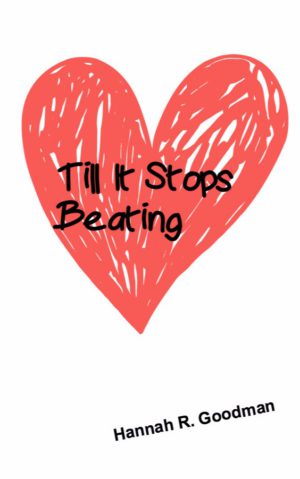 This Story's

Blockbuster

Potential Score
81

%
Synopsis
Eighteen-year-old MADDIE, a senior in high school, can't move on. She's obsessed with ex-boyfriend JUSTIN and doesn't want to go to college. The novel opens with Maddie avoiding writing her college essay in AP English class by writing bad poetry about Justin while faced with a disgusting jelly donut (bribery from her teacher). No one understands her behavior. Maddie only vaguely does, and TILL IT STOPS BEATING is the story of her melt down and regrouping with the help of her grandmother, Justin, friends and, mostly, herself.
Her best friends chide her after the bizarre behavior in class, and she swears off Justin, stating that she is going to start dating again. She doesn't talk about college.
Maddie receives a call from her grandmother BUBBIE that she has cancer. Maddie goes into a tailspin of panic attacks, brought on by college pressure, Bubbie's illness, and her unfinished love for Justin.
Maddie starts dating SEAN, but eventually (through prom and other events) realizes she's just passing the time and that her heart still belongs to Justin.
She calls Justin and finds out that he will be in California this summer, not far from where she'll be visiting Bubbie. After graduation, Maddie and friends plan a road trip to California. When they arrive at Bubbie's, Bubbie explains that she won't be doing any more chemo, since she'd rather have three great months than be miserable to the end.
At the funeral, Maddie gives the eulogy: "I remember something Bubbie said to me not too long ago when I told her how she had to try everything to stay alive because I didn't want to go through this." She waves her arms around the room. "And she came back at me with one of her Bubbiesm except this one came from one of her favorite writers, E.B. White, 'Never worry about your heart till it stops beating.'  And then she added, as long as you are alive and beating, sweetie, things will hurt." Maddie looks at her loved ones and says, "And I hurt, so I guess I really don't have to worry." Later she and Justin go out to the bridge and scatter some of Bubbie's ashes that she has in the locket that her grandmother had given her.
We come full circle to Maddie and Justin on the plane home … and a jelly donut. Maddie doesn't understand. He rubs her knee and whispers in her ear, "You love jelly donuts, raspberry to be exact." Maddie shakes her head, but he continues. "We were in 8th grade at your house working on project, and I brought the donuts and you had an interesting way of eating them." She begins to remember and blushes. He tells her that she stuck her finger all the way in and pulled out the jelly, then licked her finger and said, "Want some?" With that, Justin licked her finger clean. He tells her, "I remember everything" and she smiles and says, "You're right. I do love jelly donuts," and pulls him to her for a jelly-filled kiss.
Read sample chapter
About Me
Founder @allthewayya @suckerlitmag. Member @RIAuthors. Alumni @SolsticeMFA Blog https://t.co/CxesqaNJu0 Contributor @themightysite