1. Letters From Father Christmas by J.R.R. Tolkien
Every December an envelope bearing a stamp from the North Pole would arrive for J.R.R. Tolkien's children. Inside would be a letter in a strange, spidery handwriting and a beautiful colored drawing or painting. The letters were from Father Christmas.
They told wonderful tales of life at the North Pole: how the reindeer got loose and scattered presents all over the place; how the accident-prone North Polar Bear climbed the North Pole and fell through the roof of Father Christmas's house into the dining room; how he broke the Moon into four pieces and made the Man in it fall into the back garden; how there were wars with the troublesome horde of goblins who lived in the caves beneath the house, and many more.
No reader, young or old, can fail to be charmed by Tolkien's inventiveness in this classic holiday treat.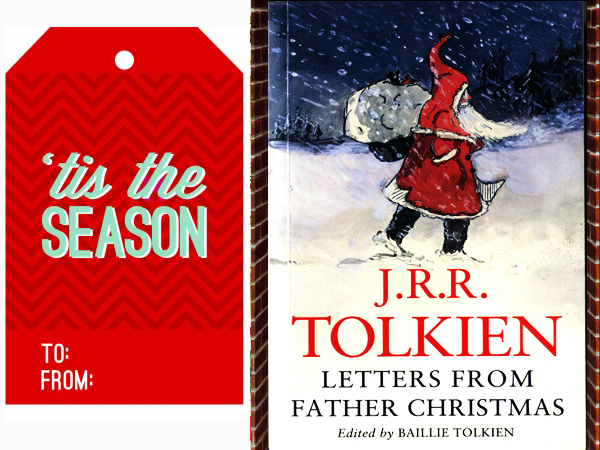 2. The Steadfast Tin Soldier by Hans Christian Andersen
A lavishly illustrated retelling of Hans Christian Andersen's tale, in honor of his bicentenary, this is the powerful and haunting classic tale of the one-legged tin soldier who falls in love with a proud dancer. Valiantly enduring various trials, the soldier remains steadfast until the end.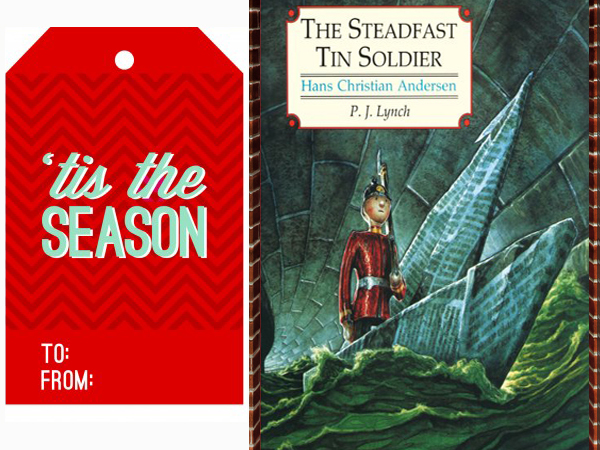 3. Twas The Night Before Christmas by Clement C. Moore / Illustrated by Charles Santore
Wonderful new version of the classic poem every family should own. Lavishly illustrated by renowned artist Charles Santore, the critically acclaimed illustrator of The Wizard of Oz, Snow White, The Little Mermaid, and others. An oversized heirloom edition with a four-page gatefold. Includes embossed and foil cover.
Since it was first published anonymously in 1823, "The Night Before Christmas" has enchanted children with the story of St. Nicholas climbing down the chimney and filling all the stockings before springing back to his sleigh. Many families read the poem every year, and now they have an edition to treasure. The cherished verse, faithfully reproduced here, is accompanied by Charles Santore's lavish illustrations.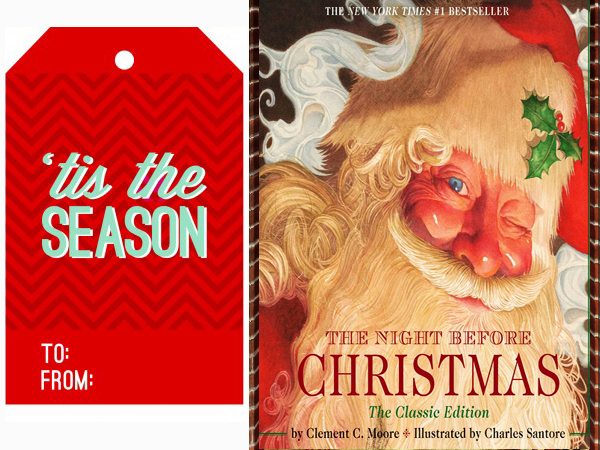 4. The Life and Adventures of Santa Claus by Frank Baum
Written by the fascinating author of The Wizard of Oz, The Life and Adventures of Santa Claus tells the captivating story of Neclaus, a child found and raised in the magical Forest of Burzee by a wood-nymph. Among the imortals, Neclaus grows an innocent youth, until the day when he discovers the misery that rules the human world and hovers, like a shadow, above the heads of the children. Now, in the attempt of easing human suffering, he, with the help of his imortal friends, will have to face the forces of evil and of resignation, in order to bring joy to the children and teach them, for the sake of humanity, the importance of sharing and caring for each other.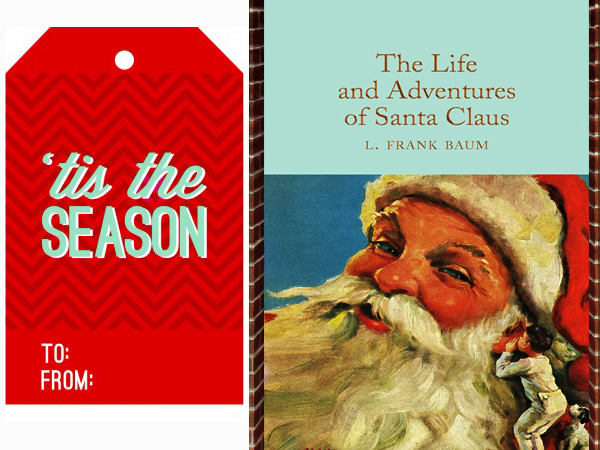 5. The Little Match Girl by Hans Christian Andersen
The luminous art of three-time Caldecott Honor recipient Jerry Pinkney transforms the nineteenth-century Danish girl of Andersen's tale into a child plucked straight from America's melting pot, shedding new light on the invisibility of the poor among the prosperous-a circumstance as familiar in Andersen's day as it is in our own.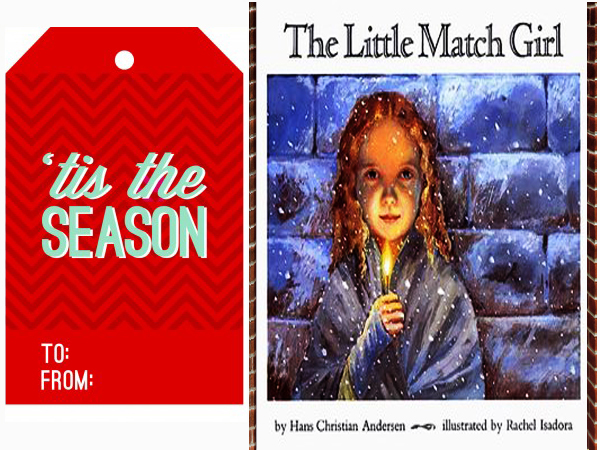 6. Rudolph the Red-nosed Reindeer by Robert L. May
The original story of Rudolph the Red-Nosed Reindeer—written in verse by his creator, Robert L. May—now with charming new illustrations!
Every year at Christmastime, everyone—young and old alike—has one catchy, joy-inspiring song stuck in their heads: "Rudolph the Red-Nosed Reindeer!" Now fans of the most famous reindeer of all-time can fall in love with the original story, written by Robert L. May in 1939.
Rudolph, a youthful reindeer buck who possesses an unusual luminous red nose, is harassed mercilessly and excluded by his peers because of this trait. One particularly stormy Christmas Eve, Rudolph manages to prove himself after Santa Claus catches sight of his nose and asks him to lead his sleigh for the evening. Rudolph agrees, saving Christmas, and is finally treated the way he deserves by his fellow reindeer!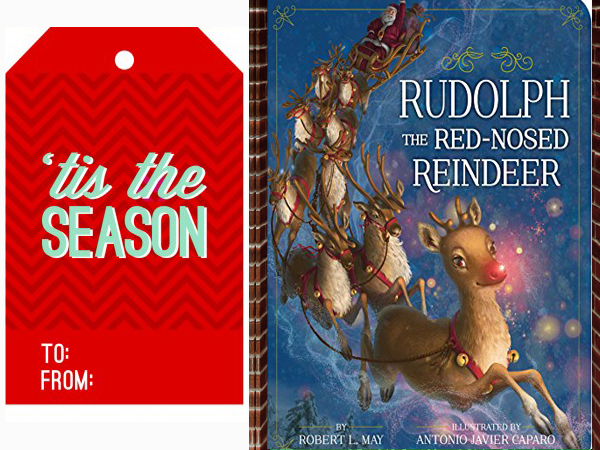 7. How the Grinch Stole Christmas! by Dr. Seuss
"Every Who down in Who-ville liked Christmas a lot . . . but the Grinch, who lived just north of Who-ville, did NOT!" Not since "'Twas the night before Christmas" has the beginning of a Christmas tale been so instantly recognizable. This heartwarming story about the effects of the Christmas spirit will grow even the coldest and smallest of hearts. Like mistletoe, candy canes, and caroling, the Grinch is a mainstay of the holidays, and his story is the perfect gift for young and old.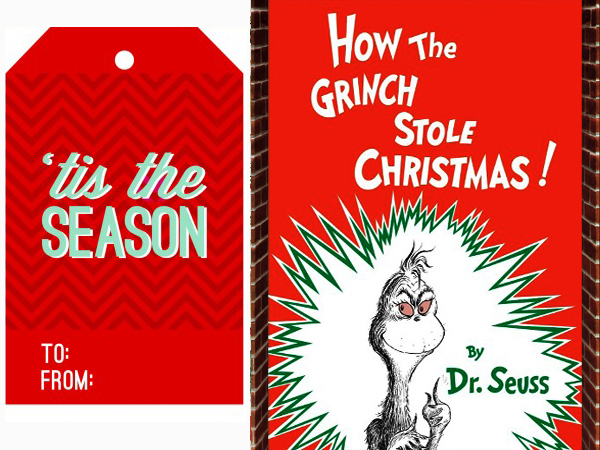 8. The Snowman  by  Raymond Briggs
A wordless story. The pictures have "the hazy softness of air in snow. A little boy rushes out into the wintry day to build a snowman, which comes alive in his dreams that night. The experience is one that neither he nor young 'readers' will ever regret or forget."–(starred) Booklist.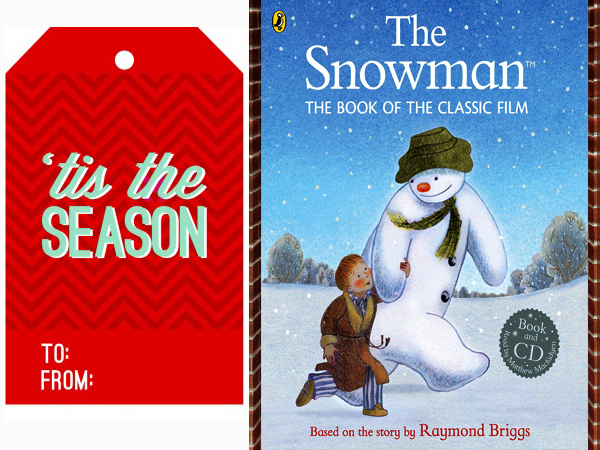 9. The Polar Express by Chris Van Allsburg
A young boy, lying awake one Christmas Eve, is welcomed aboard a magical trip to the North Pole . . . Through dark forests, over tall mountains, and across a desert of ice, the Polar Express makes its way to the city atop the world, where the boy will make his Christmas wish.
 For millions of readers worldwide, this mysterious journey to the North Pole has become a beloved classic. In this 30th anniversary edition, the inimitable artistry of Chris Van Allsburg is revealed in a never-before-seen fashion, with a new jacket design and expanded interior layout. Includes author's note, downloadable audio read by Liam Neeson, and golden "All Aboard" ornament.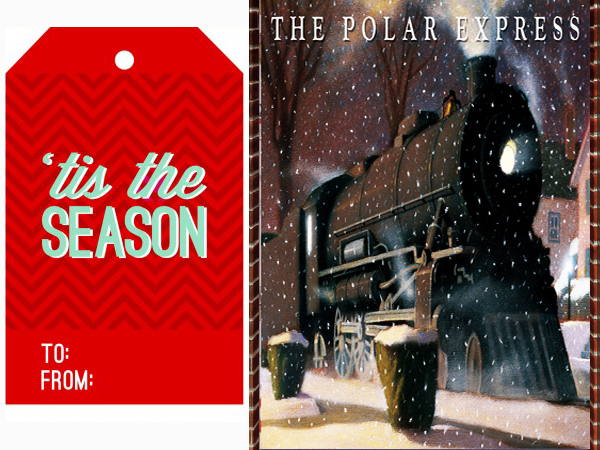 Generations of believers in hope and goodwill have made Valentine Davies' Miracle on 34th Street a treasured part of their holiday traditions. Millions of copies of this award-winning story have sold since its first publication in 1947, delighting readers of all ages. A facsimile edition of the book is now faithfully re-created, offering a new generation–and fans of the original–the beauty of the classic 1940s design. Details of how the book came to be written, and made into a beloved film, are included in a brief historical note.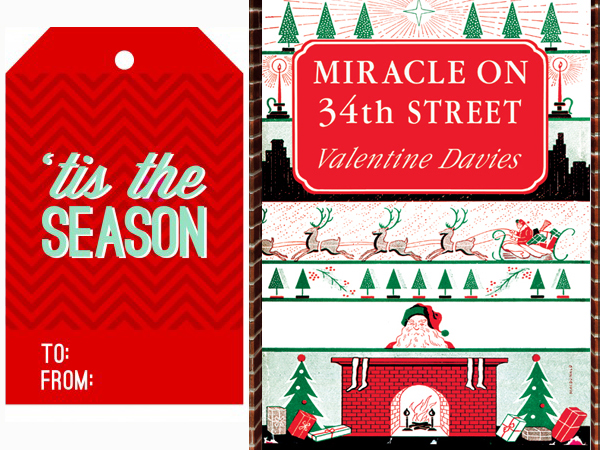 Beloved writer and speaker William Bennett brings the legendary Saint Nicholas to life in this fascinating and faith-affirming book that will change the way you think about Santa Claus and the meaning of Christmas. Bennett reflects on Saint Nicholas's storied life, which has spanned seventeen centuries across Europe, Asia, and Africa, and reveals an inspiring tale of devotion to God and an example of eternal goodness.
The True Saint Nicholas: Why He Matters to Christmas focuses on three aspects of Saint Nicholas—historical facts from his life, his legacy in the centuries following his death, and the legendary status that transformed his likeness into the present-day jolly, toy-bearing Santa Claus. The book vividly captures the heart and life of someone who lived long ago—and yet whose life remains an inspiration for everyone to aspire to a higher order of generosity, giving, and devotion to others.
An instant classic by one of America's most respected thinkers, The True Saint Nicholas is a memorable keepsake to be shared with family and friends every year to evoke the true spirit of Christmas.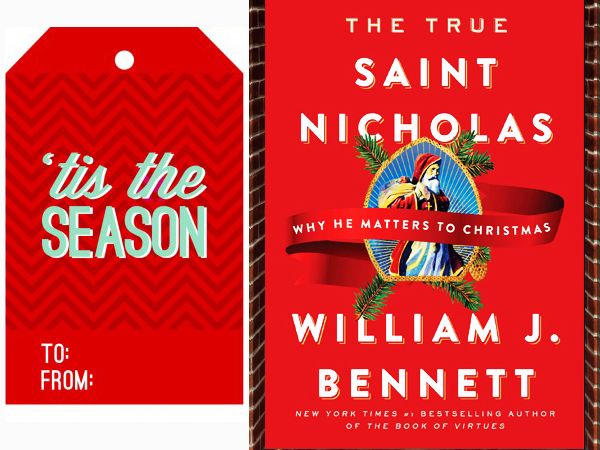 Midcentury America was a wonderland of department stores, suburban cul-de-sacs, and Tupperware parties. Every kid on the block had to have the latest cool toy, be it an Easy Bake Oven for pretend baking, a rocket ship for pretend space travel, or a Slinky, just because. At Christmastime, postwar America's dreams and desires were on full display, from shopping mall Santas to shiny aluminum Christmas trees, from the Grinch to Charlie Brown's beloved spindly Christmas tree. Now design maven Sarah Archer tells the story of how Christmastime in America rocketed from the Victorian period into Space Age, thanks to the new technologies and unprecedented prosperity that shaped the era. The book will feature iconic favorites of that time, including:
• A visual feast of Christmastime eats and recipes, from magazines and food and appliance makers
• Christmas cards from artists and designers of the era, featuring Henry Dreyfuss, Charles & Ray Eames, and Alexander Girard
• Vintage how-to templates and instructions for holiday decor from Good Housekeeping and the 1960's craft craze
• Advice from Popular Mechanics on how to glamorize your holiday dining table
• Decorating advice for your new Aluminum Christmas Tree from ALCOA (the Aluminum Company of America)
• The first American-made glass ornaments from Corning Glassworks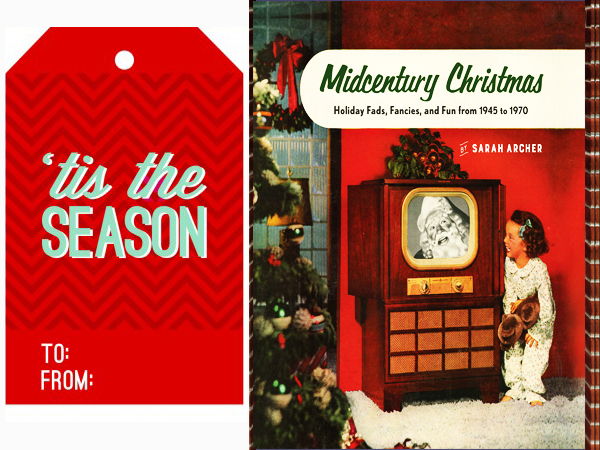 13. The 13th Gift: A True Story of a Christmas Miracle by Joanne Huist Smith
After the unexpected death of her husband, Joanne Huist Smith had no idea how she would keep herself together and be strong for her three children–especially with the holiday season approaching. But 12 days before Christmas, presents begin appearing on her doorstep with notes from their "True Friends." As the Smiths came together to solve the mystery of who the gifts were from, they began to thaw out from their grief and come together again as a family. This true story about the power of random acts of kindness will warm the heart, a beautiful reminder of the miracles of Christmas and the gift of family during the holiday season.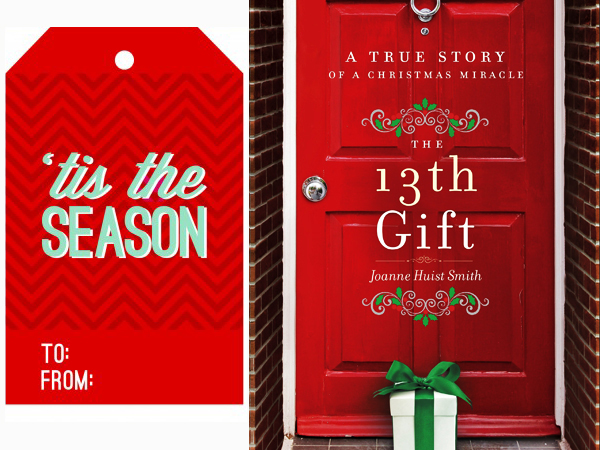 14. The Legend Of The Candy Cane by  Lori Walburg
One dark November night a stranger rides into a small prairie town. Who is he? Why has he come? The townspeople wish he were a doctor, a dressmaker, or a trader. But the children have the greatest wish of all, a deep, quiet, secret wish.
Then a young girl named Lucy befriends the newcomer. When he reveals his identity and shares with her the legend of the candy cane, she discovers fulfillment of her wishes and the answer to her town's dreams. Now will she share what she has learned?
Vibrant illustrations by Richard Cowdrey bring to life a timeless tale by Lori Walburg, a story that will help families celebrate the mystery and miracle of Christmas―for many Christmases to come.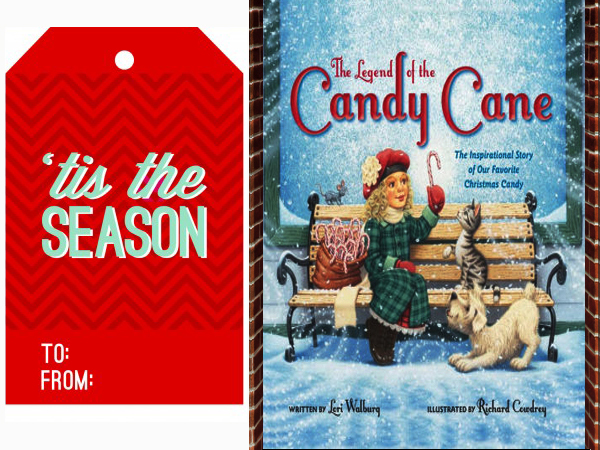 15. Hidden Christmas: The Surprising Truth Behind the Birth of Christ by Timothy Keller
Even people who are not practicing Christians think they are familiar with the story of the nativity. Every Christmas displays of Baby Jesus resting in a manger decorate lawns and churchyards, and songs about shepherds and angels fill the air. Yet despite the abundance of these Christian references in popular culture, how many of us have examined the hard edges of this biblical story?
In his new book Timothy Keller takes readers on an illuminating journey into the surprising background of the nativity. By understanding the message of hope and salvation within the Bible's account of Jesus' birth, readers will experience the redeeming power of God's grace in a deeper and more meaningful way.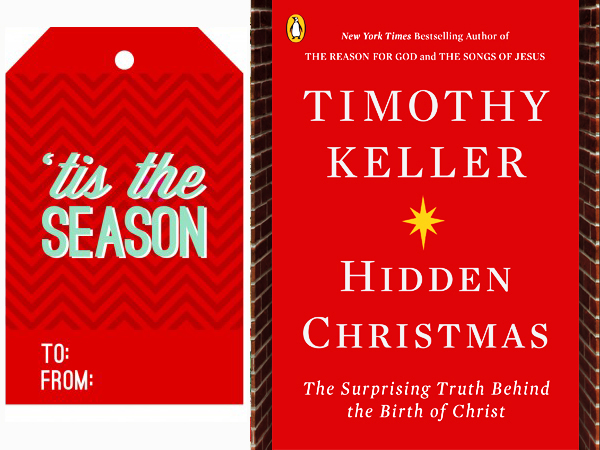 16. Tim Burton's Nightmare Before Christmas Pop-Up Book by Matthew Reinhart
Experience Tim Burton's iconic film like never before with this nightmarish pop-up of monstrous proportions! From the renowned paper engineer Matthew Reinhart comes a mind-blowing retelling of this classic story in gravity-defying pop-up artwork on every page. A celebration marking the twenty-fifth anniversary of the groundbreaking movie, this is the perfect item for avid The Nightmare Before Christmas fans, holiday ghouls, and undead merrymakers alike.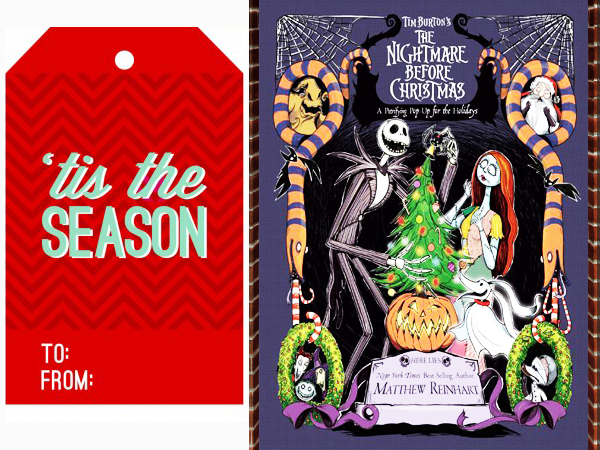 17. The Christmas Wish by Lori Evert and Per Breiehagen
Long ago, a brave little girl named Anja wanted to be one of Santa's elves. So she leaves a note for her family and helps her elderly neighbor prepare for the holiday, then she straps on her skis, and heads out into the snowy landscape. From a red bird to a polar bear to a reindeer, a menagerie of winter animals help Anja make her way to Santa. A generous trim-size, matte cover, extraordinary photographs, and foiled title make this a special book for the holiday season.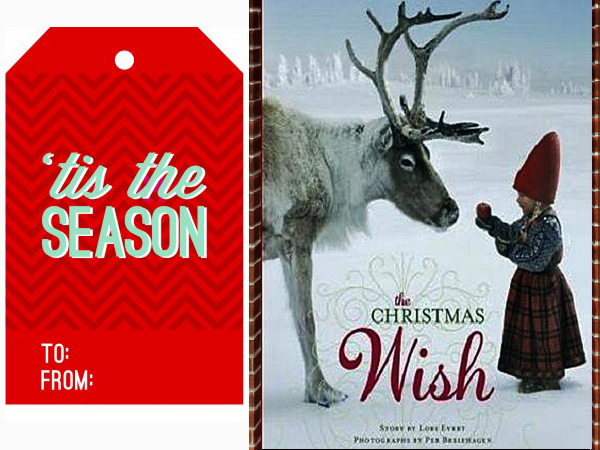 18. Mouse's Christmas Gift by Mindy Baker
In Mouse's Christmas Gift, written by Mindy Baker and illustrated by Dow Phumiruk, one tiny church mouse must find a way to bring Christmas spirit to his little town when Parson gets sick and the usual Christmas Eve service is cancelled. Mouse never gives up hope as he prepares the nativity set and lights a small candle in the window to signal the villagers. Mouse's small act of faith sparks a chain reaction of hope and love, demonstrating that even the smallest creature can make a big difference. This adorable book, with a cover adorned with foil and glitter, captures the spirit of Christmas and the joy of doing for others during the holiday season.
That night, on Christmas Eve, a small group of villagers gathered in front of the darkened church. Mouse peered out the window and his heart began to pound. They came!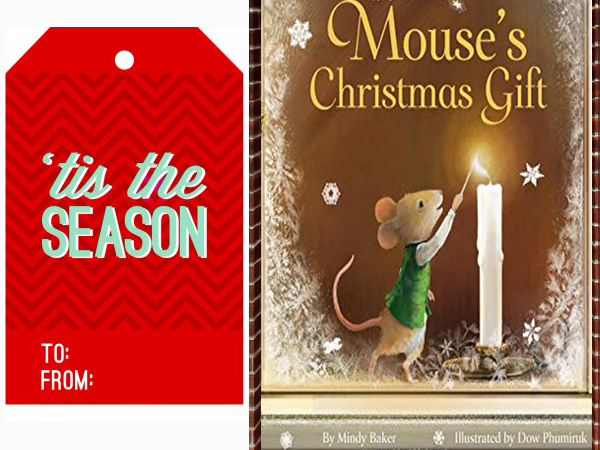 19. Secret Santas and the Twelve Days of Christmas Giving by Courtney Petruzzelli
Children everywhere are learning how they can become members of the real-life, Secret Santa Team! With every page turned an exciting new adventure awaits, showing your child how he or she can spread kindness and cheer throughout the Christmas season. This tradition of hope, joy, and love paves the way for families to introduce their little ones to the joy that comes from giving to others in a magical and exciting way.
With dazzling, hand-painted illustrations – depicting the nostalgia of yesteryear – and delightful, rhyming verses leaving you inspired with good cheer, Secret Santas And The Twelve Days Of Christmas Giving is a new Christmas classic; a must-have title to accompany The Night Before Christmas, The Giving Tree, and Elf on the Shelf in every holiday collection.
Each book includes a Certificate, signed and sealed by Santa himself, rewarding your child for demonstrating compassion and kindness throughout the year and welcoming them to the Secret Santa Team.
The message of this story transcends the Christmas season, empowering every child to make a difference throughout the year.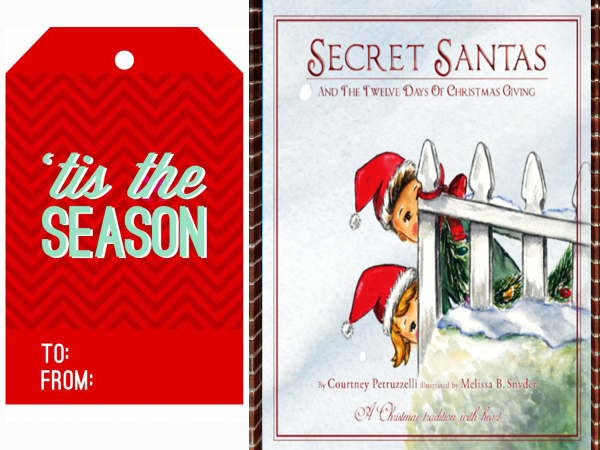 20. A Christmas to Remember: A  Wonderfully Uplifting Christmas Romance Novel by Jenny Hale
Carrie Blake loves her job as a nanny but, while her friends are settling down, all of Carrie's spare time is spent with other people's families. Though it breaks her heart, her New Year's resolution is to embark on a new career and fix her love life.
As Carrie starts her last job, she's sure she'll be going out on a high – the house is amazing, the kids are adorable, and she's in charge of decorating the tree!
The only problem could be her boss… single-dad, Adam Fletcher might be both handsome and successful, but he's always working. Doesn't he realise he's missing out on precious moments with his son and daughter?
As Adam's family arrive for Christmas including his sensitive sister, Sharon, and his fun-loving elderly Grandpa, Walter, Carrie realises that she might just have found the perfect allies in her quest to persuade Adam to loosen up. There's still time for Carrie to make this the best Christmas ever… after all, Christmas is the time for miracles, isn't it? Let the festivities begin!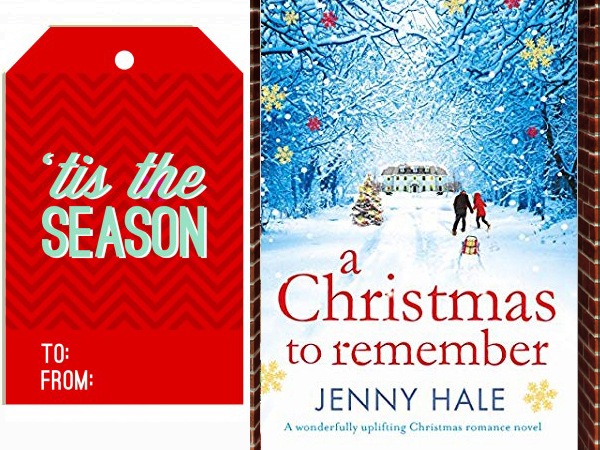 21. Pinkalicious: Merry-Pinkmas! by Victoria Kann
Join Pinkalicious as she celebrates Christmas in New York Times bestselling author and artist Victoria Kann's Pinkalicious: Merry Pinkmas!—complete with poster, cards, and sticker sheet!
This year Pinkalicious has decided she wants a bright pink artificial Christmas tree. But Mommy and Daddy immediately say no—the Pinkertons always get real trees for the holidays. Despite Pinkalicious's begging and pleading, each family member has a different objection: real trees smell better; it's tradition; and there is definitely no room to store a big pink tree in the house after Christmas! Pinkalicious is disappointed, but she tries to put on her best cheerful face. Then, the day before Christmas, Mommy and Daddy surprise Pinkalicious by coming home with a gorgeously pink artificial tree and Pinkalicious is delighted! It's pinkatastic! Stay tuned for a brand-new show coming in winter 2018 to PBS Kids: Pinkalicious & Peterrific!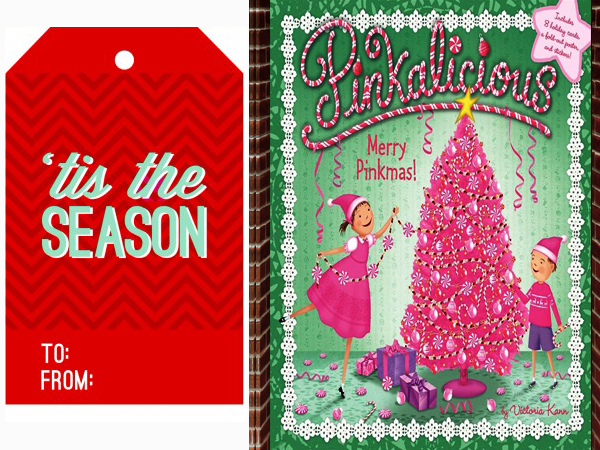 22. Mr. Willowby's Christmas Tree by Robert Barry
Christmas is here and Mr. Willowby's tree has arrived! There's just one big problem . . . the tree is too tall to fit in his parlor. He cuts off the top so it will fit, but little does he know that the top of that tree will travel clear across the countryside, bringing holiday cheer to the homes of bears, rabbits, mice, and more! This heartwarming story is the perfect way to start your yuletide season, and the perfect addition to your family's festive holiday traditions.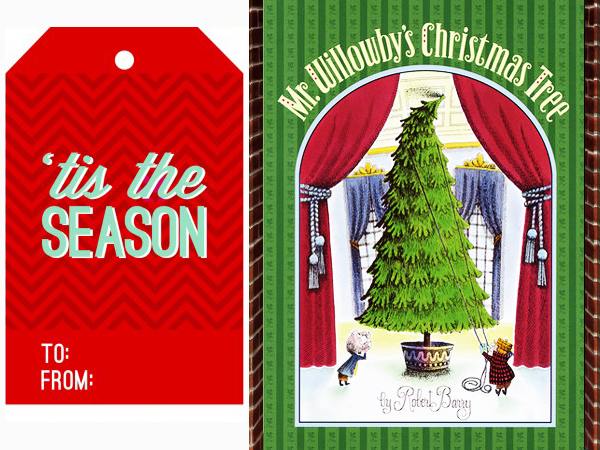 23. Home Alone: The Classic Illustrated Storybook by Kim Smith
The beloved, classic Christmas movie is now an illustrated storybook for readers of all ages!

With an amusing read-aloud story and enchanting, immersive illustrations, this charming adaptation is the perfect nostalgic gift alongside family holiday classics like The Polar Express and How the Grinch Stole Christmas. Eight-year-old Kevin McCallister wished his family would disappear. He never thought his wish would come true! Can he keep a couple of crooks from entering his house? And will his family return in time for Christmas? Complete with bumbling burglars, brilliant booby traps, and a heartwarming happy ending, this picture book is perfect for movie fans, parents, and any kid who's ever dreamed of being home alone.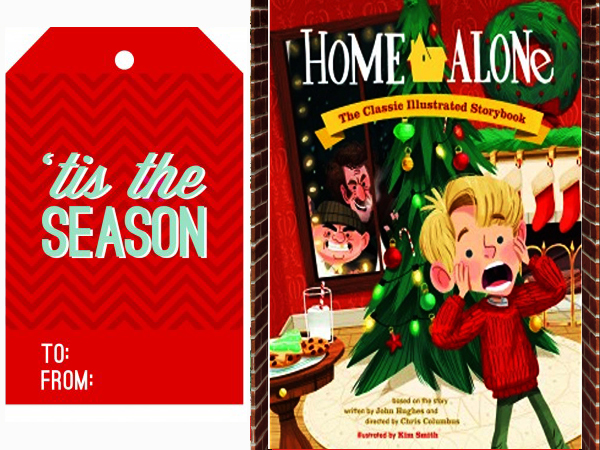 24. Memoirs of an Elf by Devin Scillian
It's Christmas Eve and Spark Elf has the very important job of keeping Santa Claus on schedule as he travels the globe in 24 hours delivering presents. Small in stature with pointy ears and stopwatch in hand, Spark lets Santa know it's time to go. He programs the GPS while the other elves secure the toy bag and check the Nice list. Little known fact: We don't even bring the Naughty list with us. Six hours into the trip Santa, sleigh and crew begin to fall behind–so many cuddly doggies to pet and extra cookies to eat.
The jolly group makes up time in Brazil and soon find themselves back at the North Pole. Their work is done. But wait, there's something left in the bag–but it isn't a present at all–it's a family dog! Well known fact: Santa gives things away. He does not take things! Momma Claus comes to the rescue with a plan to get the dog back to his family. Can Santa return the family's beloved pooch in time to keep their Christmas merry?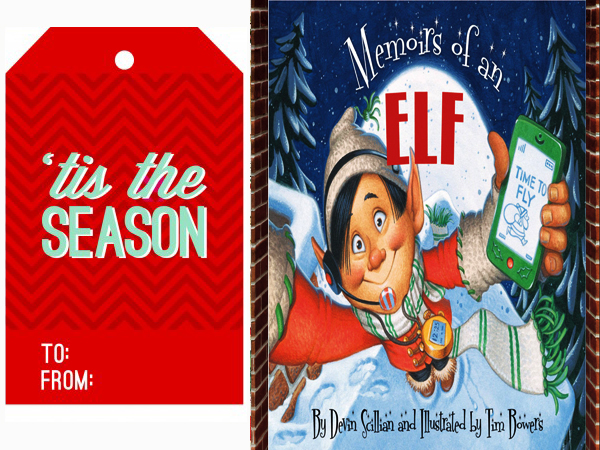 25. A Christmas Memory by Truman Capote
First published in 1956, this much sought-after autobiographical recollection of Truman Capote's rural Alabama boyhood has become a modern-day classic. We are proud to be reprinting this warm and delicately illustrated edition of A Christmas Memory–"a tiny gem of a holiday story" (School Library Journal, starred review). Seven-year-old Buddy inaugurates the Christmas season by crying out to his cousin, Miss Sook Falk: "It's fruitcake weather!" Thus begins an unforgettable portrait of an odd but enduring friendship between two innocent souls–one young and one old–and the memories they share of beloved holiday rituals.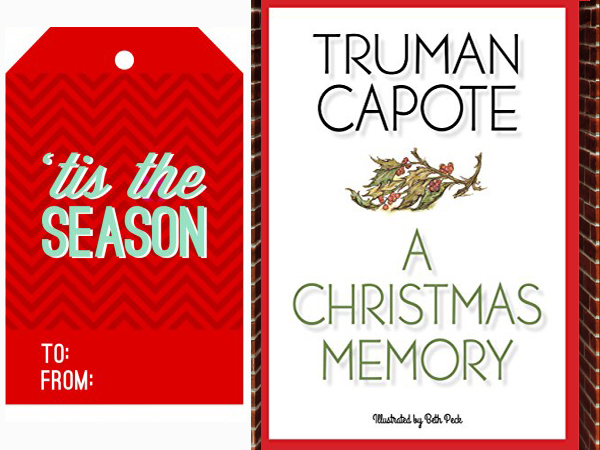 26. A Christmas Story by Jean Shepherd
The holiday film A Christmas Story, first released in 1983, has become a bona fide Christmas perennial, gaining in stature and fame with each succeeding year. Its affectionate, wacky, and wryly realistic portrayal of an American family's typical Christmas joys and travails in small-town Depression-era Indiana has entered our imagination and our hearts with a force equal to It's a Wonderful Life and Miracle on 34th Street.
This edition of A Christmas Story gathers together in one hilarious volume the gems of autobiographical humor that Jean Shepherd drew upon to create this enduring film. Here is young Ralphie Parker's shocking discovery that his decoder ring is really a device to promote Ovaltine; his mother and father's pitched battle over the fate of a lascivious leg lamp; the unleashed and unnerving savagery of Ralphie's duel in the show with the odious bullies Scut Farkas and Grover Dill; and, most crucially, Ralphie's unstoppable campaign to get Santa—or anyone else—to give him a Red Ryder carbine action 200-shot range model air rifle. Who cares that the whole adult world is telling him, "You'll shoot your eye out, kid"?
The pieces that comprise A Christmas Story, previously published in the larger collections In God We Trust, All Others Pay Cash and Wanda Hickey's Night of Golden Memories, coalesce in a magical fashion to become an irresistible piece of Americana, quite the equal of the film in its ability to warm the heart and tickle the funny bone.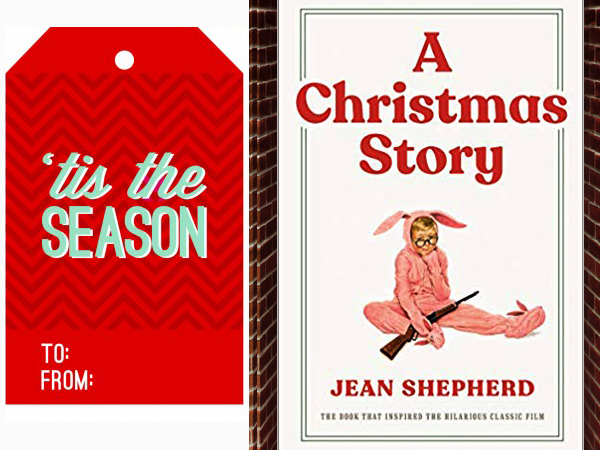 27. A Vintage Christmas  by Louisa May Alcott , Charles Dickens, L. M. Montgomery, and Mark Twain
Stories and poetry have been part of the Christmas season for generations, reminding us that the heart of the holiday never changes. A Vintage Christmas is a unique collection of lesser-known Christmas tales, reflections, and poems from beloved authors across the centuries.
Discover the charming story from L. M. Montgomery about love and sacrifice in a little log house. See Christmas through the eyes of a child in a New England colonial village with Harriet Beecher Stowe. Remember the reason Christ came to earth in the poetry of Anne Brontë. Share with your family the delightful letter Mark Twain wrote as Santa Claus to his three-year-old daughter.
This beautiful treasury takes us back to the firesides, simple gifts, and warm family moments of Christmases past as we cherish the timeless truths and joys of the season.
A Vintage Christmas includes stories from Louisa May Alcott, Charles Dickens, Nathaniel Hawthorne, Harriet Beecher Stowe, Mark Twain, L.M. Montgomery, and Selma Lagerlof, as well as poems from John Milton, Christina Rossetti, William Makepeace Thackeray, Anne Brontë, Henry Wadsworth Longfellow, and Samuel Taylor Coleridge.
28. The Autobiography of Santa Claus by Jeff Guinn
In this "book that deserves classic status" (The Dallas Morning News) Santa reveals his story for the first time. Nicholas (his real name) was born in the Middle Eastern Country of Lycia to wealthy parents who died when he was young. The kind people of Lycia taught him the lessons of goodness and generosity, which he began to practice as a child by sharing wealth with those in need. As a young man, Nicholas realized he possessed special abilities to distribute his presents to deserving children everywhere. And so it was that Santa broadened his gift-giving and spread his message to many others who also valued his belief in the goodness of giving.
Families will delight in each chapter of this Christmas classic – one per each cold December night leading up to Christmas! And who better to lead us through seventeen centuries of Christmas magic than good ol' Saint Nick himself?