I felt like a kid on Christmas morning when I heard the news that The X-Files was returning to television for a six episode event in 2016. I became an instant fan from episode one and have seen every single show as well as the two feature films.
Here are my recommendations for all you fans out there as we wait for the return.
1. The X-Files SKIN by Ben Mezrich
I picked up this book in 2000 and read it in one sitting. He truly stayed true to the characters of Fox Mulder and Dana Scully as they investigate an incorrectly-labeled donor corpse leading to a frail professor receiving a graft giving him super-human strength as well as a murderous rage. I highly recommend this book for any fan. Here's a pic of my book still in great condition, a sign of a true fan right?
2. The X-Files: Season 11 #1 (IDW Publishing)
Love, love, love these X-Files graphic novels which stay true to the series as season eleven. Mulder has become a fugitive from a government that considers him a "secrets stealer" on the order of Julian Assange or Edward Snowden thanks to the mechanizations of "The Glasses-Wearing Man." It's up to Scully, and what allies Mulder has left, to work to clear his name and keep the government itself from falling further into the villain's clutches.
3. The Complete X-Files: Behind the Series the Myths and the Movies by Chris Knowles, Matt Hurwitz
You can't call yourself a true fan without knowing the backstory and every detail concerning the stars, producers, and behind the scenes.
The Complete X-Files is a declassified look at all nine seasons of the American Peabody and Emmy Award-winning science fiction television series created by Chris Carter. Delve into the mystery and myth of X-Files with in-depth looks at its entire television run, the first X-Files film, and the upcoming cinematic sequel. X-Files creator and producer Chris Carter takes us into the never-before-seen archives with explanations of unsolved plots, discussions of the FBI's paranormal investigations, scene by scene breakdowns of popular episodes.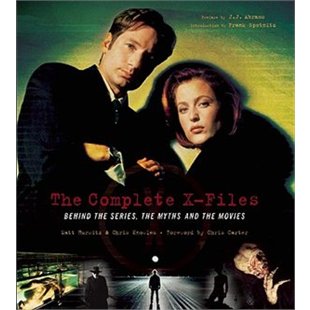 And now here are two teaser videos to get you in the mood. Do you "want to believe"?