In 2003, The Da Vinci Code by Dan Brown turned religious speculation on its head by targeting the myth of the Holy Grail and the role of Mary Magdalene in Christ's life.
The novel posited a different vision of certain key events in Christian history. It was a bold move that paid off, selling 80 million copies over the next five years. Prior to The Da Vinci Code, Brown published several novels, including Angels & Demons, with little success, prompting a change in publisher, namely Washington Square Press an imprint of Atria Books, which is in turn an imprint of Simon & Schuster.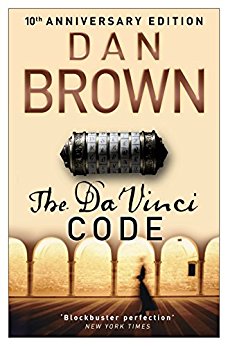 Interestingly, despite massive sales, the novel's critical success was nowhere near any of the Harry Potter books: 67% of amazon reviewers scored it 4+ stars versus 90% or more for Potter books. Many critics and readers pointed to sloppy writing and historical/scientific inaccuracies.
So why oh why has The Da Vinci Code been such a spectacular success?
Several Christian denominations denounced the novel as atheist rubbish and an assault on the Catholic Church, creating instant notoriety and curiosity among atheists, freethinkers and moderately religious people.
The novel is a well-crafted thriller-mystery. New York Times best-selling authors said:
✓ Nelson DeMille: "The Da Vinci Code is many notches above the intelligent thriller; this is pure genius." ✓ Clive Cussler: "An amazing tale with enigma piled on secrets stacked on riddles." ✓ Vince Flynn: "The Da Vinci Code sets the hook-of-all-hooks, and takes off down a road that is as eye-opening as it is page-turning."
Reporters at the Chicago Tribute on the pace of the book, as measured by their CPP count ("Cliffhangers Per Page"): "…is off the charts, as the book barrels along at a breakneck pace. Each chapter ends with events very much up in the air." Donna Seaman, associate editor of Booklist: "It just has amazing momentum… We love a good story."
Trailer for the 2006 blockbuster movie The Da Vinci Code
The novel introduces sinister religious groups like the Priory of Sion, and Opus Dei. Readers love a good conspiracy story brimming with secrets and codes. Using the Mona Lisa, The Last Supper, and other works by Leonardo da Vinci is the key plot device.
Readers are fascinated by religious matters.
✓ Professor Eric Plumer at the Catholic University of Scranton, PA: "Some want to know how to refute the book; some want their belief in it strengthened. Even if people can't wholly accept what Dan Brown has to say, they feel he has touched on something they want to discuss."
✓ Lynn Garrett, religion editor at Publishers Weekly: "Americans love a conspiracy theory. It also tapped into people's disillusionment with the Catholic Church following the sexual abuse scandals."
✓ Nuala O'Faolain, Irish memoirist and novelist: The novel's popularity grows organically from the scandals within the Roman Catholic Church. The reading public has always loved stories that chip away at establishments."
✓ Timothy Beal, professor of religion at Case Western Reserve University in Cleveland on the origins of the story in Jesus and Mary Magdalene's relationship: "One reason it works so well on readers is that he tends to begin with a kernel of something historical and then quickly spins off into fiction – or you could say falsehood, since he represents it as something researched."
The Da Vinci Code attraction may be motivated by disillusionment with organized religion. Any source attempting to demonstrate that modern-day Christianity is based on a questionable foundation is likely to be welcomed by a growing segment of the population. Examples include:
✓ Analyses casting doubt on the accuracy of the Bible, such as in Bart Ehrman's "Misquoting Jesus"
✓ Speculation about the relationship between the Roman Catholic Church and the German Nazi movement, as in John Cornwell's "Hitler's Pope"
✓ Suggestions that the "original Jesus" was a Pagan God as in Timothy Freke and Peter Gandy's "The Jesus Mysteries"
Trepidation about religion is compounded by:
✓ Mounting evidence of the ineffectiveness of prayer.
✓ Violence, mass murder and genocide in the name of God.
✓ New theories about the nature of God.
✓ The decrease by about 0.8% percentage points per year in Christian affiliation by North American adults, and an increase in the numbers of adults who are not affiliated with any religious group.
#DaVinciCode YA edition is now available in Italian-Here's a video about why I believe in ensuring kids become readers for life.@Mondadori pic.twitter.com/Y9xCTZDN4n

— Dan Brown (@AuthorDanBrown) October 27, 2016
With all of these religious trends in North America, no wonder there's significant interest and fascination for books like the Da Vinci Code which suggest that Christianity may have deeply buried past secrets the Church desperately wants to keep hidden.
………………………………….
A big thanks to Carl Daoust for this guest post. Carl is the author of The Boy Who Set Fire to the Bible and a Top 10 finalist in the 2015 edition of the World's Best Story contest.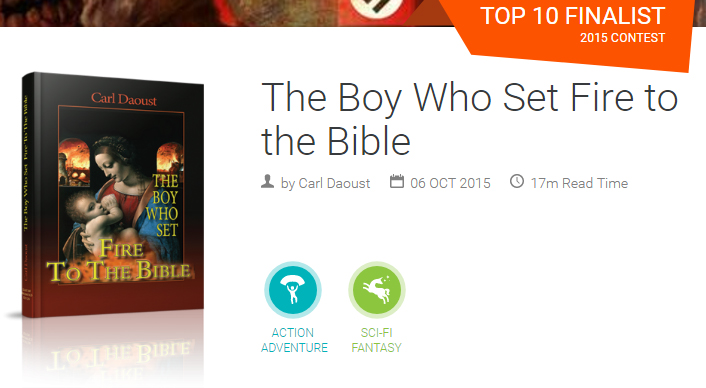 Book Website: www.boysetfiretobible.com
Check out a sample chapter of The Boy Who Set Fire to the Bible here: