You've had success with transmedia projects in the past, and gone the traditional distribution/publishing route. Why self-publish your first novel?
I'll be blunt – traditional publishers are simply offering too little for too little.
There's a lot of talk about 'dinosaur thinking' in the industry, and how the powerhouse 'Big 5' in NY and London are tightening their belts and raising the gates. Debut authors (particularly in challenging genres like children's fiction) are being offered meager advances with draconian contracts, requiring them to surrender all IP control to faceless legal and marketing departments. The days of Rowling-like success for new writers are over. And the more research I did, particularly surrounding fantasy/mystery/horror stories for young readers? The more I realized that an unorthodox approach was necessary.

This summer, I harnessed a double-pronged crowdfunding campaign – a personal call for patrons on social media, and a literary kickstarter on Pubslush.com – that raised nearly $10K in just under 8 weeks. After that, I worked with Wattpad.com (the Canadian-built juggernaut social network for readers and writers) to feature the book as a free serial; The Cat's Maw has garnered over 180K chapter reads from fantasy and mystery fans since July, which ain't a bad piece of free promotion to a target demo.
What are the ingredients for a classic children's story to you?
The collision of the mundane and the Magical. A tangible sense of place, purpose, and urgent emotion. A believable growth and transformative arc for the protagonist, supporting characters, and even the antagonist(s). And an underlying sense of extremely high (dare I say spiritual?) stakes.
That's why, when people ask, I mention the same books/series over and over as influences: Narnia, The Hobbit, His Dark Materials, Harry Potter, and The Little Prince.
What story has influenced your life?
Terry Gilliam's Time Bandits.
I know I should say a book — and trust me, tomes like the Chronicles of Narnia, Lord of The Rings, The Little Prince, and The Alchemist certainly had a lasting effect on me – but that film came at the right time, with the right message, just when my young mind was porous enough and my heart was fertile enough to receive it. A young only child with materialistic parents facing the astounding absurdity of Life, archetypes of Good and Evil, the inherently flawed nature of existence…plus time-travelling dwarves and Python humour. Gimme that Kool-Aid.
What writer would you consider a mentor?
Some of these come straight from the journals of 'duh', but there's a reason these names comes up again and again — great work, no matter the narrative medium. Hence my mentor list: Tolkien, Philip K. Dick, Stephen King, Alan Moore, Neil Gaiman, Ray Bradbury, and Kahlil Gibran…to name but a few!
What story do you enjoy reading over and over again?
The Prophet. The Sandman Anthology. Valis. Watchmen. The Hobbit. The Tao of Pooh.
Do you have any advice to aspiring writers?
Outline, outline, outline!
I liken the preparation that goes into writing a story to the essential time investment made in mastering a martial art, or learning a musical instrument. Outlining your character objectives, scenes, beats, and major arcs in detail is akin to learning all the nuances of punches, kicks, and blocks in karate, or combinations of notes and subtle bowing techniques on a violin.
So then, when you finally sit down, clear your mind, and prepare to channel the Muse? It's just like stepping into the ring for your big fight…or preparing for the conductor to wave the baton at a live concert. You've done all that you can to prepare, and that dramatically increases your chances of a worthy and memorable performance.
Do you recall how your interest in writing originated?
I was less interested in the mechanics of 'writing' as much as I was an early and ardent fan of good storytelling – it just seemed obvious to me at a very young age that some stories worked, while most others didn't.
So, whether I was watching The Wonderful World of Disney or Star Wars, playing point-and-click adventure games or D&D, or reading oversized Marvel comics or dry historical novels assigned in school? I wanted to understand why a story worked…which led to experimenting with the hows of whats of writing…which inevitably resulted in my English teachers nudging me to stop messing around and find the brass to write my own stories.
How would you increase literacy?
Easy – gamification.
Games are associated with 'fun', while reading has traditionally been link with 'work'. But the thing is, both require similar degrees of focus — they just hold inherently different sets of rewards.
I've been a proponent of enhanced eBooks for quite some time, which have stories conceived and designed to take advantage of effective gaming mechanics to deepen the reading experience, improve comprehension, and offer more immediate 'rewards' for the accomplishment of finishing a scene, chapter, or book.
From theme-based puzzles that assist with world and mythology building, to mini- games that reward readers with superior comprehension, recall, and vocabulary, to built-in character creation tools and short embedded animations/motion comics/audio easter eggs – I believe that this is the future of 'reading'……which is really the future of story.
Any exciting news/hints about your upcoming projects?
My children's mystery/fantasy/adventure debut – The Cat's Maw – is available now in all major eBook shops, and in paperback on Amazon.com.
www.amazon.com/dp/1500971650             https://my.bookbaby.com/book/thecatsmaw/

I'm currently waist-deep in promotion (the curse of the self-published author – having to trumpet one's own work!) while finishing the outline for Book 2 in The Shadowland Saga, due next spring.
Meanwhile, I'm recording the audiobook version with the great Michael Dobson! (www.michaelriharddobson.com ). I was blessed to harness his incredibly talents on several projects over the years, most notably as one of the stars of the Sundance Audience Award winning animated epic Broken Saints. And when I was putting together the book trailer, I could think of no better voice for the cryptic poem that teases the book's mythology, and no better musical accompaniment that my frighteningly talented cousin: Broken Saints composer,Tobias Tinker (www.tobiastinker.com).
Speaking of Saints, this December is the 10th anniversary of the series initial Telefilm Canada release on DVD, so we plan on giving a special shout-out to fans online and around the world. (www.brokensaints.com )
If you were given the power to become invisible for one day, what would you do?
I'd play Ghost of Christmas Future to a Stephen Harper tipsy on seasonal cheer, and hopefully convince him to change his terrible environmental policy.
If heaven exists, what is the first thing you would like to hear from God when you arrive at the Pearly Gates?
"Nice try, kiddo! You really gave it your all down there, didn't ya'? Now, when these big curtains open and you're hit with the supernova spotlight and get that standing ovation from every soul you ever met on Earth? Try to act surprised.
Oh…and there are chocolates and cats waiting for you in the Green Room, with Radiohead doing a teatime performance. Break a Leg!"
If you could relive one of the happiest days of your life, what would it be?
The day I brought my cat Quinn home from the West Vancouver SPCA.
What ice cream flavor would you invent?
Maple coffee butter toffee ripple! Easy peasy.
BROOKE BURGESS began his media career producing best-selling titles for software giant Electronic Arts Canada. After several years in the videogame trenches, he set off to create the acclaimed and award-winning web saga 'BROKEN SAINTS'. Seen by millions of viewers worldwide, the 4-DVD/24-part epic is considered by many to be the 'father of motion comics', going on to secure the prestigious Audience Award at the Sundance Film Festival, along with Canadian New Media Producer of the Year for Burgess and global distribution with 20th Century FOX.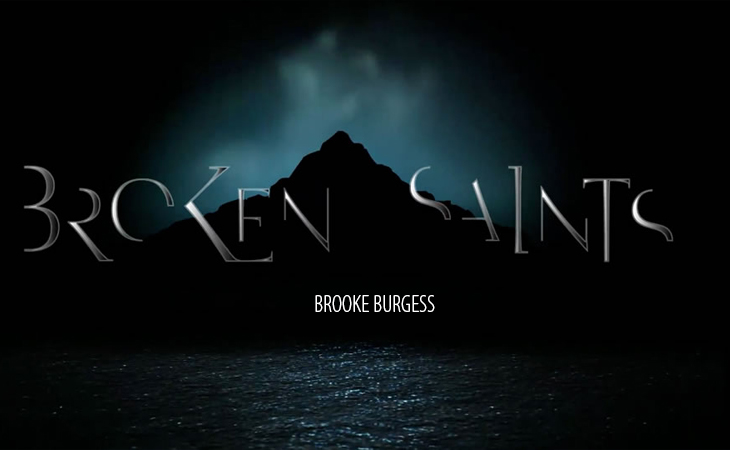 He has written and produced blockbuster videogames (Need For Speed, Kessen, 007), award-winning animation (Broken Saints, I Am Legend/Hellboy 2 shorts), graphic novels (Becoming), and film (RISEN, Dance of the White Tiger – in development).
Cats had a presence in his home from the very beginning, quickly becoming his siblings, friends, and (benevolent) masters, and playing a role in many of his future works. Similarly, an old graveyard on a nearby hill was a real (and beautiful) thing in his youth, which probably influenced his love of scary stories.
Brooke loves mythology, travel, really good TV series, and frozen yogurt. Many of the events in his work (dream sequences included) actually happened.
THE CAT'S MAW is Brooke's debut novel.
You can learn more at www.brookeburgess.com
BOOK SYNOPSIS
In the sleepy town of Appleton, a young loner follows a stray cat onto the road and is struck by a car. A leg is shattered, a summer is ruined, and the troubled life of Billy Brahm goes from bad…to cursed.
When the mysterious cat appears at his bedside, Billy is haunted by strange and prophetic dreams — the creatures in them speak of Watchers, and Shadows, and the Enemy that Awakens.
Does this impossible realm hold the key to healing the broken boy? Is the golden-eyed cat there to help him…or to make the nightmares come true? Too frightened to share the truth with his strict adoptive parents, Billy realizes that the only ones he can turn to are the local vet's daughter, the town's 'crazy cat lady'….and a mystical tiger, beckoning from his dreams.