Beatrix Potter, English author, illustrator, natural scientist and conservationist best known for her The Tale of Peter Rabbit children's books was born July 1866 into a wealthy Unitarian family.
As children, Beatrix and her brother Bertram would love to observe their numerous small animals they had as pets and would endlessly illustrate them.
Until the age of 18, Beatrix was educated by a private governesses, with areas of study including languages, literature, science and history. Beatrix's artistic talents, mostly watercolor, were recognized at an early age.
Many of her drawings were of her beloved animals which were both real and imagined. Her scientific illustrations were so photo-like that they received interest from the scientific community.
After creating some successful illustrated cards and booklets, Beatrix began writing stories about her illustrations beginning with Peter Rabbit.
After trying to get her illustrated book The Tale of Peter Rabbit published with no success, Beatrix decided to self-publish her book, then called "private publishing". Beatrix was also a savvy businesswoman, in 1903, she produced and filed a patent for the Peter Rabbit doll. After selling out, publishing house Frederick Wayne & Co decided to publish her books and license all merchandise. In all, Beatrix published over 23 books, the most popular were between 1902 and 1922.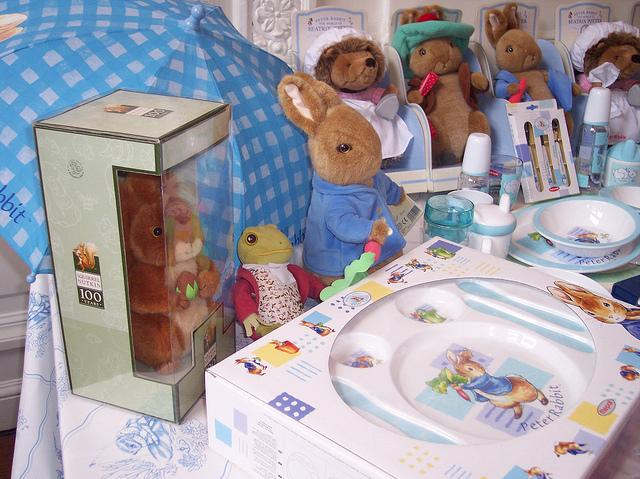 Beatrix Potter passed away of pneumonia and heart disease on 22 December 1943 at her home in Near Sawrey (Lancashire) at the age of 77. She left the majority of her property to the National Trust and is credited with preserving much of the land that now comprises the Lake District National Park.
Beatrix Potter's books continue to sell throughout the world, in several languages and have crossed over into numerous media formats including song, film, painting books, board games, wall-paper, figurines, baby blankets, china tea-sets ballet, TV, and animation.
I highly recommend the 2007 movie Miss Potter starring Renee Zellweger and Ewan MCGregor which follows her journey as one of the world's first self-published authors and blockbuster stories. I am quite sure you will find it an inspirational story as well as a great love story.