Q; Your story Mummy's Little Angel won 1st place of the 2015 edition of the World's Best Story contest. Did you think you were going to make it so far when you entered the contest? How did you react when you got the news during the contest finale this past December?
A: Although I loved the story, I honestly didn't believe that it would win 1st place in the World's Best Story. Mummy's Little Angel is only my second book and I knew the competition was fierce and that many of the Authors write full time for a living, which I don't. And so, when I reached the final and submitted the entire manuscript for the official judging, I was a nervous wreck! The thought of the great Mr Warren Adler (The War of the Roses) and other high profile Authors reading Mummy's Little Angel was terrifying, yet, deep down, I knew that the plot was uniquely gripping and that I may stand a chance of ending up in the top three.
Winning the World's Best Story was one of the most amazing moments in my writing career. My friends and family were also following the results online and when Vincent made the final announcement that my book had won, I was shocked, but absolutely elated. Then the reality hit me. I could write a great book, despite lacking self-belief initially and this accolade is driving me to write my next two novels, one of which follows on from Mummy's Little Angel.
2015 #WINNER is @JWLawson_Books https://t.co/uEtwLfE1FU … @WarrenAdler @brokensaint @CrossAlistair @FriesenPress pic.twitter.com/h8jk1t7csD

— WorldsBestStory.com (@WorldsBestStory) December 8, 2015
Q: Mummy's Little Angel is about identical twin daughters accused of hideous crimes, one is in jail and the other has amnesia, which one is the murderer? Can you tell us a little more about Mummy's Little Angel and some of its original plot?
A: A weary and terribly naïve mother, Joanne, suffers the loss of a baby boy, and years later grieves the shattering of her life after her husband is killed, along with Kevin, the twins' former friend.
Annie has been incarcerated for the horrific murders, yet claims she has been framed by her identical twin, Maggie. Maggie can't remember anything, other than the fact that she is completely innocent and that her manipulative twin sister really did commit the murders.
Joanne doesn't know what to believe or who. In her heart, she feels that her daughters are simply misunderstood and that the murders were terrible accidents – that her girls are completely innocent. That is, until she discovers a doll in an old toy box. The doll of her murdered Goddaughter, Laura that went missing from the murder scene of the little girl.
Joanne faces the most horrific dilemma in her life. Does she destroy the doll or does she approach the police with this further evidence which will inevitably seal the fate of the true murderer?
Mummy's Little Angel takes you on a profoundly complicated journey in which each key character shares their innermost thoughts and… secrets within their diaries, and, in Annie's case, also with her psychiatrist, Jonathan Davies.  The reader is left wondering who really is the serial killer or whether both Annie and Maggie are indeed innocent. It's not until the very end, after endless twists and turns that the truth is finally revealed and that, at last, Joanne can find the closure she so desperately needs. Or does she?
2015 #WINNER is @JWLawson_Books https://t.co/uEtwLfE1FU … … #books #contest #literacy pic.twitter.com/JtQJ7i27w8

— WorldsBestStory.com (@WorldsBestStory) December 10, 2015
Q: Many of the public votes and professional judges see Mummy's Little Angel as a movie or a Netflix mini, if you could cast your story for a movie, who would you like to see play your characters on the small or big screen?
Rachel Hurd-Wood would be Annie and Maggie. Colin Firth is an absolute must for Jonathan Davies and I'm torn between Cameron Diaz and Nicole Kidman for Joanne's character.  Naturally, I'll want all of their autographs!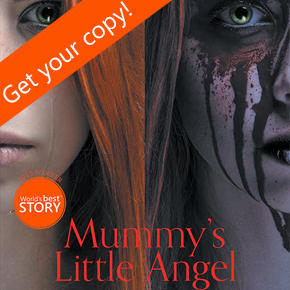 Q: What story has influenced your life?
A: It's virtually impossible to name one book or experience which has influenced my life. In fact, practically everything I've read has taught me something valuable. However, in later years, I was inspired by James Patterson and Stephen King. I love twisted thrillers and sitting on the edge of my seat when I'm reading and so, these two gentlemen have moulded how I write my books today.
Q: Do you have any advice to aspiring writers?
A: Follow your heart and write your story. It really doesn't matter whether ten people read it or a million – to write a book with a beginning, middle and an end is a major achievement in itself. Never forget that.
Q: What are the ingredients for a blockbuster story to you?
A: A gripping storyline with numerous twists and turns leaving you anxious to turn each page and finish the book without taking a break. I also feel that atmosphere is critical too – be it a heart-breaking Chapter, forcing your emotions to spill out or one where you feel anger – even hatred against the character.
Q: What story do you enjoy reading over and over again?
A: The storyteller by Jodi Picoult. I've also read Jack and Jill and Along Came a Spider by James Patterson endless times – they are all brilliantly, gripping stories.
Q: How would you increase literacy?
A: I'd encourage the education authorities to make reading fun by introducing a more varied range of reading material. As a child, I was forced to read 'boring' books at school; if I'm honest, I only read because I had to. Children should be also encouraged to participate in group discussions when they've read a book as we all interpret books differently and, finally, allow kids to write more too! It's amazing how imaginative children are, given the chance.
Q: What's on the horizon for JW Lawson?
A: Two more books within the next couple of years. I'm in the early stages of my third thriller, Crossroads and the final of the Mummy's Little Angel series, Hush Little Baby will follow soon after. I also have endless other ideas – I'm simply an addict when it comes to writing!
Q: What is your favorite drink while writing and/or reading?
A: Coffee when I'm writing and a glass of red wine, when I'm reading.
Q: What is your favorite tech brand? App?
A: Google.
Q: What is your favorite genre of music, artist?
A: I adore music that I can sing along to and dance to as well. I'm known for imitating Michael Jackson on the dancefloor, albeit it badly but who cares, it's great fun.
Q: What is your favorite movie, tv show, superhero?
A: I love so many films but if I had to name one movie that I could watch a thousand times, it would be Sleepless in Seattle.
Q: What is your must have snack?
A: Salt and vinegar crisps.
Q: If heaven exists, what is the first thing you would like to hear from God when you arrive at the Pearly Gates?
A: There's been a mistake. Off you go now, back to your loved ones and this time round, be careful. (Yes, I'm very accident prone!)
Q: What ice cream flavor would you invent?
A: Salt and vinegar – yummy!