Q: Your story Haven won 2nd place of the 2015 edition of the World's Best Story contest. Did you think you were going to make it so far when you entered the contest? How did you react when you got the news during the contest finale this past December?
A: I never imagined Haven coming 2nd in this contest! I was at work when I found out and there were definitely some happy tears and celebratory hugs. I couldn't be more grateful for all the people who supporting me in this endeavour.
2nd Place #WINNER HAVEN by @KattyB3 https://t.co/d3IkSnM2yp @brokensaint @WarrenAdler #winners pic.twitter.com/kQ46o0ZrH0

— WorldsBestStory.com (@WorldsBestStory) December 8, 2015
Q: Your story revolves around the immortal Princess Haven, when the mortality of her friends and family is threatened by war and the evil Queen leading it, Haven is powerless. Will Haven rise to the occasion and lead her kingdom to safety or make a daring last stand? Their existence is at stake. Can you tell us a little more about Haven and some of its compelling characters?
A: Haven is about a princess who always thought she'd stay as such. When her mother shows up beaten and bloody on her doorstep, announcing the unfortunate fate of her father and older brothers, Princess Haven becomes Queen of her kingdom – the last thing she ever thought she'd be. Haven has to work with her neighbouring kingdoms who are all at war with the same woman, an evil tyrant known as Kadia. As Kadia starts to invade the other countries, Haven and the other kings have to work together to make a very important decision: risk everything in a last stand against Kadia, or flee to the foreign republic across the sea.
The cast of characters includes: Haven's three lady guards, all amazing fighters with unique skill sets, the insane Queen Kadia, and many more, including the kings of the six kingdoms.
Q: Many of the public votes and professional judges see Haven as a movie or TV show, if you could cast your story for a movie or TV show, who would you like to see play your characters on the small or big screen?
A: That's amazing that people see Haven as a movie or TV show! Warshard is definitely a large enough realm for either. I've never thought much about who I'd want to play my characters, aside from Haven. I would love Adelaide Kane to play her! Other actors I can see as my characters are: Lindsey Morgan as Blythe, Cara Delevingne as Malka, Lily Collins as Lareina, and Richard Madden as Corrin.
Enter to win an ecopy of Haven by @KattyB3 or an amazon giftcard!https://t.co/2Qs3GlVVmG … …#win #enter #chance pic.twitter.com/V3FrIiYWYM

— WorldsBestStory.com (@WorldsBestStory) September 6, 2016
Q: What story has influenced your life?
A: A lot of books have influenced my life, but Lindsay Buroker's the Emperor's Edge has inspired me above all.
Q: Do you have any advice to aspiring writers?
A: NEVER stop writing. Write often, read anything you can get your hands on, and don't stop trying. So many authors don't make it with their first, second or even fifth or sixth book! Keep on writing and you will reach your dreams. Be patient.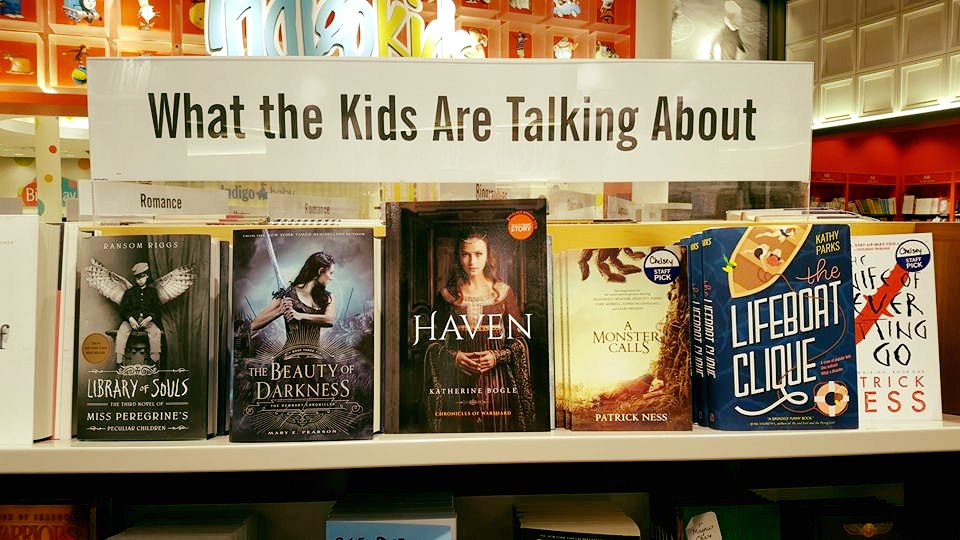 Q: What are the ingredients for a blockbuster story to you?
A: An amazing plot combined with stellar writing and believable characters.
Q: What story do you enjoy reading over and over again?
A: Watership Down by Richard Adams
Q: How would you increase literacy?
A: I'd have a reading hour in every school and would love to teach kids about borrowing books from the library at an early age.
Q: What's on the horizon for Katherine Bogle?
A: More books! I'm currently putting the final touches on my next novel, an adult sci-fi called The Aldar Dominion. I'm also starting a new book, an adult steampunk called the Queen of Thieves. Besides writing, I'm expanding my social networks and building up my Youtube Channel for writers.
Q: What is your favorite drink while writing and/or reading?
A: Gallons of water and lots of coffee.
Q: What is your favorite tech brand? App?
A: Android. My favourite non-social media app would be Plague Inc.
Q: What is your favorite genre of music, artist?
A: I love almost every genre, but my favourite artist is the Pretty Reckless (band). But my current obsession is Krewella.
Q: What is your favorite movie, tv show, superhero?
A: I love too many movies to have a favourite, Game of Thrones no contest and Deadpool (not because of the recent release, though that was AMAZING.)
Q: What is your must have snack?
A: Strawberries. Looove me some berries.
Q: If heaven exists, what is the first thing you would like to hear from God when you arrive at the Pearly Gates?
A: Welcome. Glad you found your way here.
Q: What ice cream flavor would you invent?
A: Cake batter.