Q: Your latest book, The Crimson Corset has the main character Cade Colter moving to a new town expecting it to be peaceful to the point of boredom but quickly learns that after the sun sets and the fog rolls in, the little tourist town takes on a whole new kind of life – and death. Can you tell us a little more about the story and how you came up with such engaging characters?
A: Underneath the blood sucking, dark seductions, and myriad of indecent goings-on, The Crimson Corset is a story of the corruption of power, the ruin of addiction, and the strength of family ties. It's a testament to the power of the human will. It takes place in the fictional town of Crimson Cove, which I had a ton of fun creating. It has lots of vampires, plenty of sex appeal, and great scenery.
As for creating characters, my only goal is to write characters that are interesting to me. I will be spending a lot of time with them, so I don't want them to bore me. I figure that if they interest me, they'll interest others.
Q: In 2014, you began an internet radio show, Thorne & Cross: Haunted Nights LIVE! which premiered to great acclaim. Can you tell us a little more about the show?
A: Haunted Nights LIVE! is a weekly, hour-long horror and paranormal-themed show that Tamara Thorne and I host. It has allowed me to meet some of the most legendary writers of this era. As well as fiction authors, we also talk to occasional paranormal experts, and even psychics. Our guests have included Christopher Rice, Laurell K. Hamilton, Jeff Lindsay, Jay Bonansinga, Charlaine Harris, Christopher Moore, and Jonathan Maberry. We talk about writing, the publishing industry, and anything else that strikes our interest. I love it. Anyone who's interested in the show can visit our Facebook page.
Q: What story has influenced your life?
A: There have been far too many to narrow down to just one, but a few have been the works of Oscar Wilde, Bram Stoker, Stephen King, and John Saul. As for stories in particular, I'd say I was especially influenced by Dracula, Wuthering Heights, and A Tale of Two Cities.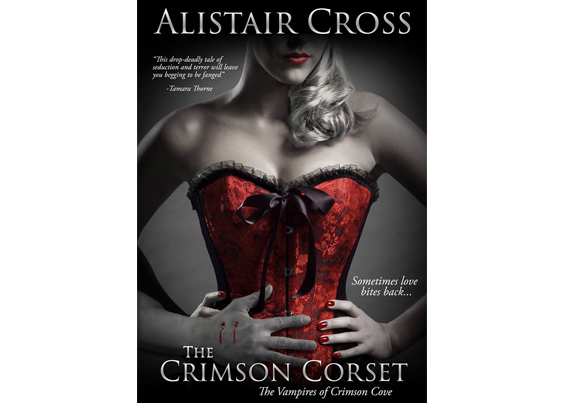 Q: Do you have any advice to aspiring writers?
A: Write. Even if you don't feel like it. Write. If you don't have time, make time.
Q: What are the ingredients for a blockbuster story to you?
A: Interesting characters, compelling plot, vivid scenery, and good marketing.
Q: What story do you enjoy reading over and over again?
A: The Wicker Man. I find something new every time I read it.
Q: How would you increase literacy?
A: I think an effective way to increase literacy would be to introduce people to books they'd like to read at an early age, rather than making them feel they have to read something they're not interested in.
Q: What's on the horizon for Alistair Cross?
A: I'm working on the next solo novel, which takes place not too far from Crimson Cove, where I set my book, The Crimson Corset. On top of this, my collaborator, Tamara Thorne, and I are working on our next novel, which is a psychological thriller that we're both very excited about. Also, our Gothic horror serial, The Ghosts of Ravencrest, is almost ready to be released as a full-length novel, and then we will begin the installments for the next volume.
Q: What is your favorite drink while writing and/or reading?
A: Coffee
Q: What is your favorite genre of music, artist?
A: I like almost all music, with a particular fondness for rock. My favorite artists are Arctic Monkeys, Fall Out Boy, Stevie Nicks, and Maroon 5.
Q: What is your favorite movie, tv show, superhero?
A: Carrie, Bates Motel, Spider Man
Q: What is your must have snack?
A: Gummy bears. Or worms, or fish, or frogs. Gummy anything.
Q: If heaven exists, what is the first thing you would like to hear from God when you arrive at the Pearly Gates?
"What the hell are you doing here? Get back down there and do some more writing!"
Q: What ice cream flavor would you invent?
Terror Sweat and Marshmallow Twist.
You can find Alistair here: http://www.alistaircross.com/