Q: Your book The Blood Mile was inspired by a video you saw a few years ago showing hidden cams of farms across North America treating their animals with cruelty. How did the story and characters come to life after viewing that video?
A: That video punched me in the creative gut. I was so horrified by the truth of what went on behind the scenes of these farms that I knew I had to write about it. It all started with a simple thought, "what would happen if one of those chicks escaped slaughter?" And from that one question exploded a very interesting world I wanted to further explore.
Q:  The Blood Mile introduces your readers to a bunch of colourful characters like Polly, a pink-feathered fashionista , Scotty, a seagull bent on becoming human and Iddy, an angry teenage duck battling with his mother's mysterious death. Are these wonderful characters based on real life people from your life, movie/tv, totally imagined, or a combination of all three?
A: I would like to think that all these characters were completely imagined. But that's not true. I think everyone draws from their own personal life in order to breathe life into their characters. My editor is convinced that Sawyer is me, right down to his humor and his drive to push through his fears. I approached The Blood Mile a little differently than previous stories. I sat back and watched the world unfold. I knew that I wanted to explore loss, fear and the dangerous affects of insidious beauty. These are heavy issues, so I needed my comic reliefs, which came in the form of a Kool-Aid stained chicken named Polly and a wisecracking seagull. I was influenced by the worlds of Pixar, Mark Twain and Steinbeck.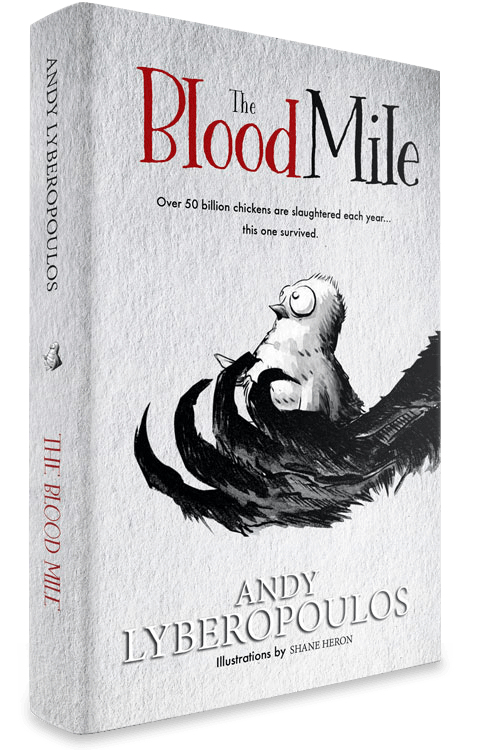 Q: What story has influenced your life?
A: When I was a kid, my mother always spoke of my grandfather and his life in Greece. Her stories influenced me greatly. She would tell them to me in short anecdotes with cliffhanger endings, almost like episodic soap operas, and I couldn't get enough of it. My grandfather's life seemed so adventurous and unbelievable (think Big Fish). From being sold as a slave in Athens to losing his brother in WWII and that time he encountered a demon (yes, a demon) in a cottage in the middle of the woods! My mother was great with her descriptions. I wrote it all down because I wanted a full account of my grandfather's adventures!
Q: Do you have any advice to aspiring writers?
A: 1. Write things that make you feel. That's what it's all about. Don't worry about the audience or pleasing anyone. Your words, your characters will find ways to connect with people if you first believe in them. 2. First draft is always horrific (maybe even your second and third!). 3. Write every day and keep going. 4. When you feel discouraged, remind yourself that your characters are counting on you to bring them home. 5. Let criticism be your fuel. Learn how to take it.
Q: What are the ingredients for a blockbuster story to you?
2 cups of zeal
1 cup of a Great Idea/Theme (organic, never from a tin can)
1 cup of fresh Characters (at room temperature)
1 cup of Conflict (the spicier the better)
¾ cup of bold Settings/Atmosphere (add more for added flavor)
½ cup of twists (the Unexpected brand)
¾ cup of Snappy Dialogue
¼ cup of OneHelluvaEnding/Resolution (organic)
Season with a bit of taboo to taste (might need more depending on your story)
8oz of your favorite wine (optional)
Bring all your items in your creative space and place your pen and paper (or laptop) on your favorite writing table. Start by placing your zeal in a very large mixing bowl, or better yet – a massive cauldron over a flame.
Add your organic, never-from-a-tin-can Great Idea/Theme in with your zeal and let it simmer until cauldron starts to glow red (might take hours, days, weeks or months depending on your zeal).
While your zeal/Idea simmers, in another bowl mix your fresh Characters, Bold Setting, Conflict and Snappy Dialogue. Let sit until your characters rise.
Add your Character mixture to your zeal and watch your world unfold. Once things begin to calm down, add your twists in small batches as you stir, add your taboo and watch it all spin, blend, let it all come together. Twists are unpredictable so be prepared to deal with the outcome.
Add your organic OneHelluvaEnding/Resolution as it begins to burn and watch it all unite as one cohesive, delicious story.
*wine helps the process.
Q: If you could become any author, who would it be and why?
At this point in my life, I would become Nick Hornby. I absolutely love his humor and his characters. He's the kind of author that can take a serious subject matter and add a certain warmth to it that if not done right, can become a mess. He's so good at creating these perfectly flawed characters. It would be great to spend a day in his mind.
Q: What story do you enjoy reading over and over again?
I keep going back to Hornby's A Long Way Down (and Steinbeck's Of Mice And Men). The events are so preposterous in A Long Way Down but the characters are so much fun and real that I can't get enough of them. Each character has their own major issue and it's interesting how they each cope with their decisions. He's written some great dialogue that I love reading over and over again.
Q: How would you increase literacy?
It's all about engaging the audience. Encouraging kids to go on an adventure with books, expand their imaginations by not limiting them in any way. Reward avid readers and listen to reluctant readers by asking appropriate questions about their tastes and likes. We must make literacy a fun, safe place for everyone to enjoy.
Q: What's on the horizon for Andy Lyberopoulos?
I have finished two book outlines I can't wait to dive into. One is called The Lost Colony, which is an adventure story about brotherhood and ants. The second outline is a short prequel to The Blood Mile, tentatively titled Something Rotten On The East.
This summer I am producing a stage show I wrote called State of Women, depicting the women who built warplanes for the army in San Francisco during WWII. This is a pitch show for producers to expand the project and bring it to the international market. I'm so excited for this show. It's got a fantastic message and fun characters I can't wait to share with everyone.
Q: If heaven exists, what is the first thing you would like to hear from God when you arrive at the Pearly Gates?
A: "Come in. Did you bring your pen? I have a story for you."
Q: What ice cream flavor would you invent?
A: Bourbon Vanilla Dirty Chai Ice Cream (if this already exists, email me asap!)
You can follow Andy: https://www.thebloodmile.com