Q: Your story and illustrations of Animals In My Hair really caught my attention when we met last November during the World's Best Story's live finale at The Toronto International Book Fair.
I really see you hooking up with Tim Burton one day for a project or two. Can you tell us a little more about the story/illustrations and how you came up with such an original story?
Story
Animals In My Hair is a story of a little boy who goes for his first haircut only to discover that there were endangered animals hiding within.
One day, back in the summer of 2008, I overheard my mother tell my father that he should get a haircut because his hair was like a forest. This is a common Serbian expression ("шума на глави"), but on that day I was struck by the idea: "What would it be like if hair really was a forest? There would have to be animals within. But why would animals be in someone's hair? Because their habitats were destroyed!"
I remember writing the first draft of Animals In My Hair while vacationing in Cuba. The book was published in June of 2013. Within the five years the story went through several drafts. Initially, the animals were the more common lions, tigers, and bears; however, I decided to do some research and to introduce my audience to less familiar animals.
Before Animals In My Hair I was only familiar with the polar bear and cougars out of the ten animals revealed in the book. To improve the pace of the story, the beginning and the ending with the boy's father in the picture were also cut. Now, I like the idea that the boy' family structure is left to the reader's interpretation.
From the beginning I knew that the book would be a counting book. However, I soon realised that it could be much more. The change happened when I turned the ordinary number four into a number four constructed of the featured animal's habitat. Not only can the reader learn about the animals' habitats and diet, he/she can also discover visual puzzles and basic colors. There is much one can learn from Animals In My Hair through simple observation, but I also worked hard to make sure that this learning did not take away from the entertainment of the story.
Near the end, I decided to create an online component readers can enjoy where they can find the answers to visual puzzles, download coloring pages and new art prints, as well as learn more facts about each animal.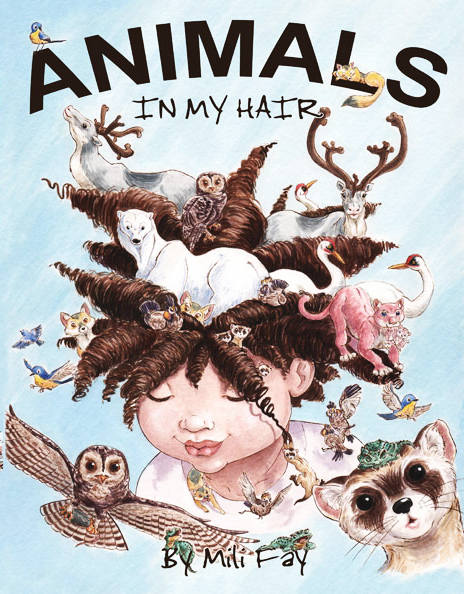 Illustrations
I am a trained animator, and as a result I do not work in a single illustration style. Before starting each illustration project, I ask myself: "What kind of look would suit this story best?"
For Animals In My Hair I knew I had to create characters that were not too realistic, so that I could give them more flexibility in their poses and expressions; however, I also had to keep my drawings realistic enough so that readers could easily recognize the animals if they saw them in real life.
Furthermore, I was inspired by the exhibition of Graeme Base's artwork for The Waterhole I saw in the Museum of Sydney while visiting my family in 2004.
The moment I saw Arthur from August Rush (2007) playing the guitar, I knew his hair was what I wanted for my boy. Initially his eyes were a warm brown color, but then I decided to make them blue to add visual contrast.
I was searching through magazines looking for inspiration when I saw a woman with striking cheekbones. She was a French model, but somehow, I felt that her features might create the bone structure of my kid. In the first few sketches the barber was a cliché hair stylist; however in 2009 my beloved grandfather died.
My grandfather is the one who took me to galleries when I was a little girl. He spent hours sitting for me so that I could practice drawing portraits from life. He told me fantastic stories involving my cousin, sister and I, then he would listen to me prattle on and on about my stories. My greatest regret in life is that he did not live long enough to see my book published.
After my grandfather died, instead of a cliché hair stylist I modelled the kind gentlemanly barber after him.
"Why is there a mime in the barbershop?"
This question is the one I've received most frequently from fans and readers. My answer: "Because he wanted to be there." As I'm sure other artists and writers can attest to, sometimes characters from our imagination refuse to go away and insist on playing their part.
"Which animal is your favorite?"
I cannot choose one from the book, but my sprit guide is a shape-shifter that most frequently takes the shape of a tiny owl. I call him, and think of him as, Artemis, the owl from my upcoming fantasy novel Warriors of Virtue. He is the logo for Mili Fay Art.
All of the final illustrations for Animals In My Hair were drawn in sepia acrylic ink and painted with Yarka Artist's Watercolor cakes on Borden & Riley's Rag Drawing Paper #627.
Q: What story has influenced your life?
George Orwell's Animal Farm. I read the book in Grade 8 and realized that an author can explore all controversy without creating offence if he/she only cloaked the serious subject matters in fantasy.
Q: Do you have any advice to aspiring writers and/or illustrators?
1. Stay authentic. If you create fiction, do not create for others. Create for yourself, then find people who love your work. As you create, do not try to control your creativity with knowledge and fear. Let go. During editing is when you should think about for whom you are creating this work and why.
2. Create your platform. Think about what it is you really want to do with your life, and as you are thinking do not be constrained by what you perceive as "reality".
Write one sentence capturing your vision in a Vision Statement. Use your vision statement to create your Mission Statement, then work on your mission until your vision comes true. As an artist/writer you are a solo-proprietor. I recommend registering your business as soon as possible.
For example, Mili Fay Art's Vision Statement is: "Together we support the world one artwork at a time." My mission is to create original art product series that people will love, then to donate 30% of the profits to worthy organisations, eventually creating a renewable source of income. To date I have created Horsing Around to raise money for local children's hospitals and Animals In My Hair for wildlife conservation through the Toronto Zoo.
3. Online Presence.
1. Create a website. I believe that every author/illustrator should have their own website with a personal domain name and a blog. Unless you are famous, I also recommend choosing a short domain name that contains a keyword describing what your website is about. Your website should be your main base. You should create articles and posts on your website's blog then share them on social media platforms—instead of posting directly to social media sites.
Do not forget to sign your work and to include a copyright notice. Since others may share your individual blog posts, at the end of every post include a short bio with a link to your main website, product, and/or sign-up form. Remember: Internet is forever. Never post anything online—even on a private account—if you do not want everyone to see it. I have recently created a WordPress.org site, with a Photocrati theme. (I do not recommend using the free option. If you want to know why message me.) My hosting service is 4GoodHosting and my favourite sales platform is Gumroad.
2. Build a fan base. No matter what you are doing there is someone out in this world who will absolutely love your work. You need to find those people and you need to stay in touch with them. Not only are they your potential customers, but even if they never order anything from you, these people are a wonderful source of support. I would not have gotten anywhere if it were not for the people in my life. The best way to stay in touch is via email services.
You can create a newsletter to let your fans know what you are up to. Just make sure you do not spam their inboxes. I use MailChimp, because it's free and I like their design; however, there are other options that may suit your needs better.
3. Connect. Get in touch with other creators and people who will love your work. It's true, social media can be overwhelming. There are so many options out there. Find out which platform is best for what you are doing. Since Facebook changed their algorithms it is almost impossible to connect to your followers in a meaningful way. Nevertheless, I do like the layout of a Facebook Page. Twitter still makes little sense to me, but I like it because of the forced brevity.
I also find it is the platform that is the best for spreading news fast—all you need is an appropriate hashtag. As an artist, I love Pinterest. It is important to create pins from the blog post images on your site and to link back to your post. I enjoy reading Tumbler posts, but I do not like posting on the platform myself. I have not tried Instagram.
DeviantArt is a maze, but there I have discovered amazing artists that inspire me to be better at my work. LinkedIn has wonderful groups filled with useful information. If you have a question, someone in a group is always willing to help. Every author should be on Goodreads…
4. Be professional. Always have at least a signed agreement before beginning any job. Also get paid before you start your work. No serious client will ever expect you to work for free, those who are not serious are just a drain on your time and resources; get rid of them fast! The only time you should be working for free is if you agree to do so for charity.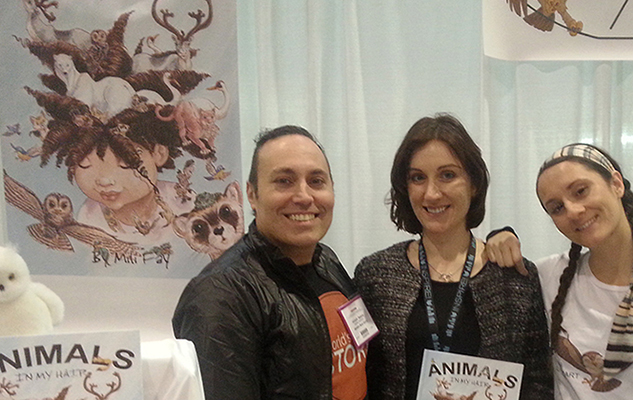 @ The World's Best Story live finale @ The Toronto International Book Fair November 2014.
Q: What are the ingredients for a blockbuster story to you?
My animation acting teacher told us that in this world there are people who love everything, people who hate everything, but that most of us are in between. Blockbusters fall in between.
A blockbuster is a relatable story wrapped in a beautiful package. For me, a brilliant story has to have humour, drama, romance, a bit of fear, action, adventure, and above all an ending that makes sense and leaves me feeling good.
Q: What story do you enjoy reading over and over again?
I do not have a favorite story. I love stories. This is one of the reasons I choose to tell my own.
However, I can tell you about some of my favorite stories, books, and authors that pop into my head.
When I was a little girl, I loved Sleeping Beauty (the version where the prince's mother wants to eat Aurora and her children) and Василиса Премудра (a Russian fairytale that begins with a war between animals and birds, the direct translation of the title would be "Vasilisa More-Than-Wise").
I was a huge fan of the Disney Comics, Asterix and Obelix (my favourite comic of all time), and Lucky Luke.
The Adventures of Pippi Longstocking was the book that made a voracious reader out of me.
In grade four or five I devoured The Adventure of Sherlock Holmes. Absolutely brilliant!
Then I discovered Agatha Christie. If I had to pick my favorite author she would be the one. The woman could make a tea party sound exciting.
My first romance novel was The Legacy by Linda Lael Miller which got me hooked on romance. Now, my favourite two romance novels are by Judith McNaught, Something Wonderful and Paradise.
I also love the In Death Series by J. D. Robb (a.k.a. Nora Roberts). I can listen to these books over and over again.
I remember thinking that Jane Eyre is the most beautiful book I have ever read.
I also love Jane Austin, Charles Dickens, Mark Twain,… L. M. Montgomery is brilliant!
The Sandman graphic novel by Neil Gaiman is my favourite graphic novel of all time. I also like Fables.
I love The Chronicles of Narnia, The Hobbit, The Lord of the Rings Trilogy, and Harry Potter Series (though I wish book 5 was edited more and that the series had a better ending).
My top three favorite short stories are: The Yellow Wallpaper, Philomel Cottage, and Autopsy Room Four.
If you wish to know more, you can find my book reviews on Goodreads.
Q: How would you increase literacy?
You may not believe this, but I was a reluctant reader. The only reason I put effort into reading was to impress my best friend. However, after reading The Adventures of Pippi Longstocking, I realized that books were portals to wondrous worlds filled with adventures.
Since then I became a voracious reader. To increase literacy, I believe that we should strive to awaken this realization in every person by making reading fun and interactive. This does not mean that readers should not be challenged. I think the worst thing publishers and authors have done is to oversimplify the language in picture books and YA books.
Furthermore, instead of forcing non-relevant, boring classics upon high school students, English teachers should offer them studies of brilliant and fun classics and contemporary novels. Why couldn't we read Anne of Green Gables, Pride and Prejudice, or The Adventures of Sherlock Holmes in my high school? Why shouldn't students learn by reading the Harry Potter Series?
I also think it is important for young readers to be exposed to literature from different cultures, so they can realize that one can write outside of the Hero's Journey Literary Structure.
Q: What's on the horizon for Mili Fay?
Warriors of Virtue. At fourteen, as I was reading The Lord of the Rings Trilogy I longed to be a part of Aragon's team. So, I placed my cousin, sister, and myself into the story, creating comic pages of our adventures. At sixteen, I wrote the first version of Warriors of Virtue, a 26-page short story based on some of our adventures. That short story became a five novel series. Warriors of Virtue is a story of a reluctant princess that must go on a journey to prevent a war with the dragon-people while keeping her mission a secret from her over-protective mother. She is joined by her cousin and sister.
As they travel the land of Ardan, unused to their newfound elemental powers, they encounter fairies, unruly centaurs, chameleon-people, and other Ardanians. On the other side we have a very confused prince, a dashing captain of his guard, a mad king, and a crazy witch.
There will also be a couple of more Horsing Around stories, including a fully illustrated version of Dream, Little Dreamer. Further down the line, I intend to follow Animals In My Hair with A Shark In My Toilet, and several other picture books; including the story of how Emma gets a dog, Ellen solves problems with dancing, and one about a boy who knows everything.
Q: What is your favorite drink while writing and/or reading?
I love tea. My favorite is Twinings' Earl Grey and Teavana's White Ayurvedic Chai. I also love coco and hot chocolate (from real 70% coco high quality chocolate with a bit of cinnamon).
Q: What is your favorite tech brand? App?
I am not brand obsessed. What I look for is quality that meets my needs. Currently, I'm using a ten-year-old-plus-modified PC, Wacom Cintiq Companion, iPad Air 2, iPhone 4S, Mustek Scanner and an HP CP1215 Color Laser printer (which is not working as it should).
My favorite gadget is iPod Nano (6th Generation). I download audiobooks from my library through OverDrive and I listen to them as I work.
App? iPad's Mail App. It allows me to check all of my email accounts in minutes. Recently, I got OneNote and I'm liking it a lot.
Q: What is your favorite genre of music, artist?
I love music. My iPod has a wide variety. I get bored if I'm listening to music with a same beat/rhythm. It may be easier to list the music I do not like. I'm not fond of recitation music (rap, hip-hop), or electronic techno sounds. However, there are exceptions.
I love The Phantom of the Opera and you can find me singing the songs as I do my chores.
For once, I actually have a favorite. My favorite singer is Sarah Brightman.
Q: What is your favorite movie, tv show, superhero?
I love movies and TV shows. In fact, I'm trying to stop watching TV, because I love too many shows. If I had to choose one movie or die, it will be between Stardust and August Rush. I watch BBC's Pride and Prejudice (1995) at least once/year.
My favorite non-Disney animated movie is Howl's Moving Castle and animated TV Show is Avatar: The Last Airbender.
My favorite superhero is Batman. I love him, because he has no super powers, he can live in the lap of luxury, and yet he chooses to risk his life to help others.
Q: What is your must have snack?
Sweet: Soma chocolate covered cherries. Salty: Orville Popcorn and Prima Pretzels (Serbian). Cookie: Plazma (Serbian). Healthy: Fruit with nuts or cheese.
Q: If heaven exists, what is the first thing you would like to hear from God when you arrive at the Pearly Gates?
Welcome back. What do you wish to experience next?
Q: What ice cream flavor would you invent?
My favorite ice cream is chocolate mint and my favorite gelato is Soma's Baci. I do not care to invent anything else.
Q: If you had all the money you needed and could pick anyone to work with, what project would you create?
A classically animated version of Gaston Leroux's The Phantom of the Opera with Andrew Lloyd Webber's music. I would love to co-direct with Ridley Scott based on his Kingdom of Heaven work.
Q: If you could pick a mentor who would it be?
Drew Struzan and whoever is responsible for Blue Sky's colour and light.
Q: Who is your favorite artist?
Claude Monet.
You can follow Mili on: http://artofmili.ca/