Q: Your story FAMILY MAGIC was the grand prize winner of the 2014 edition of World's Best Story. Did you think you were going to win, especially 1st place? How did you react when you got the news live from The Toronto International Book Fair during the live finale this past November?
I'm a "trust the Universe" kind of person and have been for a long time. In fact, it's the reason I'm a full-time writer, why I gave up my successful small business to risk everything on telling stories for a living. So, when I was poked and prodded by said Universe into attending Book Expo America in June of 2014, I went. At the time, I had no idea why I was there—as a small (if mighty!) independent author in a very large New York and beyond pond, I felt completely out of place at an industry convention, my first ever. I met you, Vincent, and Thomas Lefebvre at the conference. I recall you handing me your iPad and insisting I sign up then and there for World's Best Story.
I honestly had no idea I was going to win. In fact, every time you contacted me after that, I was a little shocked, to be truthful. Not that I didn't think my book was good enough. I know in my heart Syd and her crazy family are amazing and it's been my intention from day one—since she showed up in my life with her very loud opinions about everything—that she was meant for greatness. But, I'd been going it alone for so long, the thought I'd win something like World's Best Story seemed far-fetched.
It wasn't until I made the top ten I started to wonder. And it was only four days prior to the final announcement I decided I should maybe check to see what the prizes were all about. I have to say, I was floored, overwhelmed, beyond excited. Even being a top-ten player meant huge things. But to win? I can't tell you how suddenly terrifying it was to consider winning. And then, my Canadian kicked in and worry for the other writers chimed up—they were real people too, with great books, right? Who was I to want to win over them?
I was a mess for four days.
The night of the announcement, I couldn't stand it any longer. I shut off my phone and went to have some fun with my amazing sisters just to take the edge off. I'd waffled all day between WHOOO!! and anxiety. When I finally returned to my sister's house and checked my phone, there were two missed calls and four texts waiting. The first—from my husband—started: "Can't type, so excited" and I knew. Not ashamed to admit I had an ugly cry for about five minutes while my sisters freaked out, dancing around the kitchen telling me they knew it. They knew it.
Champagne and celebration followed. Big plans made, hugs and more tears and dreams sent out into the Universe. All together an amazing night.
Q: Family Magic introduces your readers to sixteen year old Sydlynn, who's mom is a witch and dad is a demon yet she just wants to be normal and fit in. Can you tell us a little more about Family Magic and some of its original and engaging characters?
One of the most appealing things about Family Magic and its lead character, Syd, is how she treats the paranormal as normal and the ordinary as extraordinary. I love that about her—though her vampire uncle and his girlfriend live in cupboards in the basement, they are as real and connected to her as though they were just two average people. And yet, high school life is like an alien planet covered in emotional land mines she triggers without being able to help herself. It's the combination of Syd's two lives that makes her so special.
Plus, I love her sarcasm, despite her occasional bratty behavior. I can remember how hard it was to be a teenager, to try to fit in when everything about you screams unusual, weird, odd. How important it was to be like everyone else though she isn't even close. But, ultimately, that her family—the people she loves the most—will always come first to her no matter her reticence about her magic and her fate as heir to the coven. Syd's faithfulness and loyalty, her stubborn refusal to quit in the face of opposition, makes her not only a frustration to her coven leader mother, but a boon to everyone who knows her.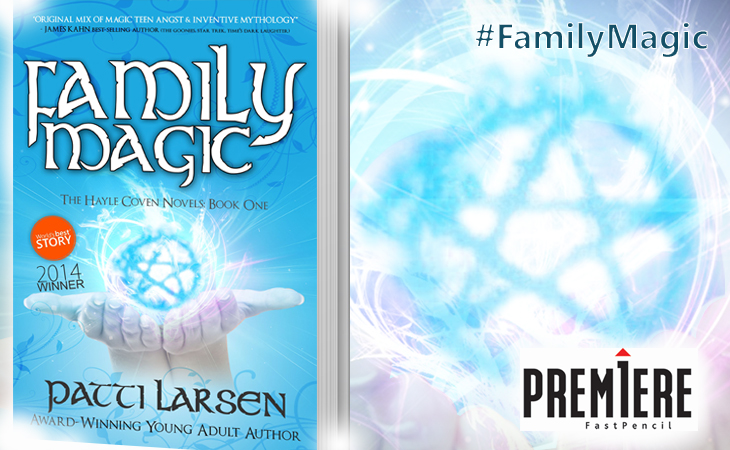 Q: World's Best Story 2014 judge James Kahn gave you a rave review, calling your story quite possibly the next female Harry Potter but in the real world. What does his review mean to you?
What a massive compliment from such a talented and celebrated writer—from his keyboard to the Kindles and hands of readers. I love Syd. I can't tell you how much I love Syd. And I know readers do, too. I've had people tell me Syd has carried them through some of the worst times in their lives, giving them a place to retreat, to forget for a while. That's the power of a great book. And hearing such praise from Mr. Kahn—and those readers—tells me without a doubt, unequivocally, I'm doing it right. What more can a writer ask for?
Q: Part of your prize package includes being published by Premiere/FastPencil. How has the experience been so far?
Absolutely fantastic. From the initial meeting, to the speed of publishing progress, to the close and careful selection of my new cover… everything has been wonderful. I can't wait to see where this partnership takes us.
Q: You also won a 2000$ shopping spree from World's Best Story sponsor, Beyond The Rack, I hope you did not spend it all in one day. Care to share what some of your Beyond The Rack goodies you received?
Honestly, my husband and I have been saving it. For what? I have no idea—it's like having the prize money is a constant reminder of the amazingness that happened to me. But we play the, "Oh, that's fabulous!" game every other day. And while I consider blowing all of it on a designer purse, I'll likely end up more practical and buy some awesome stuff for the house once I decide to let go of the delicious prize and go on that shopping spree.
Q: What story has influenced your life?
I'm not sure about the rest of me, geekgirl aside, but my writing life—my professional life—has been all thanks to JK Rowling and her courage, if indirectly. I'd decided seven years ago to write TV for a living, had given up on books and bestseller lists and even living on my lovely little Island in favor of Toronto or Vancouver and the hubbub of being a screenwriter. But, before I could make my final decision, my niece handed me a copy of Harry Potter and the Sorcerer's Stone and I was lost in the world of OH MY GOODNESS, YES. Syd came to me shortly thereafter. I hope to one day get the chance to thank Ms. Rowling in person. She's the reason I'm here, now, following my dreams.
Q: Do you have any advice to aspiring writers?
So much advice, you're going to have a hard time make me stop. Not even kidding. But, for expediency's sake, I'll try to keep it brief.
1. Be professional. Above all else, carry yourself with professionalism every moment you're on social media, interacting with other writers, publishers, artists, the public. Treat this like a job, take it seriously, because it is serious. We get to influence people with our words. We have no idea sometimes just how much influence we carry, or who we are inspiring. The way we present ourselves tells the world we are not just artists, we're here to stay and make a difference. And, when the inevitable happens and someone hates what we've written, remember—one person's opinion is only that. Everyone has an audience. But, that leads to point #2…
2.Learn your skills until you don't have to think about writing. I know, I know! Punctuation, grammar, spelling, blergh. But, the moment you can release your need to think, you free your muse. How? Write. Read. Write. Read. See a pattern? Keep at it. If you're one of the lucky ones born with the talent to write well from a young age, I envy you. The rest of you, go write something! I've been at it from the age of twelve, through prose and poetry and songwriting to journalism, screenwriting and even improv theater. Learn everything about all kinds of writing. Pay attention to how stories are told, how scenes are strung into acts and what your favorite works have about them that pull you in every time. Yes, you'll learn to guess the endings to movies and books, my apologies. And yet, what a gift. Telling great stories is what this job is all about.
3. Have fun, won't you? We forget in the slog and anxiety and pressure of being writers that this is the most fun thing ever. Take away the worry about critics and if we're good enough and the passion returns in a flare of awesome so huge it devours us. Fun. Remind yourself every day and you'll never, ever quit.
4. Oh, yeah. Never quit. Please. The world needs your stories or the Universe wouldn't have given you the gift and drive to write. Trust me. Just keep writing.
Q: What are the ingredients for a blockbuster story to you?
I love stories with strong, flawed and yet loveable/at least likeable main characters (whether villain or hero). And secondary characters who feel real to the main—if they are to the MC, they are to me. Then, a solid, action-packed plot with enough emotional kick to make me laugh and cry and even throw the book across the room on occasion (I'm looking at you George R.R. Martin). Crisp writing, not too descriptive—I'm more than able to see on my own and prefer it. Something visual I can create an entire movie out of in my head, my own private Hollywood production. A story that makes me read into the night until it's done and leaves me waiting for the sequel while unable to stop thinking about it later.
Q: What story do you enjoy reading over and over again?
I'm a huge fan of Anne McCaffery and the Dragonriders of Pern. I reread David Eddings's The Belgariad at least once every two years. Guy Gavriel Kay's The Fionavar Tapestry. I also love the Narnia books, some of the few YA novels I read as a child. The Hunger Games. You know, this really is a hard question… and Harry Potter. Because Harry.
Q: How would you increase literacy?
If I had my way, every man, woman and child in the world would have access to inexpensive and enriching works of written art. But, in ways that appeal to their specific type of learning/enjoyment. For some, that means audio files, others it's through graphic novels and art. I truly believe movies and television can encourage literacy through good storytelling, if done correctly. I think we overlook the fact not everyone has the capacity or desire for traditional reading. Coming up with ways to include everyone in the enjoyment of storytelling is the key.
Q: What is your favorite drink while writing and/or reading?
Coffee. Coffee. Coffee. Wait, sorry. My mug is empty, be right back…
Q: What is your favorite tech brand? App?
I love my Samsung Galaxy smartphone. I know, I know—where's my iPhone? While I like Apple for film editing, I happen to be Android all the way. My fave app is goofy and mundane, but I'm totally into Focus@Will, software to allow me to use neuroscience to make me a better and faster writer. I love the human brain! And my Kindle. Because this way I can have lots and lots and lots of books and not look like the nerdgirl I am carrying them all around in a giant stack.
Q: What is your favorite genre of music, artist?
I'm actually a singer and musician—I play bodhran (Irish drum) and conga for my all-girl Celtic band. But, I'm not just into the traditional tunes. I love all music, as long as it has a great beat, a good story and is performed well. Right now, I'm addicted to Uptown Funk, Happy and anything Taylor Swift and Pink. (Please, Taylor and Pink, do something together!)
Q: What is your favorite movie, tv show, superhero?
I love good writing, always. So, I love movies and TV shows that keep me guessing and/or touch me emotionally. The Princess Bride is one of my absolute favorites, as is Cloud Atlas. Gorgeous to watch and amazing to absorb. For TV, Gilmore Girls fit the bill so perfectly, I adore the quick-witted banter and the simple yet deliciously emotional connection I have with Lorelai and Rory. I'm also a huge fan of police procedurals (CSI, Criminal Minds) and anything tech focused (Person of Interest). And, my geek is showing: Star Trek, Stargate SGI/Atlantis/Universe, Warehouse 13, Firefly, Buffy, and, naturally, Doctor Who. As for my favorite superheroes, I still have my Batman comic collection in the upstairs cupboard and if I ever get to see Wonder Woman on the big screen, I'll expire from happiness.
Q: What is your must have snack?
I'm a terrible, terrible chocoholic and will be until the day I die. I blame my mother. And thank her all at the same time.

Q: If heaven exists, what is the first thing you would like to hear from God when you arrive at the Pearly Gates?
So sorry, My mistake. You have more stories to tell. Here's another lifetime. Have fun!
Q: What ice cream flavor would you invent?
Chocolate chipotle caramel crunch. Okay, now I'm drooling…
Q: What's on the horizon for Patti Larsen?
World literary domination. Ahem. Well, I continue to publish independently while working hard to spread Syd far and wide. I'd love to see some movie talk, foreign markets, even a video game… Syd's Universe has so much mass appeal potential, with nineteen more books ready and waiting to get out there in this series alone, I anticipate all Syd all the time for quite a while. I can't wait.
Make sure to signup for our newsletter and visit our Family Magic section to keep up with all things Family Magic/Patti Larsen.