It's summer, the sun is hot and the sun protection lotion is a must, but so is a good book. Here are 16 book recommendations which will help you through the slow-moving dog days of summer.
The Alienist by Caleb Carr
Official Synopsis: The year is 1896. The city is New York. Newspaper reporter John Schuyler Moore is summoned by his friend Dr. Laszlo Kreizler—a psychologist, or "alienist"—to view the horribly mutilated body of an adolescent boy abandoned on the unfinished Williamsburg Bridge.
From there the two embark on a revolutionary effort in criminology: creating a psychological profile of the perpetrator based on the details of his crimes. Their dangerous quest takes them into the tortured past and twisted mind of a murderer who will kill again before their hunt is over.
Fast-paced and riveting, infused with historical detail, The Alienist conjures up Gilded Age New York, with its tenements and mansions, corrupt cops and flamboyant gangsters, shining opera houses and seamy gin mills. It is an age in which questioning society's belief that all killers are born, not made, could have unexpected and fatal consequences.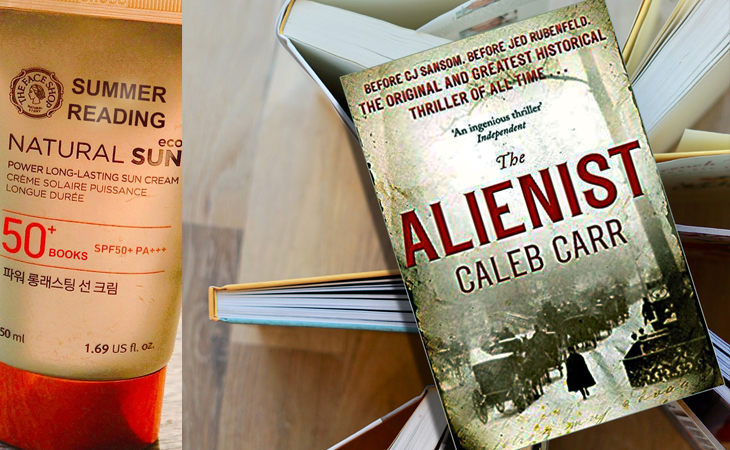 The Chalk Man by C J Tudor
Official Synopsis: In 1986, Eddie and his friends are just kids on the verge of adolescence. They spend their days biking around their sleepy English village and looking for any taste of excitement they can get. The chalk men are their secret code: little chalk stick figures they leave for one another as messages only they can understand. But then a mysterious chalk man leads them right to a dismembered body, and nothing is ever the same.
In 2016, Eddie is fully grown, and thinks he's put his past behind him. But then he gets a letter in the mail, containing a single chalk stick figure. When it turns out that his friends got the same message, they think it could be a prank . . . until one of them turns up dead. That's when Eddie realizes that saving himself means finally figuring out what really happened all those years ago.
Expertly alternating between flashbacks and the present day, The Chalk Man is the very best kind of suspense novel, one where every character is wonderfully fleshed out and compelling, where every mystery has a satisfying payoff, and where the twists will shock even the savviest reader.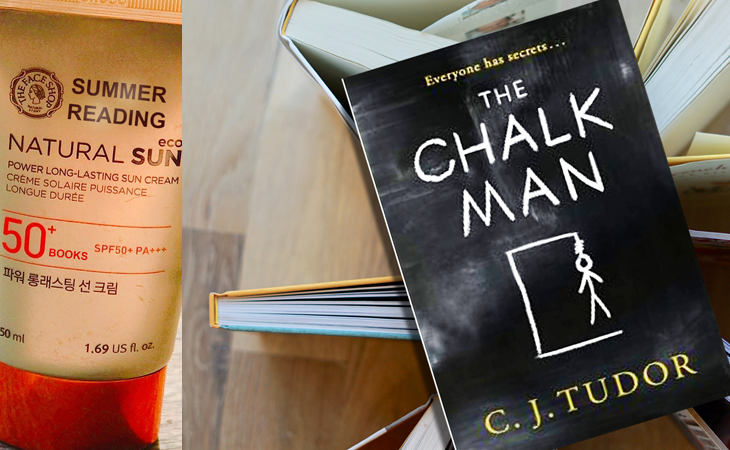 Number One Chinese Restaurant: A Novel by Lillian Li
Official Synopsis: An exuberant and wise multigenerational debut novel about the complicated lives and loves of people working in everyone's favorite Chinese restaurant.
The Beijing Duck House in Rockville, Maryland, is not only a beloved go-to setting for hunger pangs and celebrations; it is its own world, inhabited by waiters and kitchen staff who have been fighting, loving, and aging within its walls for decades. When disaster strikes, this working family's controlled chaos is set loose, forcing each character to confront the conflicts that fast-paced restaurant life has kept at bay.
Owner Jimmy Han hopes to leave his late father's homespun establishment for a fancier one. Jimmy's older brother, Johnny, and Johnny's daughter, Annie, ache to return to a time before a father's absence and a teenager's silence pushed them apart. Nan and Ah-Jack, longtime Duck House employees, are tempted to turn their thirty-year friendship into something else, even as Nan's son, Pat, struggles to stay out of trouble.
And when Pat and Annie, caught in a mix of youthful lust and boredom, find themselves in a dangerous game that implicates them in the Duck House tragedy, their families must decide how much they are willing to sacrifice to help their children.
Generous in spirit, unaffected in its intelligence, multi-voiced, poignant, and darkly funny, Number One Chinese Restaurant looks beyond red tablecloths and silkscreen murals to share an unforgettable story about youth and aging, parents and children, and all the ways that our families destroy us while also keeping us grounded and alive.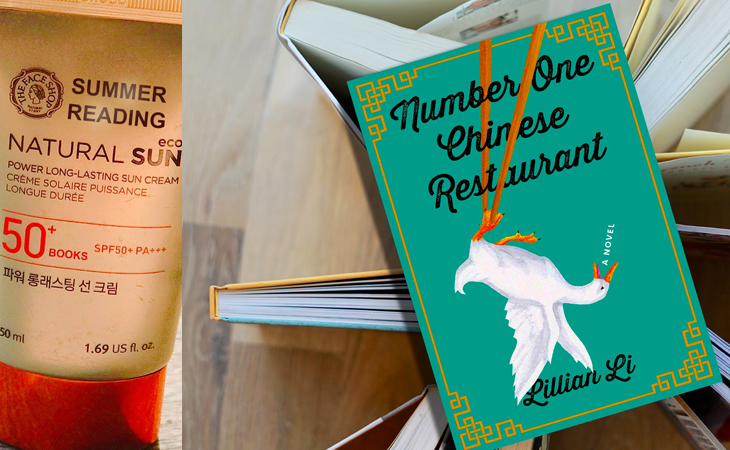 The Queen Of The South by Arturo Pérez-Reverte
Official Synopsis: Teresa Mendoza's boyfriend is a drug smuggler who the narcos of Sinaloa, Mexico, call "the king of the short runway," because he can get a plane full of coke off the ground in three hundred yards. But in a ruthless business, life can be short, and Teresa even has a special cell phone that Guero gave her along with a dark warning. If that phone rings, it means he's dead, and she'd better run, because they're coming for her next. Then the call comes.
In order to survive, she will have to say goodbye to the old Teresa, an innocent girl who once entrusted her life to a pinche narco smuggler. She will have to find inside herself a woman who is tough enough to inhabit a world as ugly and dangerous as that of the narcos-a woman she never before knew existed. Indeed, the woman who emerges will surprise even those who know her legend, that of the Queen of the South.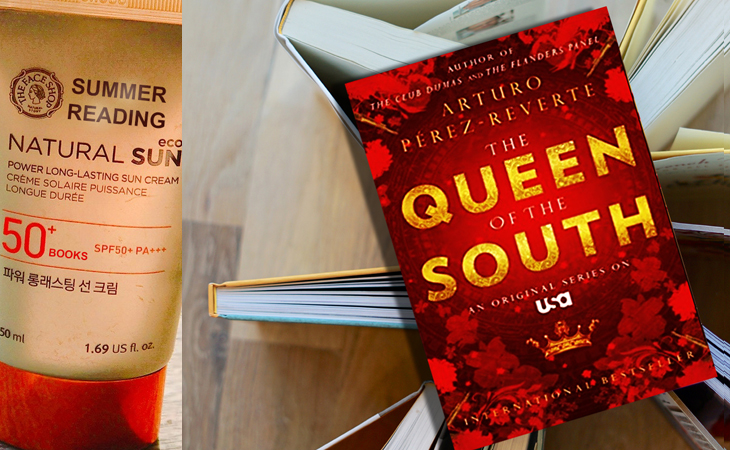 The Guernsey Literary and Potato Peel Pie Society by Mary Ann Shaffer and Annie Barrows
Official Synopsis: January 1946: London is emerging from the shadow of the Second World War, and writer Juliet Ashton is looking for her next book subject. Who could imagine that she would find it in a letter from a man she's never met, a native of the island of Guernsey, who has come across her name written inside a book by Charles Lamb.
As Juliet and her new correspondent exchange letters, Juliet is drawn into the world of this man and his friends—and what a wonderfully eccentric world it is. The Guernsey Literary and Potato Peel Pie Society—born as a spur-of-the-moment alibi when its members were discovered breaking curfew by the Germans occupying their island—boasts a charming, funny, deeply human cast of characters, from pig farmers to phrenologists, literature lovers all.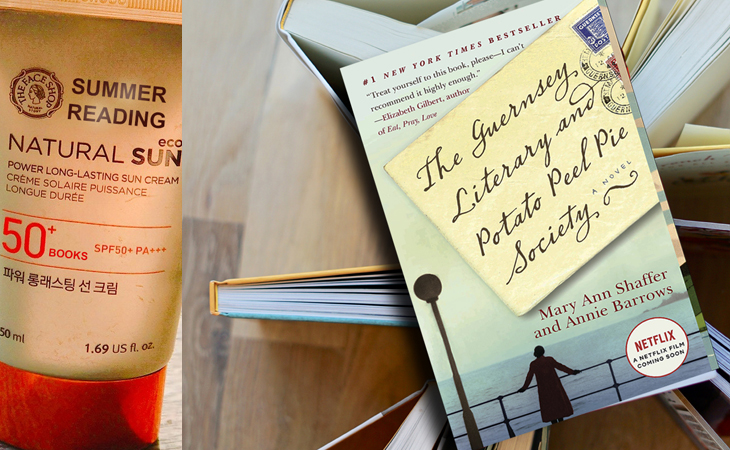 Full Dark, No Stars by Stephen King
Official Synopsis:
Four unforgettable novellas that explore the dark side of human nature from the #1 New York Times bestselling author Stephen King.
"Does anybody really know anybody? Before tonight she certainly would have thought so."
In "1922," a violence awakens inside a man when his wife proposes selling off the family homestead, setting in motion a grisly train of murder and madness.
A mystery writer is brutally assaulted in "Big Driver" by a stranger along a Massachusetts back road and plots a revenge that will bring her face-to-face with another stranger: the one inside herself.
In "Fair Extension," making a deal with the devil not only saves a man from terminal illness but also provides rich recompense for a lifetime of resentment.
Finally, the trust forged by more than twenty years of matrimony is irrevocably shattered when a woman makes a chance discovery leading to the horrifying implications of just who her husband really is in "A Good Marriage."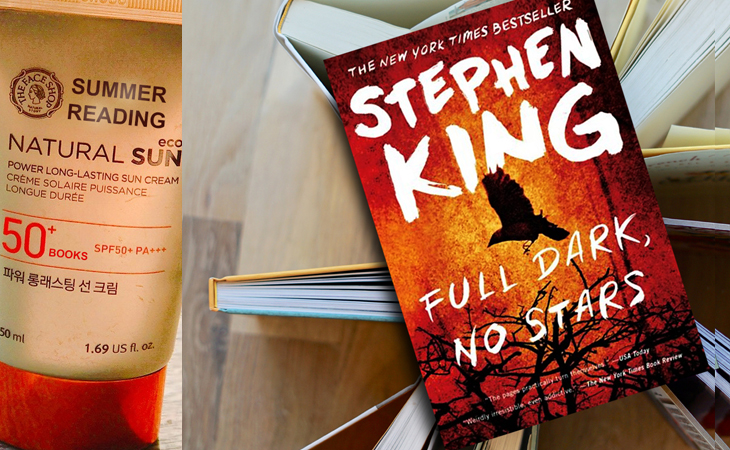 Man On Wire by Philippe Petit
Official Synopsis: More than a quarter-century before September 11, 2001, the World Trade Center was immortalized by an act of unprecedented daring and beauty. In August 1974, a young Frenchman named Philippe Petit boldly—and illegally—fixed a rope between the tops of the still-young Twin Towers, a quarter mile off the ground. Petit recounts the six years he spent preparing for this achievement. It is a fitting tribute to those lost, but not forgotten, symbols of human aspiration—the Twin Towers.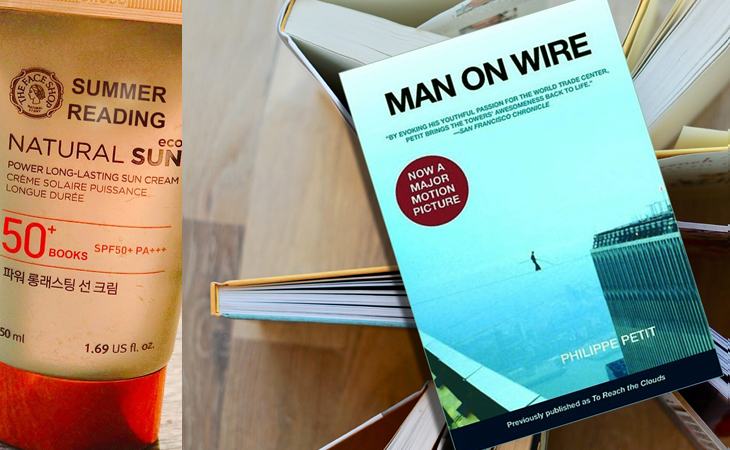 Brother by David Chariandy
Official Synopsis: An intensely beautiful, searingly powerful, tightly constructed novel, Brother explores questions of masculinity, family, race, and identity as they are played out in a Scarborough housing complex during the sweltering heat and simmering violence of the summer of 1991. With shimmering prose and mesmerizing precision, David Chariandy takes us inside the lives of Michael and Francis. They are the sons of Trinidadian immigrants, their father has disappeared and their mother works double, sometimes triple shifts so her boys might fulfill the elusive promise of their adopted home.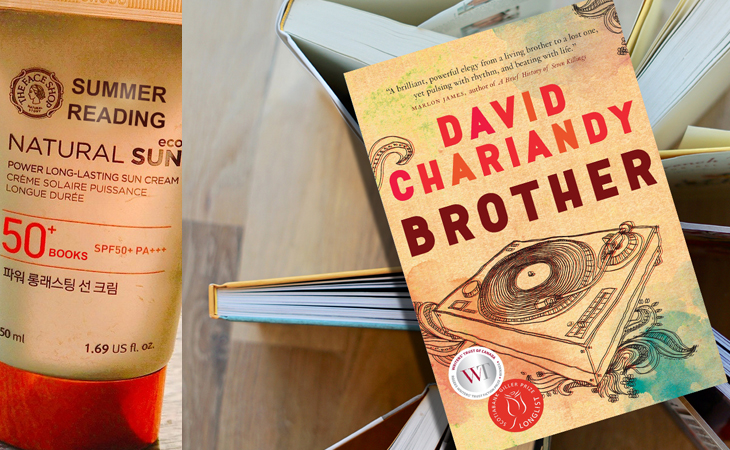 The Wrong Heaven by Amy Bonnaffons
Official Synopsis: In The Wrong Heaven, anything is possible: bodies can transform, inanimate objects come to life, angels appear and disappear.
Bonnaffons draws us into a delightfully strange universe, in which her conflicted characters seek to solve their sexual and spiritual dilemmas in all the wrong places. The title story's heroine reckons with grief while arguing with loquacious Jesus and Mary lawn ornaments that come to life when she plugs them in. In "Horse," we enter a world in which women transform themselves into animals through a series of medical injections. In "Alternate," a young woman convinces herself that all she needs to revive a stagnant relationship is the perfect poster of the Dalai Lama.
While some of the worlds to which Bonnaffons transports us are more recognizable than others, all of them uncover the mysteries beneath the mundane surfaces of our lives. Enormously funny, boldly inventive, and as provocative as they are deeply affecting, these stories lay bare the heart of our deepest longings.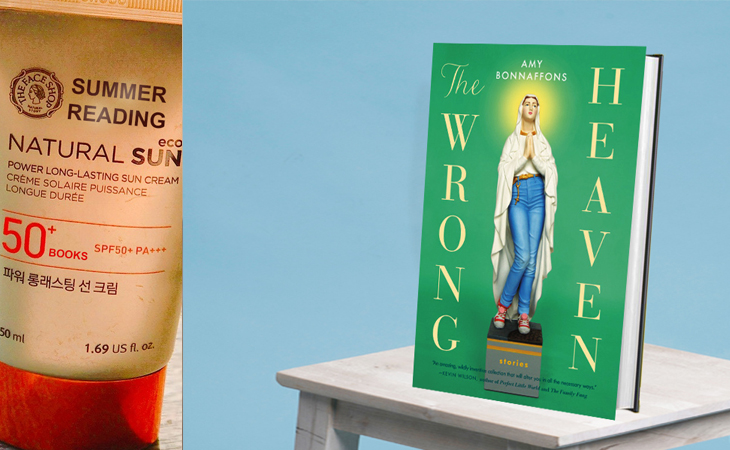 I Can't Date Jesus by Michael Arceneaux
Official Synopsis: In the style of New York Times bestsellers You Can't Touch My Hair, Bad Feminist, and I'm Judging You, a timely collection of alternately hysterical and soul‑searching essays about what it is like to grow up as a creative, sensitive black man in a world that constantly tries to deride and diminish your humanity.
It hasn't been easy being Michael Arceneaux.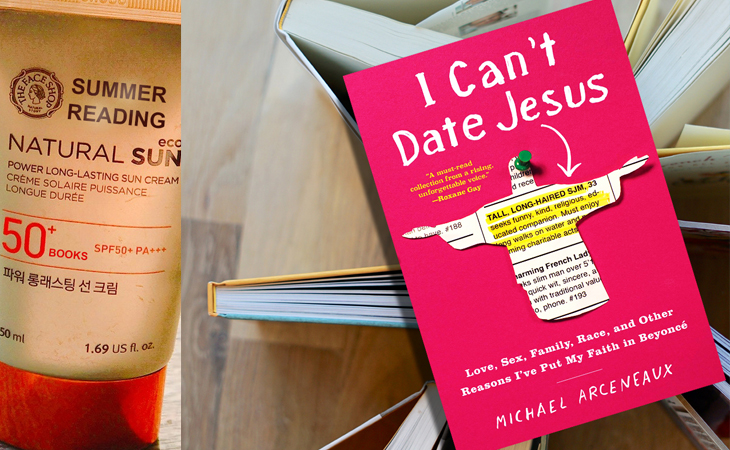 Equality for LGBTQ people has come a long way and all, but voices of persons of color within the community are still often silenced, and being Black in America is…well, have you watched the news?
With the characteristic wit and candor that have made him one of today's boldest writers on social issues, I Can't Date Jesus is Michael Arceneaux's impassioned, forthright, and refreshing look at minority life in today's America. Leaving no bigoted or ignorant stone unturned, he describes his journey in learning to embrace his identity when the world told him to do the opposite.
He eloquently writes about coming out to his mother; growing up in Houston, Texas; being approached for the priesthood; his obstacles in embracing intimacy that occasionally led to unfortunate fights with fire ants and maybe fleas; and the persistent challenges of young people who feel marginalized and denied the chance to pursue their dreams.
Perfect for fans of David Sedaris, Samantha Irby, and Phoebe Robinson, I Can't Date Jesus tells us—without apologies—what it's like to be outspoken and brave in a divisive world.
Crazy Rich Asians by Kevin Kwan
Official Synopsis: When New Yorker Rachel Chu agrees to spend the summer in Singapore with her boyfriend, Nicholas Young, she envisions a humble family home and quality time with the man she hopes to marry. But Nick has failed to give his girlfriend a few key details. One, that his childhood home looks like a palace; two, that he grew up riding in more private planes than cars; and three, that he just happens to be the country's most eligible bachelor.
On Nick's arm, Rachel may as well have a target on her back the second she steps off the plane, and soon, her relaxed vacation turns into an obstacle course of old money, new money, nosy relatives, and scheming social climbers.
.
The acclaimed international bestseller ("A dizzily shopaholic comedy." –The New York Times) soon to be a MAJOR MOTION PICTURE starring Constance Wu, Henry Golding, Michelle Yeoh and Gemma Chan!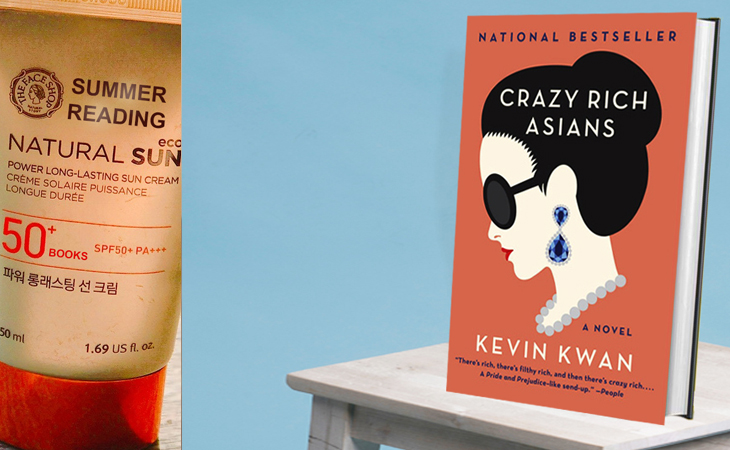 The Elizas by Sara Shepard
Official Synopsis: New York Times bestselling author of Pretty Little Liars Sara Shepard makes her mark on adult fiction with this Hitchcockian double narrative composed of lies, false memories, and a protagonist who must uncover the truth for survival.
When debut novelist Eliza Fontaine is found at the bottom of a hotel pool, her family at first assumes that it's just another failed suicide attempt. But Eliza swears she was pushed, and her rescuer is the only witness.
Desperate to find out who attacked her, Eliza takes it upon herself to investigate. But as the publication date for her novel draws closer, Eliza finds more questions than answers. Like why are her editor, agent, and family mixing up events from her novel with events from her life? Her novel is completely fictional, isn't it?
The deeper Eliza goes into her investigation while struggling with memory loss, the closer her life starts to resemble her novel, until the line between reality and fiction starts to blur and she can no longer tell where her protagonist's life ends and hers begins.
Fans of Pretty Little Liars, S.J. Watson's Before I Go to Sleep, and Ruth Ware's The Woman in Cabin 10 will be drawn to the drama of feeling like no one is on your side, the high tension of not knowing who you can trust, the hair-raising truths hidden among lies, and a faceless, nameless presence controlling Eliza's life from the shadows.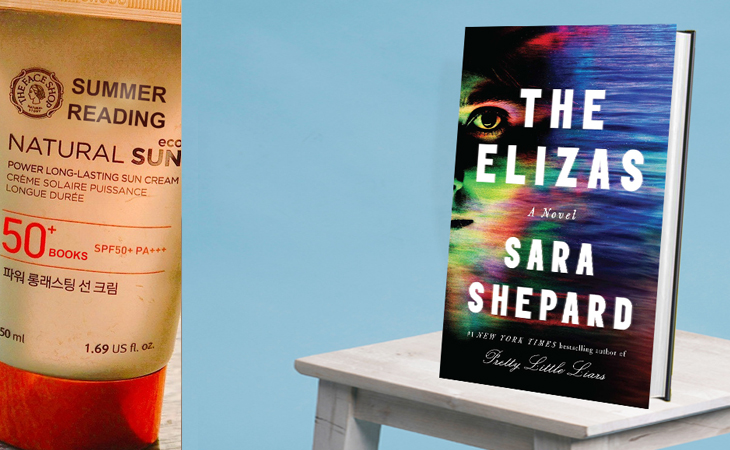 The Perfect Nanny by Leila Slimani
Official Synopsis: When Myriam decides to return to work as a lawyer after having children, she and her husband look for the perfect nanny for their son and daughter. They never dreamed they would find Louise: a quiet, polite, devoted woman who sings to the children, cleans the family's chic Paris apartment, stays late without complaint, and hosts enviable kiddie parties.
But as the couple and the nanny become more dependent on one another, jealousy, resentment, and suspicions mount, shattering the idyllic tableau. Building tension with every page, The Perfect Nanny is a compulsive, riveting, bravely observed exploration of power, class, race, domesticity, motherhood, and madness—and the American debut of an immensely talented writer. .
"A book . . . that I've thought about pretty much every day . . . [It] felt less like an entertainment, or even a work of art, than like a compulsion. I found it extraordinary." —Lauren Collins, The New Yorker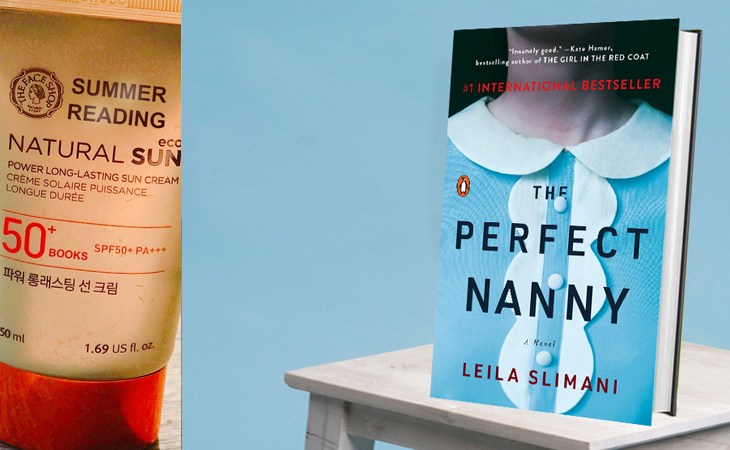 Children Of Blood And Bone by Tomi Adeyemi
Official Synopsis:
They killed my mother.
They took our magic.
They tried to bury us.
Now we rise.
Zélie Adebola remembers when the soil of Orïsha hummed with magic. Burners ignited flames, Tiders beckoned waves, and Zélie's Reaper mother summoned forth souls.
But everything changed the night magic disappeared. Under the orders of a ruthless king, maji were killed, leaving Zélie without a mother and her people without hope.
Now Zélie has one chance to bring back magic and strike against the monarchy. With the help of a rogue princess, Zélie must outwit and outrun the crown prince, who is hell-bent on eradicating magic for good.
Danger lurks in Orïsha, where snow leoponaires prowl and vengeful spirits wait in the waters. Yet the greatest danger may be Zélie herself as she struggles to control her powers and her growing feelings for an enemy.
"A phenomenon." ― #entertainmentweekly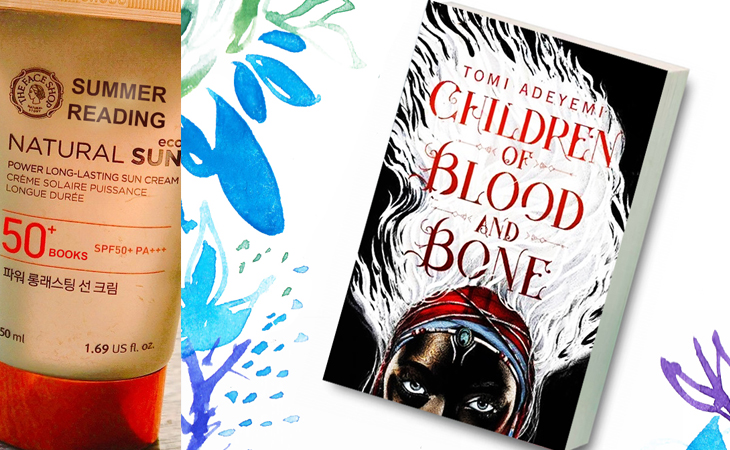 The Perfume Burned His Eyes by Michael Imperioli
Official Synopsis:
Matthew is a sixteen-year-old living in Jackson Heights, Queens, in 1976. After he loses his two most important male role models, his father and grandfather, his mother uses her inheritance to uproot Matthew and herself to a posh apartment building in Manhattan. Although only three miles away from his boyhood home, "the city" is a completely new and strange world to Matthew.
Matthew soon befriends (and becomes a quasi-assistant to) Lou Reed, who lives with his transgender girlfriend Rachel in the same building. The drug-addled, artistic/shamanic musician eventually becomes an unorthodox father figure to Matthew, who finds himself head over heels for the mysterious Veronica, a wise-beyond-her-years girl he meets at his new school.
Written from the point of view of Matthew at age eighteen, two years after the story begins, the novel concludes with an epilogue in the year 2013, three days after Lou Reed's death, with Matthew in his fifties.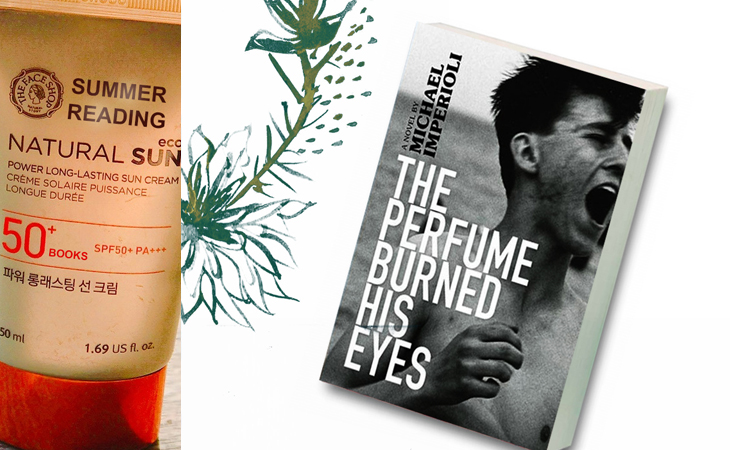 Ready Player One by Ernest Cline
Official Synopsis :
In the year 2045, reality is an ugly place. The only time teenage Wade Watts really feels alive is when he's jacked into the virtual utopia known as the OASIS. Wade's devoted his life to studying the puzzles hidden within this world's digital confines—puzzles that are based on their creator's obsession with the pop culture of decades past and that promise massive power and fortune to whoever can unlock them.
But when Wade stumbles upon the first clue, he finds himself beset by players willing to kill to take this ultimate prize. The race is on, and if Wade's going to survive, he'll have to win—and confront the real world he's always been so desperate to escape.