After weeks of intense literary excitement, we are excited to announce Mummy's Little Angel by JW Lawson as the winner of the 2015 World's Best Story Contest!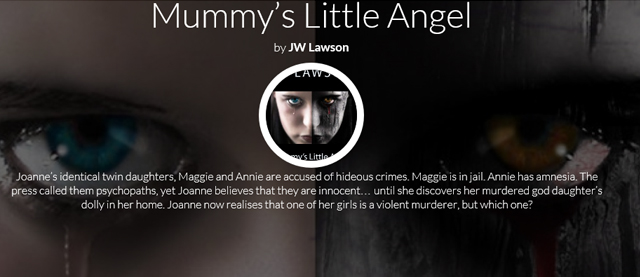 Mummy's Little Angel Synopsis:
Joanne didn't believe that her life could become worse than it already was. She had lost everybody and everything she had loved. She was alone. Surely she had suffered enough? The press had called her identical twins psychopaths. Her Maggie. Her Annie. But she still loved them, even though one of them had killed her husband, Jeff.
Joanne believed that his murder had been an accident. How could one of her girls be a murderer? She knew them better than anybody else. They were good girls really. She just had to prove it. The brutal murder of her god-daughter Laura had never been solved. Items had been missing when Laura's remains had been discovered: clues that could lead to the capture of her killer. One of them was Laura's doll … the doll that Joanne later discovered in her home. Joanne is facing the most horrific dilemma of her life. Has the wrong woman been imprisoned? Could her child have used such brutality against her best friend?
Or could both women be innocent after all? She needs to find somebody for her daughter to confide in; somebody she will trust. She needs a miracle. There is only one person who can help. He is compassionate and caring, with an amazing ability to gain the trust of the most difficult patients. He is Joanne's only hope. He is Jonathan Davies.