The Antiquities Hunter by Maya Kaathryn Bohnhoff had me at "a Harley blessed with Holy Water by her dramatically disposed mother". As a fan of Dan Brown books, I loved the complex and slow pace of getting the mystery solved with plenty of action and suspense making it a real page turner. I look forward to reading the next book in the series. Reminiscent of Indiana Jones meets Lara Croft, I won't be surprised to see Gina Miyoko in a TV or movie adaptation in the near future.
Official Synopsis:
From New York Times bestselling author Maya Kaathryn Bohnhoff, a new private detective series featuring Gina "Tinkerbell" Miyoko, who must go undercover in the Mexican jungle to hunt down a mysterious antiquities dealer.
Gina "Tinkerbell" Miyoko is not your typical private eye. Armed with a baby blue Magnum, a Harley blessed with Holy Water by her dramatically disposed mother, and a Japanese mingei tucked in her pocket (a good luck charm from her Sherlock Holmes-obsessed father) Tink spends her time sniffing out delinquent dads in the San Francisco Bay area and honing her detective skills.
But when her best friend Rose, an undercover agent, discovers there's a stalker on her tail, she hires Tink as a bodyguard. Someone must be trying to intimidate Rose and scare her out of testifying in an upcoming case on looted Anasazi artifacts. But when Tink tries to flush-out the stalker, things take a far more dangerous turn.
Now, with a dead black-market dealer and an injured Rose on her hands, Tink must take her best friend's place and follow the looters' trail towards a powerful and lucrative antiquities collector in Cancun, Mexico.
Equipped with an ingenious disguise and a teasingly coy persona to match, Tink is determined to find out who is behind the attack on Rose and the illegal trafficking of these priceless artifacts. Along the way, she will find help in the most unlikely of partners…
Deep in the jungle and far from civilization, Tink must decide who she can trust as she tries to unearth the ones responsible behind the pilfering and bloodshed―and still make it out alive.
The Antiquities Hunter by Maya Kaathryn Bohnhoff published by Pegasus Books / October 2018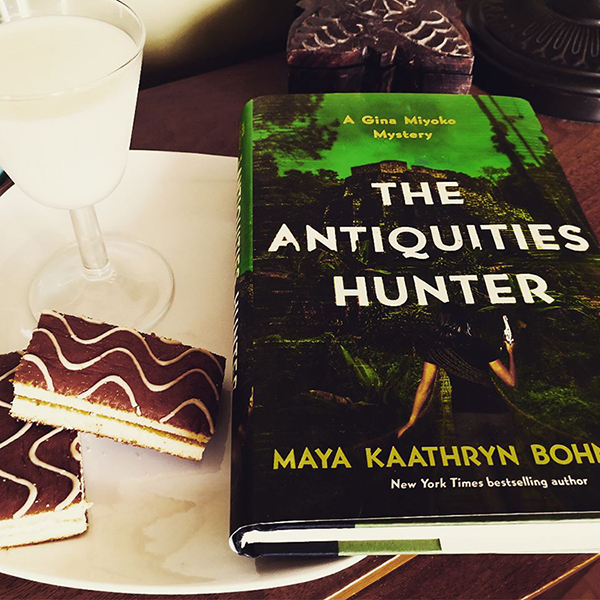 Official Author Biography:
A New York Times bestselling author, Maya became addicted to science fiction as the result of a hair-raising encounter with a robot named Gort. Her dad let her stay up late to watch "The Day the Earth Stood Still" when she was 6 and Maya was never the same. Mom was horrified. Dad was unrepentant. Maya slept with a night-light in her room until she was 15.
She started her writing career sketching science fiction comic books in the last row of her elementary school classroom. She was never apprehended. Since then her short fiction has been published in Analog, Amazing Stories, Century, Realms of Fantasy, Interzone, Paradox and Jim Baen's Universe. Look for her British Science Fiction Award finalist "The White Dog" along with a variety of her short fiction on the Café shelves.
Her debut novel, "The Meri" (Baen), was a Locus Magazine 1992 Best First Novel nominee (now available as a trade paperback from Sense of Wonder Press). Since, she has published eight more speculative fiction novels, including "Mr. Twilight" (with Michael Reaves) and also worked with Michael on "Star Wars – Coruscant Nights III: Patterns of Force", "Star Wars: Shadow Games" and the New York Times Bestseller and Science Fiction Club selection, "THE LAST JEDI" — fourth book in the Coruscant Nights series.