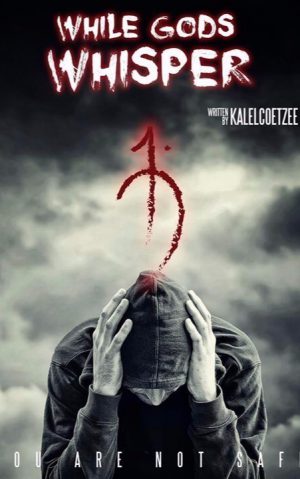 This Story's

Blockbuster

Potential Score
85

%
Synopsis
Gods can be made… this is the whispers that a psychopathic killer hears. As he goes on the hunt and begins his transformation, Kol, a detective with dangerous secrets, hunts him down and tries to prevent the second age of Gods. They are among us still, the ancient ones…. and none of us are safe. While God's Whisper is a story of serial killers, primal gods, betrayal, murder, intrigue, lies and a lot of dark emotion. It mixes modern thriller with fresh new mythology that is brutal, intense and captivating.
Read sample chapter
About Me
I'm a weird, nerdy, random, overly emotional, sarcastic, slightly sociopathic, crazy creative writer with a love for imagination and a passion for writing. My books are as dark and emotional as I am and will make you question everything… everything…
Favorite Things
| | | |
| --- | --- | --- |
| | Charity | any orphanage.. i was adopted |
| | Coffee | yes please |
| | Book | Magician by Raymond E Feist |
| | Superhero | Superman |
| | Movie | The Dark Knight Rises |
| | App | Wattpad |
| | Video Game | Fifa |
| | Musical | no |
| | Ice Cream | Rum and Raisin |
Q&A with Vincent
How would you increase literacy?
I think social media plays a large part in getting people into anything so improving literacy could probably be achieved by radical social media targeting and showing people what a wonderful escape reading can be
What are the ingredients for a blockbuster story to you?
Good writing, pace, intrigue... a bit of action, a bit of romance... it must not only entertain but give the reader something to think about leaving an impression long after the book has been read.
What are your top stories that entertain and/or inspire you?
I love books that are so full... in that I mean they explore so many intertwining relationships and storylines, different worlds, races and politics... full of action, intrigue and push the boundaries of their genre. A great example is Raymond E Feist and of course Tolkien.
Do you have any advice to aspiring writers?
Never give up... just never ever. I tell myself this every day. Writing is not easy and being a writer is hard work but it is the most rewarding thing ever. Never give up.
Do you recall how your interest in writing originated?
Haha, in fourth grade I wrote a short story about an elephant and I won an award and got attention so I threw myself into writing and chased that dragon, haha...