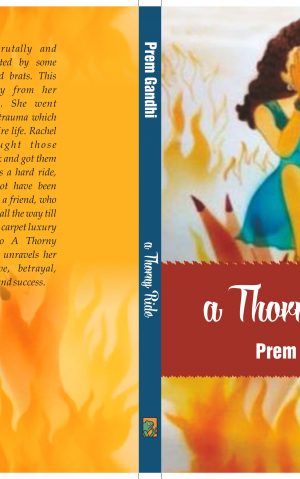 This Story's

Blockbuster

Potential Score
40

%
Voting
Closed

Synopsis
1. "A Thorny Ride" is a story of a sexual attack on a women and the trauma faced by her.It gives an insight into our society and the treatment meted out to the victims of sexual assault. Our society looks down upon these victims like criminals and does not accept them.
---
Chapter 1,2,14
A Thorny Ride
A Thorny Ride
1
After grandma left for Milan, the following day Raj met me and informed that he was planning a New Year bash for me and a few of his friends at some resort. On Friday evening Raj planned his party at one of the resorts. I did not know many of his college friends and it was an opportunity to know them. I told about the party to Venkat, my tutor and a best friend. His reaction was not different than my parents, he too was incredulous and told me to be vigilant and keep away from drinks. He even advised me about how I should dress up. He suggested me to wear something decent, and nothing inviting. I knew mom too was of the same opinion.
I told him about the venue of the party. It was planned little early in the evening, to avoid late night fright. I wore decent clothes, a full sleeved top, without even a little cleavage, a scarf and a jean, with a little make up. Mom was happy to see me in simple and decent attire. I looked perfect, simple with dilated look.
It was a small resort not far from my place and was surrounded by green lush garden with swimming pool. It was a poolside party. Many of his college friends were present. Tanya, who was Raj's childhood friend and a classmate, was the star attraction of the party. She really looked gorgeous and pretty. She wore a nice shining blue colored outfit which gave her fair looks a glittering edge. She had styled her hair so well that it looked like a crown. She studied in the same college and she knew all the guys in that party. There were a few other girls who were from the same college. We were all dancing to the music. Many boys and girls were boozing. Even Raj had drinks. I made sure, not touch beer or wine. I was dancing with Raj and was engrossed so much that I did not realize when Tanya came between us and when Raj had started dancing with her. I watched them dancing together and moving away. I was unable to do anything, as I was surrounded by his college friends. For some time I did not see them and wondered where they were?
I kept asking about Raj and Tanya to everyone. Nobody was aware of their whereabouts. I decided to look for them. I left the dance floor and started looking for them. I looked for them in the eating arena; they were not there. I even went to the washrooms, but could not find them. I thought possibly they might be in the lobby. When I reached the lobby, I felt somebody was following me. I looked at him and asked whether he had seen Raj and Tanya. He showed his finger and told me that he saw them going towards the parking lot. I did not know who that guy was; I thought he was one of Raj's college friends.
I walked to the parking lot. He too followed me. Raj and Tanya were not there. I was confused and decided to walk back to the restaurant. Now I was sure they were inside the restaurant. The moment I turned back, the guy, who followed me, told me that they were inside the car.
The moment I peeped in to see through glass window of the car, I was pushed in. It was unexpected. I saw one more guy coming towards the car. I was stunned. I was suddenly attacked by both of them. I tried to free myself and come out of the car, but they were stronger. I tried to hit them and protested. I did not know what was happening. I opened my mouth to shout, but one of the guys slapped me so hard, the blood started oozing from my lips. They tied my hands with my own scarf and gagged me. It had started getting gloomy. They were ripping my clothes, but I protested. They slapped me again and I felt lifeless. They raped me over and over again like animals. I do not know what had happened, and when they finished. They threw me in the parking lot and fled. It was a cold night. I was left with bare minimum clothes. I was shuddering with the attack and the cold. I tried to get up and walk, but fell down and became unconscious. I do not know how long I was there in that condition.
Raj and Tanya were inside the kitchen, planning for the snacks and the foods to be served. When they came out on the dance floor, they found me missing. They thought I might have gone to the washroom or to have a drink. They waited for some time. After a while Tanya called me on my mobile. There was no reply. One of the girls noticed my purse and the mobile buzzing in it. It was sure that I was around somewhere. They thought, maybe I had gone to the washroom. When I did not return for a while, they started looking for me. They swiftly searched the washrooms and other areas. They looked in the cafeteria and all other places. When they did not found me anywhere, they asked the security. Nobody knew about me. They got alarmed and decided to call my parents. But it was not appropriate to call them, they would panic. At last Tanya called Venkat and informed him. He was stunned. He left, no matter what he was doing, and came immediately.
The moment he arrived, he decided to search in the garden and the outside area. Venkat was petrified when he was unable to find me. At last they found me lying in the cold with ragged clothes in the parking lot. Venkat at once knew what had happened. Quickly he covered me with his windcheater and sprinkled some water on my face. The moment, I came to my senses, I thought, those guys were around and were going to assault me again. Without even looking up or giving a second thought, I attacked with my full might. I scratched his face. When I noticed, it was Venkat; I hugged him and started crying. After a while when I cooled down Tanya tried to help me to the washroom. I was not in a position to walk or do anything. I fell down a few times; at last Venkat carried me to the washroom, where they cleaned my face. The molesters had attacked me dreadfully and brutally; I was bleeding; my hands, shoulder and legs were bruised. My face was swollen and had many bruises; and my lips too were bleeding. There were blood stains all over my clothes. They helped me to put my clothes, whatever was left of them just to cover me. Tanya asked one of her friends to give her shawl.
It was nearly ten in the night. I was unable to walk. My entire body was paining. Raj too was in a terrible shock. Venkat asked the resort manager about their security and how anybody could do such a thing in the presence of so many guests. They had no answer. They in fact tried to blame our group itself, saying it must be the one of our friends who had done such a barbarian act. Raj was getting ready to drop me, but Venkat stopped him and told him to take care of other guests. I clutched Venkat on his bike and we left. Raj, Tanya and all the other friends were in anguish. Even if Tanya had come out, she would have met with the same fate. When we left she was trembling, crying and was inconsolable. I was not able to balance on the bike. Venkat was riding slowly and carefully. Couple of times he had to stop to make me sit properly, else I would have fallen down. Just after a little ride, Venkat asked me if I can manage to sit on the bike. I was unable to sit, but had no choice. He assured me that he would ride slowly and carefully. He himself was stunned and was panicked.
Mom opened the door for us. She was shocked to see me. She hastily called dad, who came quickly. She started asking me questions, but Venkat stopped her and took me to my room and made me sit on the bed. Mom quickly got me a glass of water. Like a small baby he took me inside the bathroom and tried to clean my scratches. He cleaned my hands, lips and face. I was feeling dirty; at last he sponged me with warm water. By now mom anticipated what might have taken place. Mom was shocked to see even Venkat's face. Only when mom gave me a shower, I felt fresh and better. He then asked mom to give me some hot milk with turmeric. After I was comfortable he told them about the unpleasant incident and advised dad to take me to the hospital and report this to the police. I was scared to go to the hospital and to the police.
I had no strength at all. My face had many scratches and lips were bleeding. My body was paining so badly that I could hardly stand or sit. While drinking milk, I felt giddy and fainted. Venkat called one of his doctor friends, Dr Ramesh, and asked him to come quickly. Dr Ramesh on arriving checked me and gave me some medicines. Dr Ramesh was friendly. The moment he came and saw me, I felt better. He himself was shocked to see my condition and advised that I should be taken to the hospital. Venkat told him about all that had happened. He suggested Dr Ramesh to give me some medicines so as to get some good rest. The doctor praised me and said I was a brave girl and would recuperate from the shock. He advised mom and dad to be kind to me and not to dig any further about the episode. I needed to rest. He strongly asked us to report this matter to the police. Even after a heavy dose of medicines, I was becoming violent and kept shivering with fear. Finally, dad decided to shift me to the hospital. I started crying frantically. I did not want to go the hospital. Dr Ramesh assured me that there would be better facilities and round the clock attention. It would be better to get admitted. I looked at dad and Venkat pleadingly. At last it was decided we wait till morning before any decision could be taken. Venkat was by my side throughout that night.
The doctor had given sedatives which put me to sleep. I was so troubled that even with heavy doses of medicines I could not sleep peacefully. Now and then I kept snivelling. Venkat sat next to me holding my hand. He assured that the malevolence was already over and not to agonize. I do not know when I slept and Venkat had gone. I did not sleep well. I had many nightmares which kept me chasing. Every now and then I was troubled and was trembling and sweating. The air conditioner in my room was working well, but I was sweating. I was scared; if I closed my eyes the events of that evening would hitch me.
It was the worst night that changed the course of my life. I wondered why there was such a twist in my life. I had no desire to live. I lost everything in life. Why should I live anymore? It was harassment to all. I knew now mom or dad will never be at serenity. I did not want anybody to suffer just because of me. I wanted to end my life and end the sufferings, but I was not brave enough to take such a step. That night Venkat too was traumatized, he too was terribly shattered.
2.
I was thinking about the gruesome events of the previous evening. The attack was so sudden that it took away all my vigour and determination. I felt, I had lost one of the organs of my body and had become lame. I opened my eyes and saw dad sleeping in an easy chair. I was unable to move. I had bruises all over my body and it was aching badly. I wanted to call mom, but I had lost my voice. I did not know when Venkat left that night. Dr. Ramesh gave me some sedatives which made me drowsy and effect of it was still on.
Now I was feeling much better and I was sure dad would not admit me to the hospital. When dad saw I was awake he called mom. Instead Venkat entered with mom. He asked me about how I was feeling?
"Bad, very bad", was what I could say. I could hardly speak. Venkat was discussing with mom and dad about going to the police station and filing a police complaint. I became more perturbed with the name of police and started snivelling. Venkat came to me and holding me in his arm told me how imperative it was to file a complaint against those criminals. He told me that they could dare to do the same thing with some other girls and those demons should be stopped. They could even try to molest me again and it would be better if we contacted the police and registered a complaint so the police could take some action and nab them. We planned to go to the police station.
Venkat assured me not to worry and everything would be fine. I looked at him. I was not sure what would be fine after what happened with me the previous evening. Still I was not sure about what implications it would have on me, on my career and on my family. It had shattered everything. This was what we came to India for? I wondered. It had changed my life and surely it would impinge on my relationships with Raj. Will he continue loving me the same way he did, I wondered.
It took nearly an hour to get ready. I was having an awful headache and a body ache. My groin too was paining. Bruises on my body were hurting me. When I wore the clothes, they were piercing me like thorns. I felt better after a cup of coffee and breakfast. Venkat told dad that it would be better if we called Raj to the police station. Dad called Raj and requested him to come to the police station. Raj assured that he would be there before us.
I was unable to walk. Venkat helped me to the lift and then to our car. Mom decided to stay home with my brother and sister. By the time we reached the police station it was nearly ten in the morning. Dad wanted to wait for Raj, but after seeing my condition, he decided to file a complaint. When the police officer noticed my condition and scratches on my face, he was stunned. He wondered how anybody could be so brutal.
Venkat narrated the incident of the previous night. The police officer was kind, but insisted that it would be better if I narrated everything, so that it could be recorded. I was not in a position to tell anything. I was very nervous and was unable to tell anything. I could barely speak. Venkat tried to explain this to the officer but he was not ready to understand. It was persecution for me. I was still shuddering with fear. How can I narrate an incident? I knew coming to the police was nothing but a torment. Somehow I wanted to reprimand those who had ruined my life. I looked at Venkat; he just nodded and pressed my hand.
Slowly but steadily I narrated about the party and the incident. I told them the name of the resort where it was organized. I tried to narrate the incident in as much detail as possible. It was not an easy task. Many times I broke down and cried. The police inspector kept asking me some embarrassing questions, like where did those guys touch, how did they tear my clothes, how long it lasted and why did I not yell or hit them back. He asked many awkward questions.
The woman who had been sexually assaulted had to prove the assault on her. The police, which are supposed to be the outpost of justice, was not at all bothered about the criminals and was harassing us only. It was a mental persecution than the actual rape that took place. It was a torture to recall that horrendous episode.
Quickly the police officer called up Raj and Tanya to enquire about the previous day's party. Raj said, there was no party at all and there is some gaffe. They could not get Tanya's number as it was switched off. We were all shocked when the police officer informed us about the Raj's reply. It was astounding that Raj said there was no party at all. How could it be? It was he who arranged the party. Swiftly the police officer called the resort manager and asked him to come to the police station. In the meantime he sent couple of his constables to check on the resort and to enquire about the party. Now he had many doubts, when he was not getting tangible answers. He started asking me some more questions, like how many friends were present at the party and how many of them I knew. Were assailants from the group of the invited friends and will I be able identify them? What drinks were served? How those rapists tricked me, why did I not shout and remonstrate myself. With each and every answer he was getting perplexed and was having doubts about my answers. He kept asking the same questions again and again.
When the manager of the resort arrived he quickly recognized Venkat and me. I felt better and thought; now he would tell the truth about the previous evening's party. Instead, he looked bewildered, when the police officer asked about the party at previous night. Like Raj he too said there was no party at all. It made me livid and we knew we were being trapped in a surreal incident.
He told the police that Venkat and I were at their hotel for a cup of coffee the previous evening. It was a great shock to us. The officer demanded whether he kept track of all the patrons who visited his restaurant. Hotel manager was well prepared for such an enquiry and told that they did not bother about all the customers, but since I was a foreigner he remembered us. He told the police that we were sitting close to each other in the restaurant. We had even kissed a few times and were quite intimate with each other. With his answers Venkat panicked and dad too was getting restless. I was trembling with rant and rave.
Now the officer watched Venkat carefully and asked him about the scratches on his face. Venkat told that I had scratched his face when he tried to bring me to my senses when he found me unconscious in the parking arena of the hotel. Now police had a new presumption. The officer was sure that it was Venkat who had raped me with a couple of his friends and now we were making up a story. When he noticed my condition he carried me home and tried to cover the incident. He started shouting at me to tell the truth. He asked Venkat, who was sitting in a chair beside me, to stand up in the corner, till the enquiry was over. Now it was Venkat's turn to protest. The police officer told him to stand quietly in the corner. It was deprecating but he could not do anything and had to follow the orders.
The police came to a new conclusion now. They felt that we were hiding something and there was no truth in whatever we were telling them. The officers who went to check on the resort too confirmed that there was no party.
Now police suspected that Venkat was the one who raped me with a couple of his friends. May be his friends first attacked and raped me and when I turned comatose, Venkat too took his turn. This was the reason I was unable to recognize him. This was all planned by Venkat. When I came to my senses, and saw him on me, I scratched his face. I was so much influenced by him that I did not believe he could do such a ghastly thing to me. So we were making up a story. They were becoming impatient, as they felt that we were perplexing them. He challenged Venkat that if he did not tell the truth, they would be compelled to bring it out by force and it would not be good for him. They demanded the names of his associates who raped me. Now it was becoming impossible to tolerate such a nuisance. This was a terrible shock to dad and me. I knew very well that Raj had put us in trouble and Venkat may be a scapegoat. I loved Raj but I liked Venkat too and was sure he would never do such a ghastly act.
Both dad and Venkat were in a shock when the police started threatening him. How can this be? The police officer again looked at Venkat and told him that now he was sure that nobody but Venkat is the main criminal and the scratches on his face are the proof. They will have to put him in the custody and his medical done. Venkat kept bickering. The more he tried to persuade them the more they got infuriated. At last the officer slapped him and he fell to the ground. The officer ordered the constables to put Venkat into the cell. They were manhandling him and were beating him with their shoes on. The police officer was shouting at him and telling him to confess whatever he had done, or else they would have to use the third-degree to get the truth.
It was a glaring example of how things were turned by the police and the criminals. Unfortunately, the person who tried to help the victim was being beleaguered. The contempt, with which the cops at the police station treat and order, shows how irresponsible situations can be created.
Now I started crying. Dad was unable to think about the circumstances and what was to be done. The police officer kept telling Venkat that he was a monster and not a teacher. What could his students learn from him? Now Venkat had to be quiet, as he knew telling anything meant more castigation. By this time one news reporter had got the smell and quickly came to the police station and was asking questions. He asked a few questions to me, but I refused to answer. He then started recording us. Dad decided to back off, and told Venkat to forget about the police complaint and walk away. It was difficult to persuade the police officer that we had nothing to complaint. He kept telling that I was terribly attacked and it would be better if police takes an action. It was a gauche situation. He kept insisting that if anything happened to me, who would be responsible.
Venkat came out with an alibi; he told the police to check his mobile records and to make sure that he was not present at the place of the crime. It was Tanya, who called him and told him about the incident. He had shown the incoming call record in his mobile. The police officer noted our numbers and told us that he would check them. He ironically, told Venkat not to leave Mumbai and he would be called again, if required.
At last dad convinced the police officer and told him that we have no complaints about anybody and we should be allowed to go. He gave in writing to the police that nothing was wrong with me. This was the only way dad thought of walking away from the police station. We apologized and then were out of the police station. Now Venkat and I were in the same boat. Both of us were physically and mentally stressed out.
The mental agony I went through that morning was worse than the one earlier night. The previous night I was attacked physically and sexually, but in the police station it was both physical and mental torture. Somehow we walked out of the police station. It was difficult for me to walk. And now even Venkat was not in proper shape and was limping. He was holding me and we were helping each other. Dad kept his cool, he too was dismayed. We were concerned about what they would give in the news. We walked to our car which was parked little away.
The moment I entered the car I felt relieved. I had lost all my vigour. Venkat had scratches on his face which I had gifted him. Bleeding lip and limping leg was gifted by the police. I was unable to know what was going on in his mind. He had shown great courage. We knew, may be in next couple of hours, channels would flash the news. He sat with me in the back seat. I looked at his red face. He looked like a child who just fought with his opponent and was beaten up.
Once we entered the car he called Dr. Ramesh, who had treated me the previous night. Venkat told him all that had happened at the police station. He told him that we needed urgent attention, and were on our way to his hospital. We were treated by Dr. Ramesh and his wife. Dr. Ramesh informed us that the resort was owned by Raj's uncle and this incident may have an adverse effect on their resort as well as on Raj's future. It would create a pessimistic image for Raj and his family. This was the reason; Raj had decided to stay away. I could call Raj nothing but a coward.
We were helpless. The police officers tried their best to do what they could, but prime facie we were unable to even make a statement. Anybody would have believed that there was something fishy. There was no logic in our complaint, since it was not possible to prove anything about the party that took place the previous night. Venkat would have ended himself behind the bars. They would have definitely proved that he was a wrongdoer.
Mom gave me something to eat; I did not even bother what I was eating. Medicines were unable to put me to sleep. I was disturbed to a great extent. In my dreams I saw that the police was beating Venkat, till he fell to the ground. I just got up with a bang, I was daydreaming and sweating. Many a times I tried to get up, but the effect of medicines did not allow me to do so. I was snivelling with hiccups. Venkat put me to sleep holding my hand. He too needed some good rest and attention. He was agonized with the series of events since last evening. He somehow, was nonchalant and composed. I was under the effects of medicines and dosed off…
3.
When mom saw me awake she quietly entered my room and sat beside me holding me like a baby. I felt secured in her arms. I felt I was not alone and mom, dad and Venkat would cover me like an umbrella. Now I understood why she was so careful and protective about me. I was feeling sorry for both mom and dad. When she saw I was awake, she brought some milk for me. I looked at her, holding her hand I could say nothing, but a sorry and I love you. She smiled at me and simply said she loved me too. I smiled back. It was my first smile in the past twenty-four hours. She kissed me. Before I could say anything more, she vanished into the kitchen
The gruesome events of the previous night and the events at the police station were fresh in my mind. I was scared to even think of them. In such a short span of time my destiny had taken such a drastic turn. That one evening had transformed our entire lives. I knew Venkat was shattered as well as frightened. He was not only worried about what would be telecast in the news but also about the action the police would take. The news report could bring more trouble. It could cause further devastation to our lives. I knew media could create a star or transform a star into dust. We both were worried about the effects which would stimulate our lives. We both had an aura which made us feel daunted.
I could not believe that Raj could do something like this to me. How could he simply wash his hands off from such an atrocious crime? And now innocent Venkat was paying for it. I somehow started feeling that being good was a crime too. You should not be too good to anybody that they take you for a ride. Innocent people are the most mistreated people in reality. I had given in writing at the police station that I had no complaints against anybody, but now I was wondering about how the newspaper or the media would make a story.
Suddenly, mom's mobile phone was buzzing. It was Venkat. He told her that one of the news channels had telecasted some news about us.
He told mom that the news reported that, a young foreigner girl, who is a student in one of the reputed schools in Mumbai, was spotted with her dad and her tutor at the police station. They were there to complain about a sexual assault on her. The girl was in a very bad state, had many bruises and marks all over her body. During the investigation the police found that her tutor could be the one who intimidated the young girl and forced her. The tutor's face had many scratches, which surely confirmed his involvement. When the police wanted to investigate further, both the girl and her father decided to drop the charges and walked out without filing any complaint. The police could not take any action as no case had been filed. The police have been looking into the call records of the accused and may come out with some clue soon.
The moment I gained consciousness, I quickly ran to the hall and switched on the television. I started switching channels. One of the news channels was telecasting the news. The news reporter kept screaming showing Venkat's face, again and again. His face was full of scratches and bruises. His face was swollen and there was blood oozing out of his nose and lips.
"Do you know who this person is? He is not an ordinary guy; he is the one who moulds the future of our children. The one who educates our children makes them cultured. He is the teacher of a foreigner student, who gives her private tuitions. The girl is only eighteen, whereas this guy is almost double her age. ….
"This is India, where teachers are treated and respected at par with our parents. Here we respect teacher like god. Can you call these kinds of maniacs God? Are our children safe in their hands? No, not at all; be careful with these kinds of sex maniacs". I just could not take it anymore. I was startled, and was concerned about Venkat. He had seen the same news but had told very little about it to mom. I knew this news would gravely impact on his life and family. It was I who was the root cause of this problem.
Oh My God! I had tarnished his whole life and career. I could do nothing but pray. This news made me sick and I felt gagged.
Venkat was a candid person; I knew he would be more rational and careful in handling this melancholic situation and after this news he would be in profound trouble. I was unable to think of any way in which I could help him and pull him out of this muddle. I kept thinking but was unable to find any solution. I just looked at mom's face. She looked pale. She now understood that he had put his career on stake. She realized the gravity of the situation of the problem. Mom now understood that he was not only going to suffer professionally but may even lose his family and friends. This kind of situation arises anywhere in the world, not only in India; we lose sympathies of loved ones as well as wrath of the swarm. I was sure when Raj denied about the party, he had not thought of its consequences.
Why was it happening to such a simple and innocent guy? I started crying. Mom was pacifying me. When dad knew about the news he was quick to placate me.
"Rachel, we know you both are innocent; and we do not care what the world thinks. Don't worry, hopefully everything would be fine". I was sure dad was apprehensive. After a cup of coffee, he decided to go and take a look at the news.
When dad saw the news, his face too turned white. Nobody wanted to go into detail to find the truth. Just to save himself and his family, Raj had made us scapegoat. I was sure it was a hasty and sudden decision, which must have been taken by his family when Raj told them about the incident. They did not want Raj or Tanya to get involved and earn negative publicity. At the same time, the reputation of the hotel, which was owned by their cousin, was at stake too.
I felt sorry for Venkat. He came to help me and was in the middle of uncalled storm. Dad was asking me to be cool and face the situation bravely.
"Rachel, be normal, don't worry, we all are together and it will be fine".
"Why did all this happen to me and Venkat?"
"It is fine dear, it is life. You may come across many such incidences in your life. I am happy that you are a courageous girl. I know what difficult times you both are going through. Maybe God is testing both of you".
"Dad I am not a philosopher, but I do know that neither Venkat nor me have done anything wrong "
"See Rachel, gold has to pass through fire to prove its purity. The same thing applies to all of us!"
Anyway I did not understand what dad said. For the first time, I had heard dad talking speculatively. He was trying to make me feel better. Suddenly, I hugged dad and said,
"I am sorry dad I am such a bad girl".
"No Rachel, you are not at all a bad girl. In fact you are my angel; only blessed people have angels around them".
"I love you dad".
"So do I", he said and laughed. I felt better. I was still worried about Venkat. Before leaving, dad asked me not to go to school for some days till the dust settled down".
I was thinking of ways to find the truth. The maze was so spun, that the more we tried to come out of it the more we were getting entangled in it.
Venkat called up after the lunch and asked how I was? He told me that he was on his way and may drop in for a short while. When he arrived I was shocked to see him. His face looked famished. For the first time I saw him with such an ornate look. He was well-dressed, but his eyes were red, face was white and the confidence which he carried was not seen in his movements. As soon as he entered my room I hugged and started whining. He paced me down, sat beside me"
"Do you know I was on the verge of a nervous breakdown? At one point I thought of committing suicide. I still shiver when I recall that night" I confided.
"I know, but life must go on. There will be many opportunities, many awards and life is full of fun. Just start it afresh and enjoy".
"Will you be there with me in a new beginning?" I asked.
"I am not sure, but as a mentor, as a guide, I will always be there beside you wherever you are."
He handed over last week's news paper cutting. It carried news about a nurse who was raped almost forty years ago and had slipped into coma instantly. She was raped when she was on duty in one of the hospitals of Mumbai. For the past forty years all that she did was breathed. She had been in a vegetative state since then. I thought of the trauma her family must have faced. She was only twenty seven when she was sexually assaulted. Today she is almost sixty seven and still in coma. Therapist was caught and imprisoned. He finished his ordeal in a few years and was now enjoying his life. I felt sorry and daunted.
The moment I read that newspaper cutting, I started shivering and deprecating. Was Venkat trying to frighten me more and more? I wondered why he would do such a thing. I was getting nervous by just thinking about such an attack.
"Rachel, come to your senses, I am not scaring you but trying to tell you, how brave you are. God has given you the strength to face the challenge, anyway I am sure those animals will never have a peaceful life; in fact no criminal can. All criminals spend their lives in fear, not knowing what would happen to them the next moment. Whether, they will be a target of the police bullet or by their own men. They never sleep in peace". He was trying to make things look simpler, but it was getting any simpler.
"How you can say so Venkat? I have lost everything; I have lost my self-respect and my love. I had so many dreams about my future. Let's forget about me, what about you? You are losing everything. Your family, love, credibility, reputation, and what do you get, hatred, revulsion, disgust!" I was reciprocating and squawking. He was subdued.
"Look at the events at the police station. When we went inside you were scared and were in terrific pain. That particular moment you were petrified and were in great agony. When the police abused and harassed me, you forgot all that pain, agony and trauma you were going through and were worried about me. It had reduced your pain. You wrestled bravely and came out of it. Don't you think so? Always remember, when you are in agony, think of others who are in more pain than you are, this would give you the strength to face your woes easily". He used a good approach to convince me
"What about you? You had done nothing, then why are you being punished?" I demanded.
"You too are innocent Rachel. We both are. So it is god's wish to put both of us in this", he argued.
Unexpectedly, his mobile phone rang. It was the first call in nearly two hours. It was Girish, the boy who followed me, when I was with dad and again in the mall and tried to pass comments on me. I was scared then, but Venkat tactfully handled the situation. Now we were friends. Girish had seen the news and he was sure that we were being fabricated. He asked whether he could be of any help to prove our innocence. Just before he could disconnect the call, Venkat abruptly asked Girish,
"Can you really help us, Girish?"
"Yes sir, sure, we will, just tell us, what to do?"
"Can you meet us in an hour's time?" Venkat asked Girish to meet him. He told me to get ready.
I changed myself and I asked Venkat to freshen up. I was unable to walk; Venkat helped me to the lift. I stood very close to him. Suddenly I kissed him, and told him this was my way of thanking him. I thought he would smile, but he was too upset. Our fingers were interlocked. He looked into my eyes. Instantly, I felt a bond between us and it was growing stronger and stronger every moment. I became bold and kissed him again, this time on his lips. A kiss is a lovely trick – what words can't express, a kiss can.
"Now what was this for?"
"This is the reward that god wishes to shower on you; it is my love, my love for you", I said boldly. He was shocked. He did not anticipate that I would fall in love. He was a middle class guy and knew his limitations.
I clutched him tight sitting on the bike. My body was aching, but it was a pleasure being with him. The doctor had asked him not to ride a bike for some time, but he had no choice. He was riding it with utmost care. I felt I was with the most wonderful and valiant man in the world. Venkat was not as handsome and as young as Raj, but he was good looking and for me he was a hero. I had never seen such a heroic person. Any other person in his place would have run away leaving me alone, but he did not. We reached the mall where Venkat planned to meet Girish. Girish had come with his few friends. We walked to the cafeteria and sat down.
Venkat narrated the incidents at the hotel and at the police station to Girish. He wanted some information or camera footage of the party as fast as possible. It was not about punishing the guilty but proving our innocence. Girish promised to party at the same resort with a group of his friends and try to dig whatever he could. Venkat offered him some money so that they could spend lavishly at the resort; this would avoid any suspicion by hotel management. Girish refused. He planned to have a party the same evening. He assured he would certainly get some clue or information.
We spent the evening together. I did not leave Venkat's hand for a single moment. We did not bother where we were going. Our wounds were still afresh, but we were enjoying being together.
That night too, I had many horrifying dreams; I woke up sweating many times. We were going through very bad times.
I kept thinking about Venkat. Now I had to agree that he was a charismatic guy. I needed no any proof. I was in love… a love of a life time. Finally, I understood love is a gift; my feelings for Raj were that of obsession and not love. Love is a gift bestowed upon us. True love must be unconditional and without any expectations. We don't love to be loved, but we love to get love. He was sure that we will get over with the present crisis easily. His optimism made me feel better. Good things during bad time makes bad time pass easily.
Next day early in the morning Venkat called up and informed me that Girish had found some clues. He asked me to get ready as soon as possible. We were to meet Girish near the police station. He confirmed that a couple of guys who worked at the same resort had agreed to help us. I was energized with this information.
Girish had a party at the same resort the previous evening. They had planned that one of the girls would go out just like I had gone out that fateful night. They expected the same episode to be repeated with her. Those rapists would try to woo the girl. They were all vigilant to catch those rascals. This time the episode did not repeat. That meant those guys were alerted because of the police action. They did not want to take the risk of doing the same thing again. Girish and his friends were unable to find out anything. They were perturbed and so decided to give up and leave.
Before leaving they offered a good tip to the waiters. Girish asked one of them secretly if there was a party at the resort two days ago. The waiter was hesitant and was not in a state to answer. Girish then asked him to go to washroom, which had no surveillance or cameras. He asked his group to enjoy for some more time. He kept a watch on the waiter who was ready to help him.
The moment he saw the waiter entering the washroom, he quickly followed him. He told the waiter about how the police had beaten up Venkat and the torture faced by us. The waiter was not willing to confess anything as he was too scared of losing his job. Girish even offered him some money. At the end Girish threatened him saying since he knew many things about what happened two days ago, now it will be the cops who would make him sing a song. The poor waiter got scared and said he would meet them after his duty and tell them of all that he knew. They waited for him a little away from the resort. The waiter arrived with a friend who too worked in the same resort.
Waiters at the resort were extremely scared as they knew if they objected they would lose their jobs or even their lives. And moreover, if the police initiated action, waiters would be the first target by the police. Girlish smartly recorded everything as a proof to show the police in case the waiters backed out.
Police officers at the police station were surprised to see us again. We were ushered to meet the same officer who was present the other day. He was shocked to see us again. He never thought we would dare to come even near the police station. Venkat told him everything in detail. Girish produced the waiters who came to help us. They narrated everything and told the police about the Raj's party and about the prevalence of the sexual assault. They even confirmed that this was not the first time such an incident had taken place. In the past, on three occasions similar incidents of sexual assaults had taken place. This was the first time it was reported to the police. The police recorded our statements and the report was filed. I was hopeful that those devils would be brought to book and they would be punished.
All the statements were recorded on the video to maintain proper records. The waiters informed the police that the son of the hotel owner and one of his friends were the criminals. Finally, I understood why Raj washed away his hands. The criminal was his own cousin.
The police officer personally apologized to me and Venkat for his behavior, the other day. He said it was a part of his duty. He sensed something was fishy, but could not do anything as there was no evidence. He promised us that a strict action would be taken against all, not only with the real criminals but also with those who protected them. We requested them not to harass waiters and be kind to them. He promised that no harm would be done to them, and their testimony and identity would not be disclosed. He informed us that I would be required for identification of the criminals once the arrests were made. We thanked everybody and left. As per the law I had to go through the medical examination, which was carried out at the nearby hospital. The hospital doctors were shocked when they examined me.
Next day noon we got a call from the police station, asking us to come for identification. With lot of effort, they were finally successful in arresting those two criminals. The police caught them at airport when they were planning to flee the country.
I went to the police station with Venkat. The moment I saw those two spoliators without a second thought, I attacked them. I wanted to kill those bastards. Venkat and the lady police officer pulled me away from them and offered me a glass of water. The moment I drank some water, I looked at them, and again pounced on them. I wanted to do something which would make them suffer throughout their lives. The resort manager and Raj too were summoned and questioned.
We only knew the trauma we were going through. Those guys had changed my entire life. If Venkat and my parents would not have been supportive I would have ended my life. I lost my love. They had not only raped me physically but had mentally beleaguered me. My family was in turmoil and so was Venkat's. Somehow I would recover with the help of my family and with the help of Venkat, but what about him. The police action and what was shown in the news had blemished his entire carrier. He was frothing inside.
With all my might I wanted to attack both the rapists. I wanted them to putrefy in the jail throughout their lives. The police officer and his team were gallant about their catch. I think the officer read my mind and gestured me to unfurl my fury on those guys. I again rushed to them and hit them with my full might. I even rushed to resort manager and gave him a nice slap. I was so much angry that I attacked Raj with my entire valor and at the end spitted on his face for being a coward. The police inspector asked Venkat to unwind his fury on them, but he deprecated. The rapists were in a lock up and I wanted to get them a harsher punishment. Police officer informed us that one more victim who was also the victim of same crime at the same place had come forward and filed an FIR.
It took little a while for a trial to begin in the court. This trial got lot of publicity and there were discussions and arguments by news channels about the incident and a punishment.
4.
On the day of the trial, we reached the court premises little late, as advised by the police to avoid any complications and congregation. This helped us to keep away from the press. There were crowds everywhere. The police officer, who recorded my statement received us and told me not to get petrified. He informed me that lawyers would ask few questions and I should keep myself composed and answer them properly and truthfully. They may even ask horrifying questions and try to irritate me so that rapist could get free.
I now realized the gravity of the situation. I thought, since I was a complainant along with one more girl and there were enough witnesses, it would be a straightforward trial and the judge would just give away the verdict, but it was not so. I did not know the procedures of law and thought those guys will get punishment without any fuss. But it was not easy.
Once again everything had to be proved in the court and only then the court would decide the punishment. The trial was in progress when we entered the courtroom. Those two accused were standing in one of the witness boxes. They were well shaved and were in decent clothes. I suddenly noticed Raj with his dad. Due to the celebrity status of his dad there was lot of security in the vicinity. He looked at me but his face was a deadpan. I knew he was tensed and scared. In another corner the nervous hotel manager was standing with the cops. When it was my turn to answer, the lawyer at the beginning asked some simple questions like, country of my origin, why I was in India, what was my present age, how did I know those rapists, why I was at the resort that evening and so on? I did not realize when the questions become grave and revolting.
The lawyer started asking investigative questions. He demanded why I went out of the party, why I did not shout and how I was raped? He asked horrible questions like did the rapists kiss me, why did I not remonstrate or shout and how I recognize the rapists when it was dark and gloomy. I explained to the court about how I was taken to the parking lot. Once again, I had to narrate that atrocious incident in the court. Even a year later, it was difficult to recount it and I had tears in my eyes when I narrated it. Unpredictably, the lawyer changed his line of attack.
He was now trying to prove that I went willingly with those rapists and it was not rape but consensual sex. He was so dominating, that I started trembling and howling. He was shouting at me, which frightened me and then he asked me how much I charged for that night. I was surprised at the extent he could go to devastate me. By then I understood the severity of the situation. He was trying to prove that everything happened was with my consent. Oh my god, they were trying to prove that I was a slut, who did this to earn money. Such accusations made me faint and I was under tremendous mental pressure.
Lawyers were asking many questions to confuse me. The prosecutor came to my rescue and requested the court to stop such nonsense questions. There was one more girl who could prove the guilt of these guys. But the questions were not yet over and the lawyer wanted to ask some more questions to me.
He was again trying to prove that there was no rape that took place that night and I was with Venkat and he and his friends had raped me. He was trying to prove that those offenders were not there at all. The public prosecutor reminded him that there was one more victim and he better save his questions for her. There were many witnesses who could vouch for the crime. The police had checked the mobile records as suggested by Venkat and those records were submitted to the court, which proved that Venkat was not around the place of crime and he came after Tanya informed him.
It made me realize why rape is one of the least reported crimes. In such cases, the rape victim becomes the accused wherein she has to prove her innocence, reputation, mental stability and many more things. It not only tarnishes the victim but also makes her senile.
I was relieved when lawyer was done with me. Venkat was the next witness, who told the court how he reached the spot and what he saw. The lawyer again asked him about his relationship with me. He asked many questions to him but Venkat was well-composed and cool. He sordidly answered all the questions.
Then both the waiters were called. Their testimony was very important. They informed the court that there were four similar attempts and they could not come forward earlier as they were scared of the hotel management and it was about losing their jobs and life. They were asked many questions.
Raj was called to the witness box and asked why he refused about the party that night. He was unable to answer. Raj's lawyer, whom I had seen earlier in the police station, tried to prove that his crime was not a grave one and he should be allowed to go free.
When the resort manager was called in to the witness box, he confirmed that there indeed was a party that night. He had refused it at the beginning as it was the question of the reputation of the resort as well as of many employees. He said he respected the Indian law and so he voluntarily came forward to record his statement with the police. The public prosecutor objected to this and he verified that the manager was summoned by the police and he did not come on his own. I understood how the manager was trying to prove his innocence.
Ruchi, the other victim was sitting beside me. I took a closer look at her. She was fair, beautiful, tall and slim, with black eyes. She was around twenty five years of age. There were dark circles around her eyes. They were narrating her sufferings and the destitutions she had gone through.
She looked composed but when she was called to the witness box, she was nervous and was trembling. They asked similar questions to her. She was so panicky that she fainted while narrating the incident and the trauma she went through and how it had changed her life. I pitied her when I learned about the demise of her father due to shock.
I could realize how she was shattered. She was going through hard times and was unable to cope- up with the situation. She had lost all hopes after that horrifying incident which shook her life. She was scared to a large extent and could not narrate the incident to anybody. When she narrated it to her boyfriend, he walked away breaking all ties with her. It was a party organized by one of her colleagues to celebrate his promotion. She had to keep quiet as those guys threatened her and she was scared of losing her job. She in fact thought of going to the police, but she had no courage and decided to forget it and go ahead with the life.
At last she had to give away her job to avoid more humiliation. When she came to know about an FIR filed by me, she became bold and came forward to punish the guilty. Those spoiled rich monsters had sexually harassed her and she was raped repeatedly. She broke down in the court while narrating her ordeal; she also told the court that the accused had slapped and tortured her during the sexual assault. During the deposition she tried to be calm but broke down and said she was being treated like a criminal. She could not tell this to anyone as she thought her parents would commit a suicide on learning about the incident. She wanted to end her life but she was not courageous enough to do so and her spirits and confidence was shattered like the base of a card house, which crumples with the slightest breeze. Instead of sympathy from her colleagues and the society, she was treated like a criminal. It was becoming difficult for her to face the world, as they looked at her like a whore who could be hired at a cheap rate. When she narrated this she was crying aloud and there was pin-drop silence in the court. I felt sorry for her and went to the witness box to console her.
She wanted a harsher punishment to rapists and some respite to her and her family.
The hearing went on for nearly three days. Raj tried to meet me, but he had no guts. The court said it would study the case further in detail and the verdict would be given the next week after studying the evidences.
The police officer informed us that now we may not be required to be present in the court. We could attend if we wanted to hear the verdict. We thanked the officer and came out. I quickly called my mom and informed her. When we were to depart suddenly I saw Raj standing before me. I had no way to avoid him. Venkat was first to respond.
"Hi, Raj, how are you?"
"I am fine, thanks", he replied curtly.
"Rachel can I have a word with you, please?"
"No Raj, not now, sorry, not at all, please excuse me" I did not want to speak to him anymore. There was nothing I could hear or speak to him.
"I am sorry Rachel for whatever happened that night. I was shocked and scared".
"Are you trying to wash away your hands?"
"No Rachel, I know it was a mistake, a grave one, please forgives me".
"And why should that be? If you would have come to the police station, on that day, you wouldn't have been standing there like a criminal. You have proved how selfish and cowardice you are. Just to save your skin you did not even bother about our relationship and you played with my life".
"I am sorry Rachel, truly, I am, please excuse me", Raj was begging.
"Do you know Raj, good friends are the ones who never go away from their friends in distress, and you have no values. You are the most selfish person and have no place for love. You love only yourself". I looked at Venkat who was watching me keenly. He eyed me and asked me to move. I was not in a mood to conclude and wanted to bombard Raj as much as possible. I knew I may not get one more opportunity and suddenly I do not want to miss this one.
"Raj, you are such a reprobate and cowardice you did not even thought about our love" I knew Raj was getting annoyed,
"Rachel, just forget it and let's go", it was Venkat.
"No Venkat, I am not finished yet.
"I am sorry for what I did, Rachel. Please forgive me".
"How easy it is for you to say sorry and defend yourself Raj. I am ashamed of myself that there was a time when I loved you". I looked around, there were a few news reporters watching us. All cameras were on us.
When his dad saw the crowd gathering he quickly rushed to his rescue and told him to move away. In fact the police personnel were having hard time controlling the mob. This was a high-profile case, and with lots of publicity and international attention everyone was following it.
"Raj you are the most pusillanimous fellow I have ever met and don't ever bother me again", I shouted behind them when they walked past.
Venkat was confused and he did not speak a word. I knew I would not like to come to the court again. That evening most of the news channels were screening the same news. A couple of news channels showed Raj and me and my outcry. I was feeling satisfied that somehow I spoke my heart out to Raj and surely he will never forget it, forever.
That day I could not do anything. I was too eager to find out what the courts verdict would be. Certainly, we cannot get back what we had lost, nor our lives would be the same again. Punishments in these kinds of rape cases were just for our satisfaction and to make sure they never repeat the offence. They were also lessons to others to stay away from such crimes. The girls who go through such an ordeal suffer throughout their lives. Fortunately, I had the support of my family and a good friend. This made my life easier and I got the strength to face my life again.
When I saw the other victim Ruchi in the court, who had suffered the same fate, I was feeling sorry for her. She was tormented physically and mentally. In fact physical pain healed easily but emotional pain never elapses, its stains remain forever and remind us of the agony. She was in such a dejected condition that she was unable to face the world.
She was the lone bread winner for her family. Her younger brother had to give away his schooling and did some odd jobs to support the family. She needed psychiatric help but she had neither money nor support. She had lost all the courage and strength. She was lost and her family was distressed because of those ravishers. Even if they were punished, what would she gain? She had lost everything. I hated her boyfriend for deserting her in the middle, when she needed him the most. I was sure nobody would easily come forward to marry her. What a disgrace! What compensation she could expect to fill her sufferings and mental anguish. In fact in these cases of rapes, society plays a major role; it should be educated to accept victims spontaneously, help them to re-establish their identity honorably.
I was surprised by the courageous attempt by Ruchi in the court. She was an example of grace and bravery. Everybody kept praising me, since I was the one who pulled those devils to the court, but I felt Ruchi was the bravest of all. She had nobody to support her and yet she fought the battle. In such an outrageous condition, she came to the court and wanted those guys punished.
I wished there could be some center where these girls could be treated. Giving punishment to those criminals was not the only answer to this problem. These attempts are so sudden and shocking that it takes a lifetime to recover. These are the most cowardice acts performed by any human beings. Many a times a revelation shocks the family so much that instead of giving moral support to the survivor they criticize her ending her future. She is left with no choice except committing a suicide. The family too suffers. Our society is mostly responsible for the survivors taking such a drastic step not because of what happened to her, but the ill treatment of the society to her and her family.
When Venkat came that evening I was lying on the bed and thinking. He sat beside me holding my hand. I felt secured in his company. I wanted him to hold me closer but he knew where to stop. He told me how courageous I was and how I had saved so many other girls by bringing those criminals to court. If they were not put behind bars they would have repeated their crime. Suddenly I asked him;
"Venkat, can we do something to help Ruchi?"
"I am not sure Rachel; we need to ask her what we can do".
"Yes I will find out everything about her; let's help her. Won't you?"
"Yes, Rachel, we will try. We will ask your dad if he can get her some job in his office. I will speak to our doctor for her treatment".
"Oh thanks, I am sure you would". I suddenly kissed him again on his cheeks. He turned red with the sudden treat. I always enjoyed such situations and loved teasing him more.
We were now waiting for the D day, when those criminals would be punished. I wanted go to the court on the judgment day and watch the faces of those criminals when they hear their ordeals.
The court room was crowded when the judgment was announced. Both the rapists were sentenced to life imprisonment; the resort manager was sentenced to three years of rigorous imprisonment. Raj was sentenced to one year's rigorous imprisonment. I was happy that justice was finally delivered. The punishments were as per my expectation. The resort management was asked to pay compensation to Ruchi. In case they refused to pay the compensation, judge ordered to seize their properties and make the payment to Ruchi. The judge asked me if I needed any compensation, which I refused, and requested my share to be given to Ruchi. Ruchi was present in the court and was inconsolable. The court awarded both of us a suitable compensation and I was free to keep it or donate it.
Photographers kept taking my pics and reporters continued praising me for my bravery. They appreciated me for believing in the Mumbai Police and the Indian judiciary. They were trying to turn cameras towards us but I was shy and decided to walk away.
The moment the court gave the verdict, the police took Raj into custody. Raj was devastated and wept inconsolably. He clung to his dad and the police personnel tried separating them. The prime accused tried meeting their parents; they were in a shocked state. They did not expect such a rigorous punishment. I saw Ruchi who was surrounded by cameras. She was trying to answer what she could. Cameras were recording her outcry. Many reporters were trying to contact me and Venkat, but we walked away. I had only one answer:
"Yes I am happy with the outcome, but it does not bring back what I have lost nor will it bring back what my friend has lost. He suffered because he stood by me during those worst times".
That evening I asked dad if he could find some suitable job for Ruchi. He was not sure about what kind of work she could do and asked me to get her resume. He said it would not be difficult for him to get her a job in his office, but it will not be possible for her to commute so far. He would try for some other job nearby. That evening I called Ruchi and asked her to send me her resume. She was quick to mail her candidature to me. Meanwhile, Venkat spoke to couple of his friends and he forwarded her resume to them.
Venkat's doctor friend, Dr Ramesh, who treated me, needed an office assistant and Venkat requested him to give that job to Ruchi. I was happy that somehow I could help her. Venkat also suggested her brother to complete his graduation and he would help him in doing so. I knew if Ruchi kept herself busy with time she would recover and become normal. What she needed was not only financial support but mental tranquility.
And yes there was a good thing happened to us…now I found a real and true love…it took a life menacing experience for us to come together. We had lost everything and now did not want to lose each other. I believed in destiny, and it was my destiny which brought me to India, crossing seven seas only to find him my dear Venkat. But the path god had shown us was thorny and amazing. And now nobody would separate us…..Amen.
Voting
Opens
Soon!