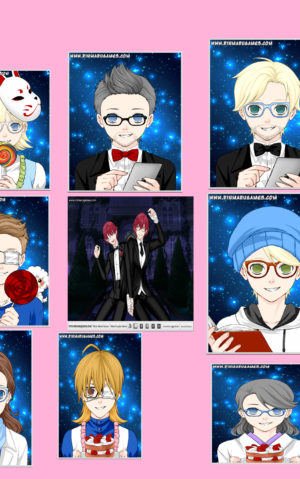 This Story's

Blockbuster

Potential Score
0

%
Voting
Closed

Synopsis
---
Chapter 1
the boy called quiche
quiche- hey I'm quiche kyerin but I hate my name so I make my siblings called me harry but only 3 of my siblings calls me harry so heres my story
—————————————————————————————————————————————————————————————
living room
clementine- come on harry ant that bad
quiche- flipping heck hunter got me covered in peanut butter when I cant have nut or near them!!! GET IT OFF NOW CLEMENTINE
clementine- *sigh* ok harry
hunter- haha quiche your cool
quiche-DONT CALL ME THAT HUNTER!!!!
tommy-COME ON HUNTER JUST STOP BEING MEAN TO HARRY HE JUST A KID BUT CALL HIM QUICHE THAT WH….
*Lewis cover tommy mouth*
lewis- I hat to I could see that harry was upset about I'm going to tell aunt mable about u now
tommy- * muffed*- no no plz plz dont
clementine- I told uncle tyler about hunter and tommy and he taking there tv and Xbox so they cant watch boxing on tv tonight or play mine craft
tommy and hunter – WE HATE U FOR THIS CLEMENTINE
*clementine smiles and pokes the boys in the face*
lewis – lets go to cheeky Nanos
all the kids- YES
—————————————————————————————————————————————————————————————
in the park
Lewis- did u like your meal mine was ok
hunter- it was lush I got the hottest one they did
quiche- mine was ok I had something small but nice it was funny when hunter face palmed his pudding teeehee
tommy- mine was very nice I got mild and I got gluten and dairy free pudding
clementine- I got a huge burger and chips and were quiche
Lewis- he buying a ice cream wait he got everyone and a ice lolly for tommy aww he sweet
quiche- here u go guys
* he hands everyone there ice creams*
tommy-thx u bro sorry about this morning
quiche- it ok
* Lewis take clementine off to the side*
Lewis- when I turn 19 in 3 days I will change his name to harry for his 8 what is the same day as mine good
clementine* crying*- yea he be happy
Lewis- dont cry sis
hunter- is she ok bro
Lewis- yea
tommy- aww is sis ok
lewis – yes she is and why is harry in a tree swing off clementine spare pair of leggings
clementine- ok…..
Irvin- hey kids
quiche- hello sir
Irvin- wait your alexander kids
Lewis- yea we are
Irvin- I'm your uncle
quiche- hey uncle Irvin
lilly- hello
quiche- hey aunty
lewis – let go home now
* they get in the mini van *
—————————————————————————————————————————————————————————————
garden
tommy- omg I'm wet
lewis- what happened
hunter- the hose turned on and get me and tommy wet
lewis- your grounded u know that u can turn it on whist harry is sleeping
tommy- sorry
clementine- Lewis go and sort harry out he hanging off the lamp shade again
Lewis- ok um clementine can u keep a eye on the boys whist I sort harry out
clementine-sure
tommy- can we play with your doll house
clementine- sure
* she go and gets it*
hunter- whats this doll it looks like lewis
tommy- this looks like our manshoin and that's harry room and that's ours and u hideing something sis
clementine- no no I ant
hunter- I'm going to tell lewis about this when he come back
clementine- ok ok I tell I made it when I was a little girl and it based on everyone rooms and as I got older I add rooms on
tommy- oh ok
Lewis- HARRY GONE MISSING!!!!!!!!!!!!!!!
clementine-HOW
tommy- I know how there a hole in his floor were he hides
clementine- oh
————————————————————————————————————————————————————————————–
harry room
Lewis- were is it
* tommy point at harry bed and Lewis lift the floor board *
lewis- found him aww he covered in dust and oh that were toasty went
clementine- aww how cute
harry(quiche)- I'm sorry
* he start to cry*
clementine and lewis- it ok little bro we understand how u are feeling
harry(quiche)- really* he begins to smile *
lewis- yea we do baby bro your our baby brother
clementine – yea baby bro
harry(quiche)- can we go and have some hot chocolate
clementine- sure
* she rubs his head and they go and get 1 in star bucks*
—————————————————————————————————————————————————————————————
star bucks
lewis- ok we are here
casher – hello and welcome to star bucks what can i get u
lewis- hmmm can we have 1 hot chocolate and 2 teas plz
casher- sur..wait your lewis it me your old class mate lily
lewis- oh hey lily
harry(quiche)- who that big bro
lewis- a old class mate
harry(quiche)- oh ok
casher ( lily)- that be 4 pound then
* lewis hands the money over*
casher(lily)- thx u go and sit down and i bring it over
* they go and sit down *
harry(quiche)- i cant wait for my birthday
lewis- i know little man your going to love what i got for u
* lily comes over and gives them there drinks and harry had somehow got whip cream on his nose and in his hair*
clementine-* laughing* your soo funny bro and your also a messy pup
* clementine cleans harry up*
lewis- we should go soon and see nanny and grandpa crumpet afer this
harry(quiche)- yea yea i love to see nanny crumpet she gives me all of the Jaffa cakes
lewis- we know bro i think your her favourite so she gives u everything
harry(quiche)- im don….
* harry falls asleep*
lewis- awww he fell asleep
clementine- he soo cute
* lewis picks him up and places him in the back of the van and they go to nanny and grandpa crumpets house*
—————————————————————————————————————————————————————————————
mrs and mr crumpets house
nanny crumpet- oh hello were my little man
lewis- here
* lewis slowly places harry on the sofa*
grandpa crumpets – aww look at our grandson sleep he looks so cute what do u think mable
nanny crumpet- he soo cute
lewis- yea he is i cant wait for Thursday as it our birthday and im going to change his name to harry
* nanny crumpet starts to cry with happiness with the news*
grandpa crumpet- aww honey it ok our grandson will have a real name
* harry wakes up*
harry(quiche)- good moring
nanny crumpet- good moring my little waffle
* harry giggles as nanny crumpet hugs him just then waffle the husky comes running in with the tea towel on his head*
lewis- hello waffle
harry-WAFFLE HEY BOY!!!
nanny crumpet- oh u little donut what are u like
clementine- oh waffle your funny
* waffle stares at harry and barks very loud and that when they see harry eye had changed*
lewis- oh he has 1 blue and 1 white eye how weried
clementine- lewis do u rember he blind in one eye
lewis- oh yea i forgot im a donut
nanny crumpet- u guys need to go home now it getting late
* they all wave good bye and get into the van*
—————————————————————————————————————————————————————————————
in the patio
hunter- hey bro want to help me make a toilet roll gun
harry- yea sure
* they begain to build it when they see the post man*
post man- hello i got a letter for mr h kyerin*
hunter- oh that my brothers then
* he takes it and harry opens it and he see it a letter from there parents saying they be home on in 8 weeks*
hunter- who it from
harry- it from mum and dad they wont be home for 8 more weeks
* harry bursts into tears and storms off to his room*
hunter- aww he miss mum and dad he never meet them since he is adopted when he was 2 but our parents were always away doing business stuff
lewis- is harry ok
* hunter show lewis the letter and lewis would be very mad*
lewis-REALLY THEY CANT MAKE IT BACK FOR HARRY 8TH BRITHDAY!!!
hunter- im going to see him i feel sorry for him
* hunter goes off*
lewis- aww poor harry he never meet his mum and dad i ring them
* lewis calls his mum and dad and asks them to come home but they did not pick up*
tommy- are u ok bro
lewis- mum and dad let harry down again
tommy- oh poor thing
lewis- i know lets go and see our little wolf
* my dreams comes on ( i song i worte)*
—————————————————————————————————————————————————————————————
harry room
harry-i wish i could meet my parents
tommy- hey are u ok little bro
harry- yea im ok i just miss my real and adopted families
tommy- oh i forgot u are adopted may i ask who are your real parents
harry- willow crumpet and sean crumpet
* tommy, lewis and hunter faces lit up*
lewis- omg that why nanny crumpet loves u alot your her real grandson
harry- yea
tommy- aww that soo sweet so that why our parents adopted u it because nanny and granpa crumpet want u to be with us that soo cool little bro
harry- in 1 day is my birthday
lewis- i know
hunter- your growing up soo fast
*harry would smile big*
lewis- come on little man it your bed time
harry- ok
* harry would yawn and he falls asleep so lewis lift him into bed and tucks him in*
lewis- * whispering * good night little bro
—————————————————————————————————————————————————————————————
living room
lewis- are u ready
clementine- yea im ready
hunter- im ready
tommy- im ready
* harry walks down in his ghost buster onesie*
all of them-HAPPY BRITHDAY HARRY
harry- what why are u calling me by nick name
lewis- look bro
* lewis hands him some paper work and harry brust into tears*
harry- best gift ever
lewis- that ant the best yet there 1 for later
harry- ok cool
* he rips the rest of his gifts open and he runs around with his superman cape on that hunter got him*
harry- thx u guys
all of them- anytime little brother
lewis- lets go to nanny and grandpa crumpets for lunch
all- ok
—————————————————————————————————————————————————————————————
nanny and grandpa house
lewis- we here and oh harry are u ready
harry- yea
* lewis covers his eyes and he smiles*
lewis- 3 …2….1…..ready harry
harry- ready big bro
* he lift his hands and there standing there was harry mum and dad*
mum- hello honey
harry- MUMMY I MISSEED U!!
dad- hey son sorry we never spent time with u but we will for now on
* harry was speechless *
clementine- aww mum and dad u made his dreams come true
hunter- omg mum and dad i did not see u there
tommy- hey mum and dad
mum and dad- hey u lot
harry- can i have a hug….
mum and dad- sure
* harry hugs them and brusts into tears*
all of them-aww how cute
nanny and grandpa- aww how sweet
harry-BEST DAY EVER!!!!
—————————————————————————————————————————————————————————————
harry -thx u for watching this my dreams have came true and so it a good and see u next time
Voting
Opens
Soon!