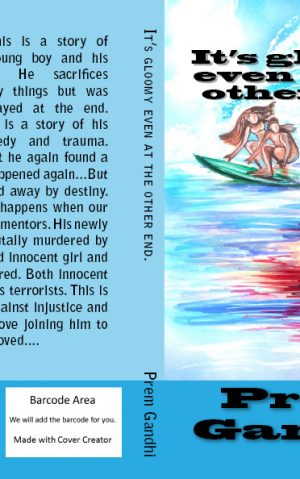 This Story's

Blockbuster

Potential Score
11

%
Voting
Closed

Synopsis
What happens when our protectors turn out to be tormentors. They attack or kill innocents citizens on the name of security and terrorism. It is a story of young boy and his love. It is a story of his hatred, and revenge. He with the help of his former girl friend proves his innocence and punish those cruel cops who killed his innocent wife.
---
Chapter one and two
Encounter
Meher was excited with the feeling of meeting her parents, surely any woman would be and she was no different. Whatever luxuries they may get at their hubby's place but you can't beat the comfort of parents home. She did not have an opportunity to visit her mom for last three years. It was three years ago she last visited her mother when her father passed away. She was working in Kuala Lumpur at one of the malls where first time I met her nearly a year ago and now we were happily married. I too wanted to meet her mother. Meher told me that they were poor and her mother was staying in one of the slums of Ahmedabad. I loved Meher and did care the least about where her mother lived. For me making Meher happy was more important than thinking about her mother and their status.
Originally, her parents were from a small village of Supaul district in Bihar, close to Nepal border. Her mother was Nepali and father Indian Muslim. This was the reason she looked like Nepali. Their village every year flooded by floods of river Kosi. Her father had no proper job. He worked in the farms of the rich farmers and had to live on their mercy. It was very hard to look after the family with no proper work or income. In Bihar they lived in small hut which did not shelter them at all from rain or wind. There was no proper school or water supply. During rainy season there was water everywhere but not a drop to drink. Her father had no proper job. Half of the time they starved. It was not at all an easy task to feed eight mouths and take care of their needs. Children were growing up and so their needs. Meher somehow completed her primary schooling in her village. Her parents had to think of future of their children and were looking for suitable options. At last they decided to migrate to Mumbai. Unlike many, they too wanted try their luck in Mumbai. Their friends advised them that it would be very hard life and would be difficult to get a place to stay in Mumbai. At last they landed in Ahmedabad. It was not all easy in Ahmedabad too, as they had to spend couple of nights under a road side tree before they could find some hut to stay. Slowly but steadily they settled down.
Her father started working for some construction company. Now he had a job but it was not permanent one and was not enough to fulfill demands of growing family. Being eldest and a smart kid, Meher decided to try some work and she started taking tuition. When they came to Ahmedabad she was just on the doorsteps of her teen age. They knew life would be very hard and it was necessary for her to do some work to help her family. Her earnings were modest. She studied as well taught small kids to earn little. She was a brilliant student and scored well in her SSC examinations. She could have got an admission to science stream but she wanted some free time to earn money so decided to opt for commerce and in her free time she started tutoring children. Even attending a college for her was like a dream since her father could not afford to pay her fees and growing expenses. She could manage them by working part time to earn little money. But it was like filling water in a pot with a hole at the bottom. She was getting frustrated. When she was in her first year of commerce one of her friend told her about the job in Kuala Lumpur. She wanted to run away from that horrific living and she decided to grab that job.
It was not an easy task. She did not have a passport nor did she have money. At last she had to sell her mothers gold bangle. That was the last property her mother had. Her mother believed in her capabilities and without a blink arranged the money. The agent through whom she got that job too was kind and tried to do her work with bare minimum. She knew how hard life her parents had and she wanted to reduce their burden.
She was working as a sales girl in one of the shopping centers in Kuala Lumpur where she had to stand all day long attending customers. In a short span she was earning well and was supporting her family. She tried to send as much as possible to her parents and now their financial position was improving. After her father's death, now she had to look after her family. Needs were growing up and income was not growing accordingly. She was working harder. She wanted her sister also to join her and support the family. Meher was a cool girl who respected others, down to earth, polite and all these qualities helped her in creating a good image where she worked. She made sure that they would give a job to her sister whenever she would come to Kuala Lumpur. Meher was quite popular with her friends and had a good group of friends. She was most admired girl in her group and at work.
My mom and sister tried to be online with her as and when it was possible. They were mentally prepared to accept her. There were no hurdles as such. Still I had many doubts. Once I was rejected by an upper class girl, now I was worried what would happen when my parents would know that Meher was a Muslim girl. I never tried to disclose her identity to them. I knew how difficult it would be to accept her by my family. Meher now and then kept insisting me to reveal about her religion to my parents but I was scared of loosing her so tried to hide it from them. Once I had faced the wrath of losing my love and was depressed for a long time. I had no guts to reveal about her.
When I told my parents about her religion I thought they would be angry. They would scold me for hiding such an important matter from them but nothing as such happened. My mom said now she was her daughter and she does not care about her religion, or status. In fact it was a pleasant shock for me.
At last Meher agreed to come back to India and tie a knot. She quickly arranged passport for her sister and her sister joined the same job in her place. She do not wanted to put her family in any financial dilemma and it was the best way for her to make her sister join her place and start earning. I was at the airport to receive her. My mom was eager to meet Meher.
When we reached home my mom along with many neighbors was waiting for us and wanted to see Meher. Meher too was happy and excited to meet them. She met each and every one of them and asked about them. Most of our neighbors thought that she was a girl who came from Malaysia and may be conceited one but she was different all together. She was down to earth, simple girl with simple thinking. She took blessings of all the present and even started playing with kids. Her simplicity was her strength. She had won the hearts of all the neighbors and relatives. My mom was thrilled and was proud to present her to all. In a very short span she got acquainted with all. The cultural differences which I was worried about were all washed away.
Mom got a doll to play. Meher was like a toy for her. She never allowed Meher to do anything and Meher was happy to help her in her daily chorus. They were getting well together. My mom considered her like her daughter and invisible bond weaved between them. She took Meher to show around. They visited many places like Hajji Ali Darga, Siddhi Vinayak Temple and Gate way of India. They went for shopping together and tried to approve the choices made by them.
Mom wanted us to get married as early as possible.
She called Maher's mom and asked her to come to Mumbai for our marriage and shower her blessings. Mom told Meher's mother that the date for marriage would be decided to suit her. Maher's mom was unable to visit Mumbai. So mom decided the nearest date for our nuptials.
Mom or dad do not wanted to have any fanfare for our wedding. The wedding was planned in a simple way in nearby temple on Sunday. It was totally a family affair. Very few friends were invited. All the rituals were new for Meher. Meher missed her family and my mom understood her feelings. After what happened with Riya nobody ever thought that I would ever get married. In my office there were many girls who tried to influence me but I was so much depressed after Riya that I ignored their advances. Many thought that I was impotent. None of my friends in the office knew about my break up with Riya and my condition at that time. My mom and my family stood by me in all those years and tried to pull me out of depression. My parents thought that I would never marry as they tried to show me some girls but I refused to even look at their photos or meet them. At last they gave up. There were many girls around, I was earning well and was most eligible spinster but it was not easy to erase memories of Riya. I should have known that when one door closes there are many other doors opened for us, but I closed my eyes on all those open doors. It was just by fluke I met Meher and fell in love with her.
On the day of our marriage first time I saw Meher in a sari, she looked wonderful, pretty and very stunning. She looked like Barbie doll. I wanted to lift her in my arms and carry her like a baby. I would have enjoyed the feel of holding her in my arms. Every time I looked at her she looked different and with every passing day she looked new and adorable. May be this was my love for her. If this keeps happening to me and to us year after years I was sure our novelty would never fade away and we will remain young at hearts forever. We both were happy because we had the capacity to see beauty in each other; we had the vision to look at each other differently. Anyone who has the ability to see beauty never grows old and surely we would never. With every passing moment I was getting more and more mesmerized by her.
When we planned to visit Ahmedabad to meet her mom, she became excited. Any Indian woman would be. They surely feel happy and excited with the feeling of meeting their parents. And she was no different. I too wanted to meet her family. We had great shopping tours to malls and brought presents for her mom and family. She had brought some stuff from Malaysia when she returned. Mom wanted to send some gifts for them. Till the end Meher kept protesting about gifts mom had packed but was futile.
I planned to drive myself but dad refused the idea. From Ahmedabad, we planned our honeymoon to Kashmir. Dad arranged luxurious car through some travel agency. We planned to start early in the morning to avoid traffic rush and hot sunny day. That morning mom and my sister kept giving instructions to Meher and she kept assuring them that they should not worry and she would be fine. All our bags were packed in the car dickey. Mom made some snacks and a lunch for us and advised us to have it on the way. There were many bags we were carrying. There were many gifts for Maher's family.
When our cab reached Mumbai Ahmedabad highway it was nearly seven in the morning. Driver was very good. He was in his early forties and was a family man. We had booked some good hotel near by her mom's place in Ahmedabad. This cab would stay with us till we catch the flight for Srinagar. Driver could speak both Marathi and Gujarati well. He was nice friendly guy. Road was excellent and so was the climate. We loved to be with each other and were enjoying the journey. We were expected to reach Ahmedabad by evening.
Meher now and then kept looking at me appreciating me and many times I looked at her. We were like love birds that could not live without each other. We were not getting satisfied with the time we were spending together. Every moment we were exploring each other and we felt that we are looking at something new, something different, something amazing. Nor I nor Meher were getting tired. There were many small and big cities on the way. Gujarat surely is more developed state with lot of industrialization, good roads, good infrastructure and many other services. Air was cool and climate was very pleasant. From the car window we could see the beauty of the area and lush green jungles around.
The way to Ahmedabad from Vadodara was an expressway and was excellent. It was well built having central road dividers with plants. At many places those plants had colorful flowers and they looked very attractive. It was nearly three in the afternoon, and Ahmedabad was nearly three hours journey. We were busy to capture panorama around and the view of the expressway in our camera. The expressway was so enchanting that we kept watching it and were commenting about the beautiful greenery at the center of road dividers. They were not only green colored plants but there were yellow, brownish and many other colorful plants. They were making our journey pleasurable. One of the beauty of this expressway was we never came to know when one village or town was passed and next had come. Through out the expressway there were settlements, business houses, factories, restaurants, motels and so on.
Driver was good and skilled one and for the first time I saw Meher speaking in Gujarati with him. I was fascinated to hear her sweet voice speaking such a sweet language. She became friendly to driver in no time and he started calling her daughter. Nearly after a lunch at some road side motel; we started our journey. There was a music going on in the car. He had good collection of old and new Hindi movie songs. Now we both were tired of watching outside and Meher relaxed her head in my lap and was soothing. I too was tired and was resting. We were enjoying the music.
Suddenly we heard slogans. Meher straightened up to see what it was. I too joined her. There were many trucks and buses those were carrying people. They were on their way to attend a public meeting.
Chief Minister was to address the rally at Ahmedabad and swarms of people were on their way to attend the public meeting. There were many vehicles carrying people. Many were travelling by trucks, buses and tractor trolleys. We could see them even jammed inside and on the roof tops of buses. I wondered how so many people could leave their daily routine and attend the meetings. There were police and police officers everywhere. These people were brought from far distances as far as hundred kilometers. They like to hear their leaders and they flock for each and every meeting like this. The trucks and buses were arranged by leaders or their representatives and they don't have to pay for the bus or truck fares.
They never stopped chanting. The atmosphere was electrified. There were traffic snarls due to public meeting. They all were on the way to attend the meeting of Chief Minister which was nearly two hours journey. Meher kept me updating now and then about the places, rivers, birds and people. We stopped at road side motel for a cup of coffee and snacks.
Due to traffic jams we had to move slowly. I was sure it may even take two to three hours. We passed through Anand, one of Industrial towns of Gujarat. Meher was feeling thrilled as we were nearing Ahmedabad and she was eager to meet her family.
2.
That day there was a strict police checking and police check posts at many places to keep a check on the vehicles entering Ahmedabad. They were checking randomly and were asking to stop any vehicle as they wished. Suddenly our vehicle was stopped at one of the check posts.
Police officer asked driver to open a car dickey to have a look inside. It was packed with our bags. They tried to remove our bags to have a look. We were still sitting in the car and driver was taking care of the issue. They wanted to know what was there in those bags. We had to get down answering their questions. I tried to explain that we are newly married and was on our way to Ahmedabad to meet Maher's family. They politely asked for our identifications. I had my driving license and a Passport. They checked all the details methodically. Meher too produced her passport. They checked and rechecked her passport many times. Her passport had her parental name as Meher Banu Ali. They were checking her visa entries. They took both of us to their superior officer who was sitting in the police vehicle and handed him our passports. Police officer asked many questions to us. He wanted to know where Meher stayed in Mumbai after she came back from Kuala Lumpur and what did she do in those days. They tried to investigate us separately to check authenticity of our answers. But they were not satisfied. The police officer asked us to open our bags. Meher protested and showed that she originally belongs to Ahmedabad and they can cross check about her address.
They were not listening and Meher was arguing in Gujarati with them. I was slowly loosing my patience but they were not concerned and wanted us to open our bags and see what was in those bags. Our driver too told them that we were from the decent family and were newly married. He knows us personally and knew where we stayed in Mumbai. Officer demanded our marriage certificate. I lost my patience and told him that it takes some time to get marriage certificate and we had already applied for the same. Meher too was getting annoyed and she demanded whether he carry his marriage certificate when he goes out with his wife. It was of no use and we had no choice than to allow them to inspect our bags.
The inspector told us that there is a tipoff from security agencies that somebody is planning to kill chief minister in today's meeting and it would be better if we show them our belongings. The police officer told us that they have received the information from the security agencies which matches with Meher. In fact this had scared me.
I told him the place where I worked and requested them to allow us to go. They were not ready to listen. Many cars had passed by but they did not bother about them. When we opened our bags they were trying to check everything. They were tossing with Maher's undergarments, her gowns, jewelry and even opened our gifts which we were carrying for her family. They were making fun of her undergarments and netted inner-wear. They were making comments about how she would be looking in those clothes and how nice it would be to watch her. It was very embarrassing. We objected strongly and protested and I do not know when our cordial interference became impolite and intolerable. The Police officer was very rude and had threatened us that it would be better if we obey them or else he may have to take an action. It was agonizing. We were getting annoyed and more we protested more they tried to pester us. I was unable to understand why they were doing this. Meher was dissenting strongly in Gujarati and this infuriated the officer. He did not like her interference. Meher was so furious that she started abusing those policemen. Any women would. Whatever they were doing was insulting women's stature and no women could tolerate such nuisance.
The police officer even tried to touch Meher when she protested. He abused her and used some bad words which were not tolerable by any means. They were crossing all limits but Meher was trying to keep her cool.
When our driver protested police officer pushed him hitting his head on the stone and now he was bleeding. Now Meher became angry. I never saw Meher so angry and she was telling many things to the officer. Now police officer was threatening us and telling that we should say sorry and then only he would allow us to go as we were disturbing him in his duty and objecting a government officer on duty was a crime.
Our driver was still in better condition and he was quick to respond. He went to the police officer with folded hands and said sorry. He requested police officer to allow us to go. But officer was not satisfied. He again pushed him which enraged me and Meher.
Things were happening too suddenly and we were not able to understand why we were being targeted and what was our fault that police was harassing us. We were unable to get any help. Meher tried to call her parents and tried to inform them. This made officer angrier and he thrashed Meher. Now I could not control myself and started abusing the officer. At last they told us to close our bags. He decided to allow us to go. Without bothering much about our luggage I hastily closed the dickey of the car. Quickly I pushed Meher inside the car and told our driver to enter the car quietly. I took to the wheels and started the car but it was not possible. They quickly stopped the car and took the keys. We had no escape. We were forty kilometers away from Ahmedabad. Police officer asked us to get out of the car and stand quietly holding our hands above our head. We had no choice. We did as they told us.
They had their guns pointed at us. Our driver was in a terrible pain and he tried to convince them to let us go as we have not broken any law. They were not in a position to hear anything. Police officer was very enraged and was abusive at me and suddenly shot at me. Meher who stood beside me jumped in between and bullet hit her. She fell down to the ground. With her eyes wide open she was pleadingly looking at me. I wanted to help her and wanted to hold her in my arms but it was not possible as police officer was still aiming at me. Due to sound of gun fire many birds flew away making lots of noise. They were just flying halter shelter. He again shot at me and missed his aim but bullet struck me and I fell down next to Meher. She had her eyes open and was trying to move herself. I fell down to the ground bleeding profusely. I was loosing my conscious. Last I remember Meher trying to hold my hand. Meher had fallen beside me and I tried to call her and she tried to hold my hand. I saw her opening her eyes for a second and then I do not know what happened.
I came to my senses in the hospital nearly after three days. I was having the effect of medicines and did not know where I was. The moment I came to my senses I called for Meher. I wanted know how was she? Nobody was telling me anything about her and I insisted that I have to see her. Bullet which struck me had damaged my stomach and they had to carry out operation to remove the bullet. Doctors were keeping me continuously on sedatives to avoid any complications. The moment I started becoming vicious, doctors administered more sedatives to make me sleep.
Later, I came to know that both driver and Meher were dead. They were the prey to police bullet and police massacre. Police thought that I too was dead. They do not want any witness to be left behind so they killed the driver. This was the most shocking incident. It was the cruelest example of police act of violence and Meher and Driver had lost their lives for nothing. Just to satisfy their ego and lust they attacked us on the name of security. In fact they were the most dangerous security trait to the nation and to the human beings.
Police officers were proudly showing the weapons which were found in our car. This was the most shocking and bizarre incident and along with loosing my beloved Meher now police was ready to prosecute me. I did not knew where I was and in which hospital. Police kept a strict watch on me and said that they would investigate further to establish our links with terrorists groups. In no time we were the most abhorrent couple on the earth. Police officers took all the advances of public innocence and there was wild fury in people about us.
When this was relayed by news channels, then only my parents came to know about the incident and they rushed to the hospital where I was hospitalized. They had to go through lot of hardships to reach this hospital where I was admitted. Police did not allows my parents to meet me and nor allowed to see Maher's body. I was shocked that in a democratic country like India these kinds of incidences were taking place.
Each and every news channel, each and every news paper was full of the stories of terrorism and how we were part of it. They were making their own stories. And they were shown with invented comics. These comics were showing what would have happened if terrorists would have attacked Chief Minister in the Public Meeting. They were investigating my and Meher's links with terrorists. Now police and news men were investing about why I had been visiting Kuala Lumpur now and then.
Innocent citizens were watching these news articles and praising the police officers for their catch. I did not have any clue of happenings around as I was in ICU and was in a comatose stage. They did not allow my parents to see me nor did they allow them to have a look at Meher's dead body. The propaganda about us being branded terrorists was so strong that it took masses with a surge of floods. There were demonstrations all over country. They were burning our photographs, and shouting slogans. Many were demanding that I should not be given a medical aid and should be left to die with pain. The hospital where I was admitted was targeted and there were demonstrations in front of the hospital.
We both were branded as dreaded terrorists and there was no sympathy from any angle. People wanted me to get harsher punishment and it should be faster and quick to avoid any waste of national funds. They were protesting against the government for putting me in such a good hospital and wasting the money of tax payers.
The District Magistrate of Ahmedabad at beginning was gallant about the police action. But when she came to know that it was I who was branded as a terrorist and battling for my life in the hospital she was shocked. She could not come to the terms that I could be the part of any terrorists group. It was hard to digest. The district Magistrate was Riya and now she had many doubts about police action. It was difficult for her to go against police and public.
She visited the hospital where I was admitted. I did not know anything about her visit as I was in a comatose stage. She spoke to my parents who were sitting outside ICU waiting for doctors to allow them to see me. She told police officers and doctors on duty to allow my parents to see me and be kind to them. My mom was thankful to her. For Riya it was an embarrassing situation but she could do nothing.
Riya was shocked to see me and my parents in the hospital. There was no sympathy offered to us from anybody. It was in the minds of the people that I was a traitor and my parents were the part of it. She knew now that there was some goof up and decided to order an inquiry in to the incident. It was not all that easy for her. If she openly supports me, she would loose her credibility and face the wrath of people and government.
There was terrible pain in my body but my mind was able to think all that had happened during the police action. I did not know since how many days I was in that state or in that hospital.
Voting
Opens
Soon!